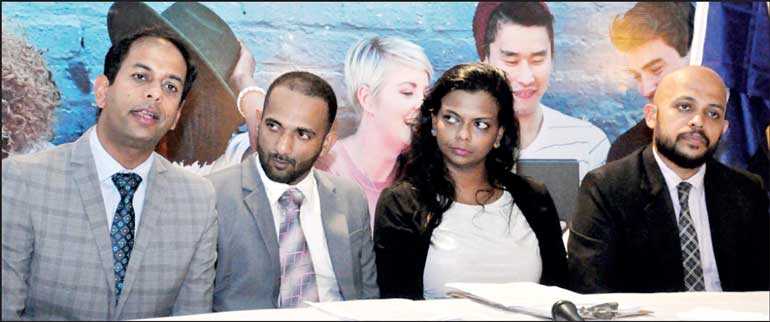 From left: Everthought Education International Sales Projects Manager Imran Ali, AGC Lanka Director Safraz Cader, AGC Lanka Directress Sindhu Ramamoorthy and NEXGEN Campus (Kandy Offshore Partner) Managing Director Harshana Piyasinghe
---
Tenth December was a monumental day in the history of Sri Lankan higher education as AGC Lanka and Everthought Australia announced the launch of Australian curriculum based trade skills learning programs that are aimed to provide colossal economic opportunities and innovative career paths in the skilled trades.
The announcement was made at a recent event which took place at the AGC Lanka office in Colpetty on 5 December. The event was addressed by AGC Lanka Ltd. Directress Sindhu Ramamoorthy, AGC Lanka Ltd. Director Safraz Cader, NEXGEN Campus Ltd. (Kandy Offshore Partner) Managing Director Harshana Piyasinghe and Everthought Education Ltd. International Sales Projects Imran Ali.

AGC Lanka Ltd. is an 'Unorthodox One – Point Consultancy Firm' that provides international trade skill development and higher education related services by fostering and promoting the creation of strategic alliances and partnerships with governmental, non-governmental, and private entities in the development of academic collaborations, agreements, and/or contracts related with international offshore delivery education to expose Sri Lankan students to the trade profession which is a high-demand, high-opportunity field for the next generation workforce.

AGC signed an exclusive contract with one of Australia's most recognised bodies in the field of Trade Skills Learning, Everthought College of Construction and now has official authorisation for recruitment of Sri Lankan students and local program delivery. Everthought is well supported by the trade industry in Australia and has also been highly rated by the Australian Institute of Trade Skills Excellence. The educational body was also noted as winners of the 2012 and 2009 WA Industry and Export Awards for Education and Training and the 2008 and 2010 WA Industry and Export Awards for Emerging Exporters of International Education as well as the 2010 Australian Ethnic Business Awards.

Nexgen Campus Kandy, a partner of AGC and other Industry Leaders will soon offer the first segment of the ASQA regulated Skill Coaching (Australian Skills Quality Authority) which will also enable Sri Lankan students to transfer to Australia to complete the remainder of the job-ready program. Upon completion, international students shall be able to obtain a Trades Recognition Australia (TRA) License which is invaluable for legal training and full-time employment in the Australian workforce, which ultimately leads to permanent settlement in Australia, Canada and high-pay employment opportunities in Sri Lanka. AGC also plans to eventually expand the strategy into other fields such as Commercial Cookery, Automotive Design, Automobile Technology, IT and Aged/Child care learning. This program is a first step towards rebuilding the Skilled Trades workforce and infusing pride back into trade professions that are vital to societies.

For more information about the programs, contact them on 078822747 or 0770276400. You can also visit the office – AGC Lanka Ltd. 51, School Lane, Colpetty Colombo 03 or reach out via info@agclanka.com.