The 93 new members
The Association of Chartered Certified Accountants (ACCA) Sri Lanka recently held its new member ceremony at the Oak Room, Cinnamon Grand, to celebrate the achievement of 93 new ACCA members, who have attained the membership milestone during the last year.

The ACCA membership is considered today as one that provides access to what is widely regarded as the profession's most comprehensive range of career and professional development resources, including accounting and auditing standards, technical updates, online and face-to-face learning opportunities, and further qualifications.

ACCA Sri Lanka Member Network Panel Chairman Adrian Perera, welcomed the new members to the ACCA fraternity and said that they will now become a part of the vibrant global ACCA community, which consists of more than 200,000 members in 183 countries.

ACCA Global Immediate Past President Brian McEnery, the keynote speaker at the event, highlighted the important role that professional accountants will play in the future and cited some of his own experiences in how the ACCA qualification and membership had opened up many career opportunities for him. He further showcased the forward-thinking approach of ACCA and added that this greatly contributed as to why employers across the globe accepted and valued the qualification.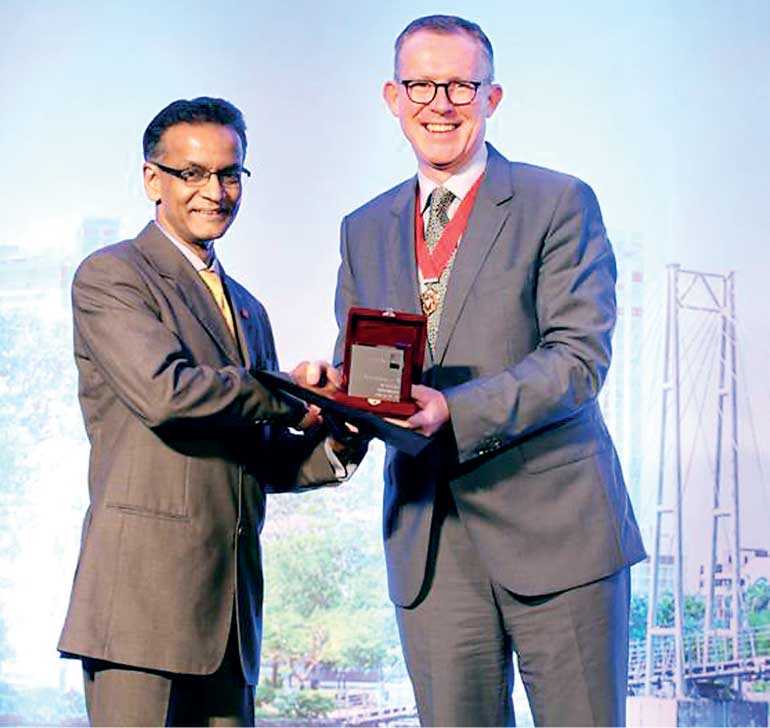 Suren Rajakarier receiving the Award for the National Advocate of the Year from ACCA Global Immediate Past President Brian McEnery
Following his address, 93 newly-elected members received their certificates and awards from Brian McEnery, Adrian Perera and ACCA Sri Lanka Head Nilusha Ranasinghe.

The Award for the National Advocate of the Year was awarded to KPMG Sri Lanka Partner and Audit and Assurance Head and ACCA Sri Lanka Member Network Panel Vice Chairman Suren Rajakarier.

Nilusha Ranasinghe said that ACCA will continue to work towards being regarded as the leading global body for professional accountants by reputation, size, and influence, and will strive to be always on the pulse of what is happening globally, and in doing so, ensure that their members have the tools to become visionaries and leaders within their respective companies.

The ceremony was graced by a number of distinguished guests from local bodies, leading organisations, and top employers.