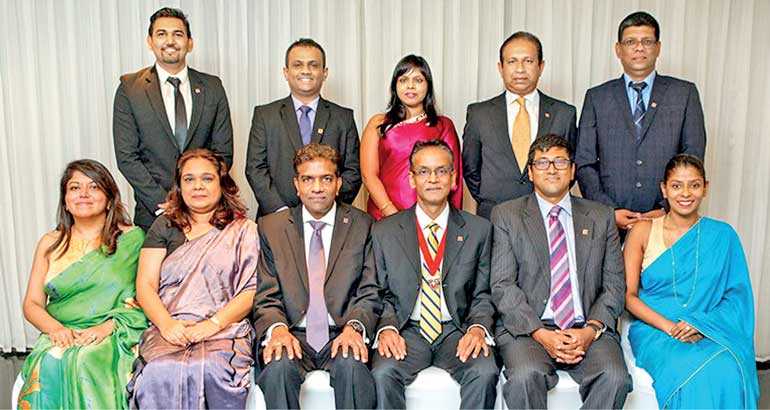 The President and committee for the year 2019/2020 Seated from left: ACCA Sri Lanka Head Nilusha Ranasinghe, Vice Chairman Nandika Buddhipala, Committee member Nisreen Rehmanjee, ACCA Sri Lanka Member Network Panel Chairman Suren Rajakarier, Jehan Perinpanayagam and ACCA Business Development Manager Ruchera Jayawardena Standing from left: Thilina Ukwatte, Dananjaya Dayananda, Ayoma Peiris, Channa De Silva and Thumilan Sivarajah
---
ACCA Sri Lanka appointed Suren Rajakarier, Partner, Head of Audit and People Learning and Development, KPMG Sri Lanka, as the Chairman, ACCA Sri Lanka Member Network Panel, for the year 2019/2020 at the ACCA Annual General Meeting held recently at the Cinnamon Grand in Colombo.
Rajakarier who has been instrumental in carrying out a wide variety of audit, regulatory, compliance and due diligence engagements, in Sri Lanka, UK, Oman, Dubai and Maldives, is an ACCA Fellow Member, who was awarded the National Advocate of the Year 2018 by ACCA. He was also awarded the Regional Advocate of the year 2018/19 for the MESA region by ACCA UK.

In his role as Head of Learning and Development, he was instrumental in KPMG being the first firm to get the platinum status recognition as an approved employer by ACCA in 2007 for training and professional development and in retaining this recognition with ACCA UK up to date.

The committee for the year 2019/2020 included Nandika Buddhipala – Vice Chairman, Committee members, Nisreen Rehmanjee, Channa De Silva, Jehan Perinpanayagam, Thilina Ukwatte, Thumilan Sivarajah, Ayoma Peiris and Dananjaya Dayananda.

The annual report of the year 2018/ 2019 was presented, outlining noteworthy achievements. In 2018/2019 ACCA activities focused on delivering one strategic priority: To maximise the global impact of the ACCA Qualification – working with ACCA partners, members and future members to deliver ACCA's promise and to ensure shared success. ACCA's vision also recognises, its critical role to shape and lead the profession.

Through the global network of members, future members and partners, ACCA delivered value to the public by acting in the public interest, promoting ethical business and by supporting economic growth​​​. ACCA's aim is to produce fully-fledged professionals by connecting the dots between students, employers and ALPs. In order to meet the strategic outcomes, ACCA Sri Lanka had organised a number of activities during the past year and all these activities were shared at the meeting.

ACCA Sri Lanka's focus for 2019-20 again will be in working together to deliver one strategic priority, that of shaping and leading the accountancy profession by building greater market adoption, delivering member value and acting in the public interest.