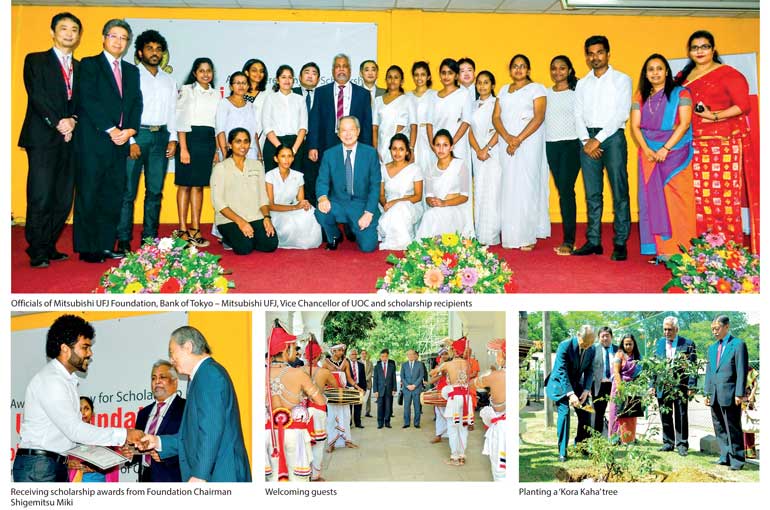 MUFG the first Japanese company to offer scholarships to Sri Lanka
The Mitsubishi UFJ Foundation of Japan awarded scholarships to 17 meritorious students of Colombo University (UOC) for their outstanding academic results.

Foundation Chairman Shigemitsu Miki distributed the scholarship to the students at a function held at FGS Auditorium of the university on 19 September. UOC Vice Chancellor Professor Lakshman Dissanayake presided the function while the Japanese ambassador in Colombo Kenichi Suganuma addressed the occasion as the chief guest.

Among those present at the ceremony were Yoshiaki Ozawa, Managing Director of Mitsubishi UFJ Foundation, Ryoichi Shinke, Regional Executive for MUFG India and Sri Lanka, and Tatsuo Matsushita, General Manager for MUFG Colombo.

Japanese ambassador Suganuma said higher studies are a timely need for growing Sri Lanka.

The students come from an array of majors such as Medicine, Law, Science, Business Management and Japanese Language studies. For the first time for Sri Lanka, a Japanese company is offering scholarships to Sri Lankan university students.

Miki said that the scholarship is one manifestation of Mitsubishi Foundation's commitment in developing the younger generation. "This scholarship is the foundation's contribution to improving the quality of Sri Lanka's young generation," he explained.

Representing MUFG's banking entity The Bank of Tokyo-Mitsubishi UFJ Ltd., Shinke said: "MUFG is committed to serve Sri Lanka's long-term economic growth meaningfully. It is our pride and pleasure to award these well-deserving students of University of Colombo. We believe this scholarship scheme will encourage them to excel further in their studies and have them contribute back to the communities in a glorious manner."

The bank is the largest in Japan, and was the first Japanese bank to open the Colombo Representative office in January 2016.

Miki also planted a "Kora Kaha" tree (Botanical name: Memecylon umbellatum) in the College house of UOC before the ceremony, to commemorate this momentum event.

Through the Mitsubishi UFJ Foundation, MUFG has been distributing scholarships and other contributions for talent development since 1984. Sri Lanka is the 13th country to be covered by this initiative and UOC the 32nd university to participate. The scholarship covers its recipients for one year. Renewal for the second year is dependent on recommendations by university management based on the student's academic performance.

The Bank of Tokyo-Mitsubishi UFJ, Ltd., a member of Mitsubishi UFJ Financial Group, Inc. (MUFG), is Japan's premier bank, with a global network spanning more than 50 countries. Outside of Japan, the bank offers an extensive scope of commercial and investment banking products and services to businesses, governments and individuals worldwide.

In the Asia and Oceania region, Bank of Tokyo-Mitsubishi UFJ has presence in 15 key markets with Singapore serving as the regional headquarters for South Asia, South-east Asia and the Oceania region since July 2013, while the regional headquarters for East Asia including China is located in Japan.