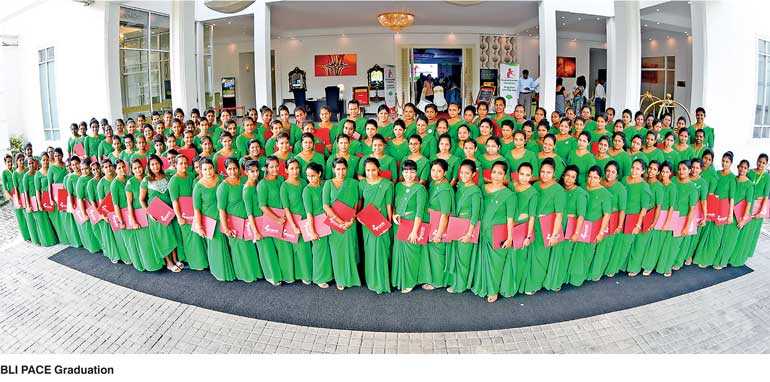 Achieving yet another milestone in the 'Inspired People' journey at Brandix, 161 female Associates from Brandix Lingerie (BLI) Wathupitiwala graduated from the Personal Advancement and Career Enhancement (P.A.C.E.) program recently, marking the highest number of graduates for a cluster within the Brandix Group.

Significantly, BLI Wathupitiwala was also the first cluster to have a group of 13 Associates certified as P.A.C.E. Internal Trainers, who are qualified to conduct the program for other Brandix Associates. P.A.C.E. provides its participants exposure to foundational life skills and technical training that will empower them to advance in the workplace and their personal lives.

"Gap Inc.'s P.A.C.E. program has delivered immeasurable value to many of our Associates, contributing significantly to their progression in the work place, and in helping them maintain a healthy work-life balance over the years," said Brandix Head of Corporate Social Responsibility Anusha Alles. "Inspiration is at the core of everything we do, and the P.A.C.E. training program is designed to inspire and empower female employees gain the skills and confidence they need to succeed in life."

The P.A.C.E. program comprises eight modules of life skills education including Communication, Problem Solving & Decision Making, Time & Stress Management, Water, Sanitation & Hygiene, Financial Literacy, Legal Literacy & Social Entitlement, General & Reproductive Health, and Execution Excellence.

"For the P.A.C.E. program to be successful, it requires a strong partnership," said Gap Inc. Director Elvis Francis. "We're proud of our continued work with Brandix to support its workforce and promote learning and skills-training. And we congratulate the new P.A.C.E. graduates on this important accomplishment."

Launched in 2007, Gap Inc.'s P.A.C.E. program is conducted in 16 countries including India, Cambodia, Vietnam, Bangladesh, China, Indonesia, Pakistan, Jordan, Myanmar and Sri Lanka. Research indicates that P.A.C.E. graduates are more productive, have lower rates of absenteeism, and are promoted faster than factory workers who do not participate in the programme.

In addition to the P.A.C.E. program, Brandix has also graduated 35 female mechanics that completed on-going in-house training courses on sewing machine maintenance and repair, reiterating the company's commitment towards empowering its female employees.