The 15th President Installation Ceremony of the IESL Toastmasters Club was held recently at Institution of Engineers Sri Lanka Wimalasurendra Auditorium at Wijerama Mawatha, Colombo, with the presence of members, well-wishers and guests.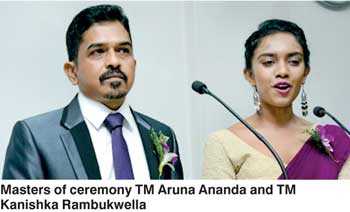 IESL Toastmasters Club, under the umbrella of the Institution of Engineers Sri Lanka, provides a comfortable learning environment for engineers to improve their leadership and communication skills, which are highly demanded skills in the modern professional sector.

The club has reached many significant milestones since its inception in 2004 with the foundation of strong leadership laid by the Charter President Jagath Jayawardane. Since then, all 14 Past Presidents, and the executive committees of the Club, have contributed to the uplifting of the standards of the Club.

The past year had been a year of achievements for the Club under the leadership of TM Amal Kaluarachchi, as the 14th President, and also the worthwhile contribution made by past presidents were also highlighted. Among the achievements, The Smedley Membership Building Award, Talk up Toastmasters Award, Presidents Distinguished Club Status, Quality Club Award, and Golden Gravel Award are the most significant.



The elegantly decorated event was attended by the renowned personalities of the Toastmasters fraternity, including DTM Suganthi Periyasami, TM Sarma Mahalingam, and DTM Ajantha Jayawardane. IESL Council Member Eng. M.K. Hapuarachchi graced the occasion as the Chief Guest, representing the Institute of Engineers Sri Lanka.

The Past President Toastmaster Dilshan Saleem inducted 7 new members into the fold in this colourful and prestigious ceremony, and Area Director Toastmaster Jagath Wickramasekara installed the new Executive Committee.

The incoming Executive Committee led by the President Erandi Udageachchi, followed by the Vice President Education Aruna M. Ananda, Vice President Membership Prasanna Ranasinghe, Vice President Public Relations Tharika Fernando, Secretary D W Basnayake, Treasurer Sarani Wijerathne, and Sergeant At Arms Dhanushka Gunathilake took oath to perform their duties in a member-centric club environment.

In her acceptance speech, President Erandi Udageachchi, being the second woman president of IESL Toastmasters Club, invited every member to stretch their wings and reach the pinnacle.