Executive Committee of Ralph Toastmasters Club 2019/2020
The 14th Installation Ceremony of the Ralph Toastmasters Club was conducted recently at the Elevate, Access Towers. The President and the Executive Committee for the year 2019/20 was installed at this ceremony. This colourful ceremony was graced by Distinguished Toastmaster (DTM) Arunasalam Balraj, Immediate Past International President of Toastmasters International along with key District Officials and new members.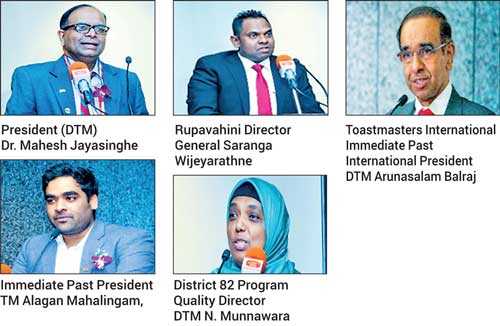 The Past President of Ralph Toastmasters Club Toastmaster Algan Mahalingam shared his experience over the year as a Club President on how the leadership experience moulded and shaped him to elevate himself in the professional arena as an entrepreneur. DTM Dr. Mahesh Jayasinghe was installed as the new President of the Club. The President and Executive Committee was installed by Toastmaster Zafraz Lameer. The President unveiled his theme for the year 'Discover, Develop and Define'. Sharing his experience from his journey in Toastmasters over the last 10 years he urged members to discover and develop competencies that define the path to success using the Toastmaster Education Program 'Pathways'.

The Chief Guest of the ceremony Balraj gave invaluable insights on the power of imagination and inspiration. The Guest Speaker of the evening was Saranga Wijeyarathne Director General of the Rupavahini Corporation who shared his journey across the field of communication and how he transformed his career to the next dimension.

Ralph Toastmasters is a community club with a formidable membership base representing a diverse cross section of members from varied backgrounds, communities and ethnicities. Over the years the club has nurtured and built leaders and communicators.

The club has produced speakers who have conquered the international platform. The club meets on every first and third Wednesdays of the month at the Royal College Skill Centre from 5:30 p.m. to 8 p.m. To join the club – please contact the President – Dr. Mahesh Jayasinghe: 0773072201 for membership queries.