By Fathima Riznaz Hafi

The lymph system consists of lymph nodes and vessels that carry lymph fluid in the body. The system is structured to protect our body through its lymph fluids which contain infection-fighting white blood cells while the lymph nodes act as filters, capturing and destroying bacteria and viruses to prevent infection from spreading. Unfortunately, these same lymph cells which are meant to protect us, can also turn deadly, if they become cancerous.

The cells (lymphocytes) can be found in the lymph nodes, spleen, thymus, tonsils, bone marrow, and other parts of the body and the cancers that occur in the lymph system are called lymphomas. When a person has lymphoma, lymphocytes change and grow out of control.

Parkway Cancer Care Singapore Senior Consultant Haematologist Dr. Colin Phipps in an interview with the Daily FT shared that lymphomas are typically divided into two categories: Hodgkin's Lymphoma and Non-Hodgkin's Lymphoma (NHL), and added that most people with lymphoma have NHL. Both of these involve different kinds of lymphocyte cells and every type of lymphoma grows at a different rate and responds differently to treatment.

"There are 60 types under Non-Hodgkin's Lymphoma. People with Hodgkin's Lymphoma have an 80% chance of cure while people with Non-Hodgkin's Lymphoma (NHL) have a 55% chance," he said.


Risk factors

There are three major types of blood cancer: Leukaemia, lymphoma and myeloma. Dr. Phipps noted that for leukaemia and lymphoma, unlike other cancers, there are not many known risk factors; for example, smoking has its notorious link to lung cancer, but has no relation to blood cancer.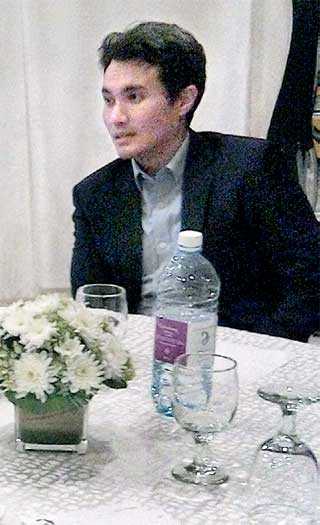 PCC Singapore Senior Consultant Haematologist Dr. Colin Phipps Diong
One of the few risk factors, is previous exposure to chemotherapy or radiotherapy. "Patients who have been treated for cancer in the past and received radiotherapy and chemotherapy have a slightly increased risk of developing leukaemia and lymphoma," he said.

Also at risk, are patients who have a weak immune system from HIV/AIDS, an organ transplant, or because they were born with an immune disease. "There are certain infections that can increase the risk of lymphoma; probably the most well-established one is HIV. HIV infection can predispose to lymphoma," he added.


What to look out for

How do we know if it's just a swollen lymph node and not lymphoma? Swollen lymph nodes are often harmless; they are likely to be caused by infections and clear up as your body heals.

"A reactive lymph node is common – when a person gets sick it gets enlarged, when he gets better it may get better and when he gets sick again it gets enlarged again; and after a while, over the years, it may just stay there without enlarging or going down," explained Dr. Phipps.

"Behind the ears is a common place for lymph nodes to appear – because it drains everything we breathe, and when we have a sore throat – all the particles – everything goes there. Other common places are the neck, arm and upper thigh."

However, it is important to be observant and look out for certain symptoms that may point towards lymphoma. "Lymphoma as a lymph node cancer doesn't usually just appear – one here, one there, and then just stop there – because it's a cancer; it usually grows and grows – it may be a fast pace or a slow pace," he said.

"If you have one or two swollen lymph nodes it's okay but if you have them in a few areas then that's not normal. Be cautious if lymph nodes appear under the arm as it is a common place for lymphoma but not common for other things. Lymphoma also presents with other symptoms – fever that won't go away, poor appetite, weight loss, and sweating severely at night."

"The best diagnosis for lymphoma is incision biopsy, that is, to remove the lymph node. We remove the lymph node for diagnosis – not treatment; because lymphoma doesn't usually appear in only one place – there will be a few lymph nodes – if we remove one, we still have to treat the others; and so we remove one and examine it under a microscope," he explained. If lymphoma is detected treatment begins.


Resistant lymphoma

"After giving patients a course of treatment, after some time, maybe after around one or two years, the lymphoma can come back and when it comes back it's usually not the same – it's not so easy to treat. Those are 'resistant lymphomas'," he cautioned. Asked if all patients who get lymphoma go through the same thing, i.e. it reappears after treatment, he replied, "Not all – but many patients."

Dr. Phipps has overseen the management of patients with complex blood cancers, including resistant lymphomas and those undergoing transplantation. "We carry out further testing on the tissue to see whether we can find medication or use medication that can target that kind of lymphoma, rather than just using chemotherapy alone," shared Dr. Phipps.

He has headed clinical trials that allowed patients access to novel treatments, and designed treatment incorporating novel targeted agents into standard treatment to try overcome treatment-resistance.

Dr. Phipps can be reached by getting in touch with PCC's local office – Parkway Patient Assistance Centre on: 0112809000.