Western Province Governor A.J.M. Muzammil has instructed the authorities of the Gampaha District Hospital on Saturday to carry out repairs to longstanding problems urgently while giving priority to the hospital's central air-conditioning system, fire protection, water leakage and replacement of the old lifts with new ones.

He made this statement during an inspection visit to the hospital in Gampaha on Saturday.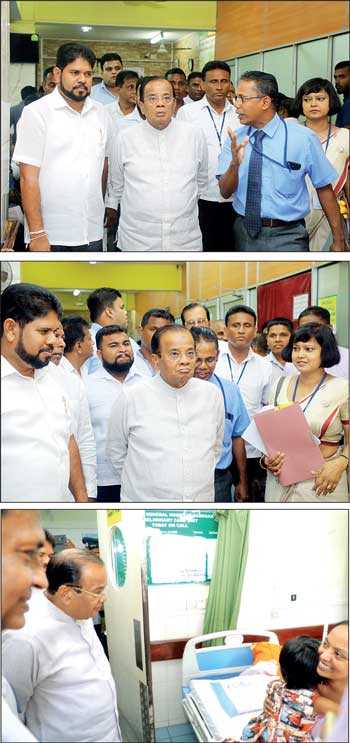 Chairman of the Western Province; Provincial Council; Sunil Wijeratne, former Gampaha Pradeshiya Sabha and Provincial Council Road Development Authority Chairman, Ajith Basanayake and Parliamentarian Lasantha Alagiyawanna were also present.

Following a tour to various facilities of the hospital, Muzammil lamented that various repairs could have been done in time without patients having to suffer. "We cannot afford to delay these repairs since this can affect human lives," Muzammil said.

The Governor requested the hospital authorities to call for quotations for the purchase of three new lifts and also for the repairs of the air-conditioning system, fire-fighting systems and solutions to water leakage problems from roofs and buildings.

Muzammil also said that he would call for a technical report from the Moratuwa University about the safety of the hospital buildings to decide further action. He further said that he would cooperate with the health authorities to complete these works without any further delay.

The Governor pointed out that there was s no need for the Provincial Council to hand over the hospital to the Central Government since the priority was to carry out these repairs by the Provincial Council without further delay.

Answering a question from the press, Muzammil said governors were appointed to various provinces by the President without any consideration for caste, creed or religion. "The President will always look for a person who will dedicate himself to work for the welfare of the people," the Governor noted.

Earlier in the day, the Governor also visited the St. Lucia's College in Kotahena. Muzammil found that one of the buildings was in a dilapidated condition and harmful to the students. He called for urgent repairs of the building and told the authorities that it was not safe for the children to study under such pathetic conditions.