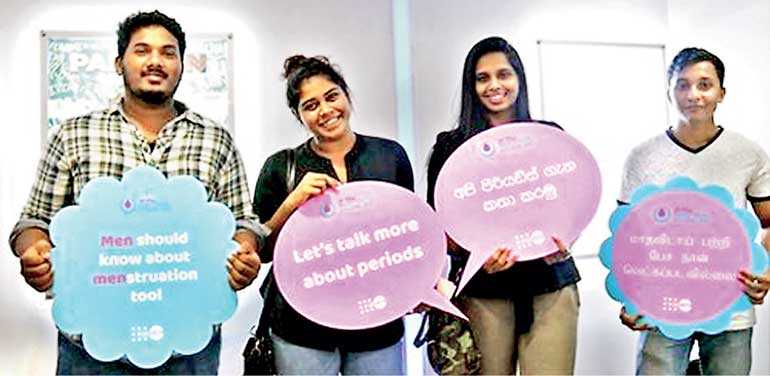 Menstruation, colloquially known as 'periods', is a normal biological process. However, it remains a globally stigmatised issue, and many are reluctant to speak up about it. This is why the world comes together on 28 May, every year, to mark Menstrual Hygiene Day – to raise awareness on the challenges women and girls face due to menstruation, and to highlight solutions to address these challenges.

According to a UNICEF and WaterAid study, 60% of parents in Sri Lanka do not allow their daughters to go to school during their period, and 80% of teachers think that bathing should be avoided during menstruation. Such taboos and misinformation affect the menstrual hygiene of women and girls, and undermine gender equality. It leads to discrimination, causing women and girls to miss out on their education, work and other opportunities in life.

Identifying the need to increase awareness on menstrual hygiene and to break the stigma around menstruation, the United Nations Population Fund (UNFPA) in Sri Lanka marked Menstrual Hygiene Day by running a quiz competition on its social media channels. Winners received passes to watch the Bollywood film 'Pad Man', at a special screening held on 28 May 2018.

'Pad Man' is a film based on the inspiring life story of Arunchalam Muruganatham, an Indian man who revolutionised the concept of menstrual hygiene by manufacturing low-cost sanitary napkins in India, upon learning that his wife used filthy rags and newspapers during her periods. The film explores many important aspects such as gender stereotypes and challenges the social stigma around menstruation.

Speaking at the event, UNFPA Sri Lanka Representative, Ritsu Nacken said; "The social stigma associated with menstruation can undermine gender equality. By having open dialogues about menstruation we can promote healthy attitudes and safer practices in hygiene and sanitation. It is important to recognise that menstruation matters not only to women and girls, but also to men and boys. Including men and boys in conversations about menstruation will help create normalcy and foster a safe and supportive environment for women and girls".

At the event, over 100 young people also had the opportunity to learn about three eco-friendly menstrual hygienic products: 1) Candra – a reusable undergarment manufactured by Sri Lankan apparel company Hela Clothing, 2) Me Luna – Menstrual Cups produced in Germany, and 3) Momiji Natural – a reusable cloth-based sanitary napkin locally produced by a female Japanese entrepreneur.