Members of the Inner Wheel Club of Colombo West, along with representatives of the Puttalam Base Hospital: Azeez, Social Worker, Nirmala de Silva, Mumtaz Nastar, Sister Kumudini, Nirmalie Gunatilleke, Kumudini Kulasinghe, Shanta Jayalath, President, Inner Wheel Club of Colombo West, Nurse Janaki, Dr. Neelika Dissanayake, Consultant Pediatrician, Dr. Sumith Attanayaka, Medical Superintendent, Shani Croner (partially visible), Dr. Varuna Herath, Matron Punya, Fazlyne Mohamed, Jinadari Gunawardena
---


Medical Aid to Sri Lanka, UK in collaboration with Inner Wheel Club of Colombo West presented the Puttalam Base Hospital with a state-of-the-art incubator worth Rs. 2 million for its Paediatric Ward, on Wednesday 19 June. At a handing over ceremony, the Medical Superintendent of the hospital welcomed members of the well-established non-profit organisation, and accepted the generous donation of the vital piece of equipment.
With a population of around 400,500, approximately 500 to 600 babies are born in Puttalam each month, of which approximately 30% are prematurely born. As a result of the lack of neo-natal care facilities within the Puttalam Base Hospital, these babies are sometimes sent to other nearby, or even more distant, hospitals. The hospital has been struggling to manage with just one incubator for the past five years.

When this was brought to the notice of the Inner Wheel Club of Colombo West, the association approached Medical Aid to Sri Lanka in the UK for assistance. The charity generously agreed to meet the entire cost of a top-of-the-range incubator; one with a weight monitor and a pulse oxymeter attached to it.

Medical Aid to Sri Lanka was founded in 1995 by a group of expatriate Sri Lankans residing in the UK, with the intention to help relieve sickness and disease in communities across Sri Lanka through donations of medical and surgical equipment. As a registered charity in the UK, the organisation donates vital facilities to government hospitals in all corners of the island. This donation is the latest in a long list of charitable offerings, as to date, the charity has presented equipment to more than 30 government hospitals to the value of over £ 400,000. "This is such a happy occasion for our members to finally be able to formally handover this incubator to the hospital," said Inner Wheel Club of Colombo West President Shanta Jayalath.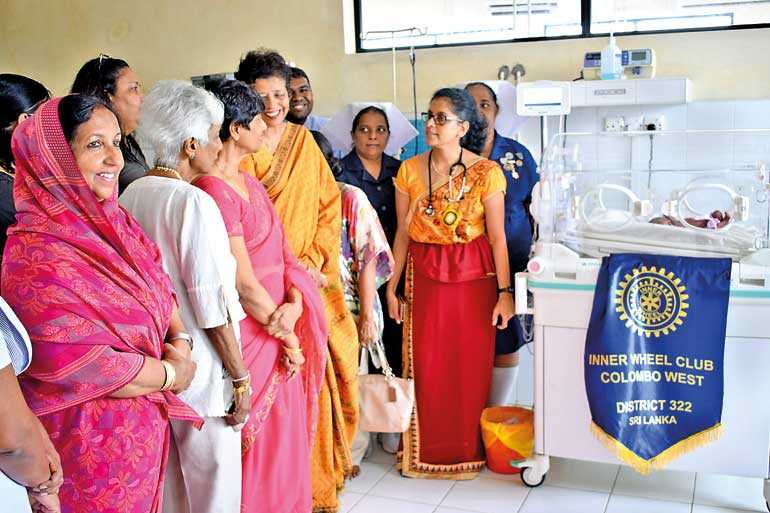 The Inner Wheel Club of Colombo West hands over a state-of-the-art incubator from Medical Aid to Sri Lanka, UK to the Puttalam Base Hospital
---


"This was a much-needed piece of equipment for the paediatric ward, one which we hope will now be able help to save the lives of many pre-term babies, giving them a new lease on life. I would like to thank Medical Aid to Sri Lanka UK for their generous support, as well as the Puttalam Base Hospital for giving us the opportunity to help people in Puttalam." At the ceremony, doctors and the hospital staff of the paediatric ward expressed their gratitude to the two associations for this generous donation.

"For babies born prematurely and in need of special care, an incubator such as this will be able to facilitate the medical needs of the baby as well as provide the same warmth and satisfaction of being in a mother's womb," said Puttalam Base Hospital Paediatric Consultant Dr. Neelika Dissanayake. "We are extremely grateful to Medical Aid to Sri Lanka in the UK and the Inner Wheel Club of Colombo West for the generous donation of this state-of-the-art incubator."