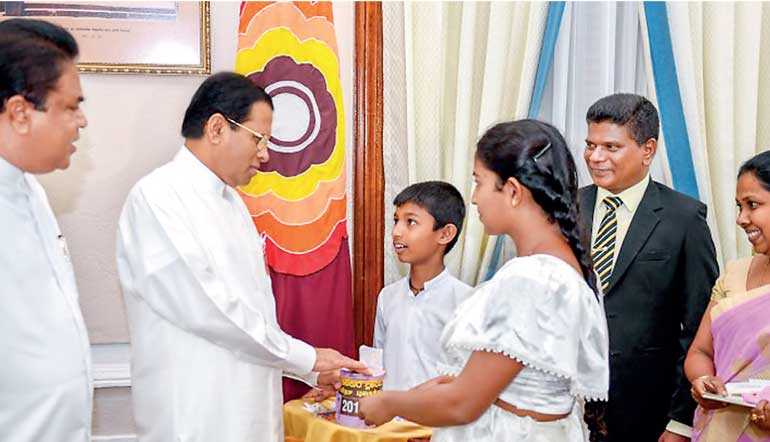 The first flag of the No-Tobacco Samurdhi Flag program, carried out in parallel to the World No Tobacco Day which falls on 31 May, was pinned on President Maithripala Sirisena at the Presidential Secretariat yesterday.

This program will be carried out from 31 May to 30 June throughout the country. A large number of programs have been organised to create awareness on the harmful effects of tobacco use to the public, including the school children.

The funds earned from the selling of flags will be utilised for the welfare of the Samurdhi beneficiaries.

The first flag was pinned on the President by a child who belongs to the Ussawa Samurdhi Division, which earned the highest fund from selling the flags during last year.

Minister P. Harrison, Department of Samurdhi Development Director P. R. D. H. Anurawansha, and other officials participated in this occasion.

The President's Office said it has been scheduled to hold the Global Alcohol Policy Conference in Sri Lanka next year, and the agreement on this was signed at the Presidential Secretariat on Wednesday.

Last year, this Conference was held in Melbourne, Australia and it is scheduled to be held in the year 2019 in Sri Lanka in recognition of the great service rendered by President Maithripala Sirisena as the Head of State to eliminate the drug menace.

National Authority on Tobacco and Alcohol Chairman Dr. Palitha Abeykoon, and Alcohol and Drug Information Centre Executive Director Pubudu Sumanasekara presented the agreement to the President. Presidential Task Force on Drug Prevention Director Dr. Samantha Kithalawaarachchi also participated during this occasion.