New generation of biologics in osteoporosis treatment brings hope to sufferers
By Fathima Riznaz Hafi

Elderly women in hunchbacked positions is what we picture when we hear the word 'osteoporosis'. Most people tend to dismiss it as part of ageing and don't consider it a condition that is as serious as strokes, breast cancer and heart attacks.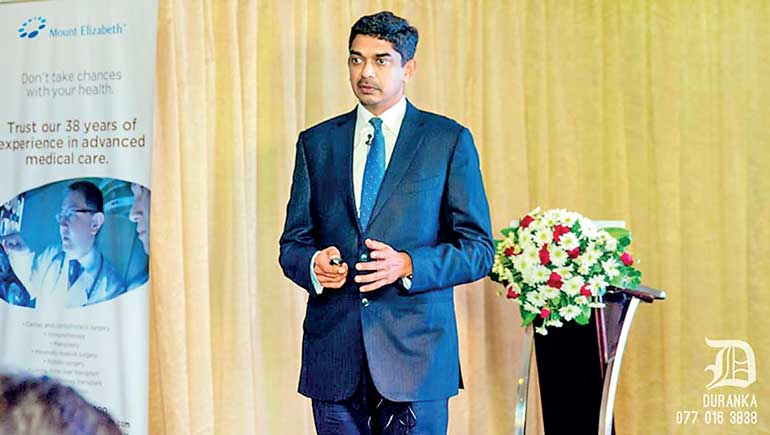 Mount Elizabeth Hospital Singapore Orthopaedic Surgeon Dr. Nathan Saminathan Suresh
It may seem harmless, but on the contrary, osteoporosis can have severe crippling effects and the occurrence of just a fracture can even lead to death. The frequency of these deaths is in fact higher than those of the above three notorious diseases, yet it receives less prominence.

"Patients with osteoporosis are prone to hip fractures and spine fractures and these fractures can actually kill people if they take place in certain locations in the body. You will be surprised when I tell you this but if you combine all the deaths due to stroke, breast cancer and heart attacks – the number is even less than those due to osteoporosis! That's how common osteoporosis is but nobody has been considering it to be at the level of importance as the other three," says Parkway Hospitals Singapore Orthopaedic Surgeon Dr. Nathan Saminathan Suresh.

Taking care of our bones at an early age through a healthy lifestyle which includes proper diet and exercise plays a big role in preventing osteoporosis. If a person is diagnosed with osteoporosis however, the condition can be managed through treatment and care; bones can be strengthened and fractures can be prevented.

There are surgeries to treat patients with osteoporosis but unfortunately many elderly patients are turned down if they are above the age of 75 because it is not safe for them. Now, with the advent of modern medicine, technology and very importantly the introduction of biologics (genetically engineered versions of human proteins in place of synthetic chemicals) in some leading hospitals, it has become safe for them too, he said.
New developments in osteoporosis treatment

Dr. Suresh was in Colombo recently to participate in a Lifestyle Health Education Seminar organised by Parkway Hospitals Singapore's local Patient Assistance Centre. Prior to the seminar, he met up with the media and spoke about new developments in osteoporosis treatment.

"Osteoporosis treatment in the past focused on women, hormonal manipulation, etc. All we could do was manipulate the environment of the cell – manipulate the hormones around the cell but now the treatment has become so specific that we are targeting the very cell that is causing osteoporosis and we are neutralising the cell itself! We are actually going straight into the cell and taking it out of the equation; and that is actually changing the way we are viewing osteoporosis," he said.

"For the longest time we used to focus on osteoporosis only in women but with these new technologies we are able to focus on osteoporosis in men, osteoporosis not due to menopause, etc. Neurobiology is permitting us that kind of very specific treatment. We are in a very exciting period of time."

He further explained, "We cannot have the body forming too much bone – it becomes too brittle and we cannot have the body losing too much bone – it becomes too soft. So there are these two cells that are always in interplay – one forming bone and the other one removing bone. As you get older – the cells that form bones become very quiet so the cells that remove bone start becoming active. They are over-active – so you become osteoporotic and then have high risk of fracture.

"In the past the idea was to try and manipulate the whole environment so that the bone-resorbing cells – the osteo parts are less active. This was very much like poisoning the body in order to achieve that effect. We literally had to poison the bone so that the cells would find it not so palatable to eat the bone anymore. We used a material called 'Fosamax' – it's like bleach – those old agents had terrible after-effects. Also, the toxicity of the drugs were such that they were not given to elderly patients above 75 years of age because they can cause gastric erosion and kidney failure; so people above that age were fracturing and dying.

"The beauty of this new group of drugs is that it does not have the side effects of the old ones. Now we have the ability through antibodies, to target and attack those specific cells and take them out of the equation. It doesn't touch anything else. We are doing that through a new generation of biologics. The results have been very dramatic and remarkable because these chemicals stay in your body for about six months and then they get washed out so there is no after-effect. This completely changes the way we view this group of patients."

Dr. Suresh says he tends to get cases that everyone else has given up on – such as a patient facing amputation; one big group is the osteoporotic patients who have failed treatment – they were being monitored and were not showing increases in bone density – these are the patients that he starts these agents on; and increases in their bone mass are then seen.
Osteoporotic fractures

A person with osteoporosis has very brittle bones and a small fall can easily fracture the bones. When that happens what can be done about those broken bones?

Dr. Suresh explained, "On a typical patient with osteoporotic fractures, first we would do the bone mineral density test – if it is low we start on intra nasal spray to give the pain relief first. Then we focus on bone strengthening and use an antibody to do that. Once we have done that, we have modalities like 'kyphoplasty', where when the spine is broken and it's gone into 'kyphosis' or hunchback, we would put in a balloon, blow up the balloon and restore the shape of the spine and then fill it up with cement."

"All this is done with small little cuts – we don't have to do big cuts as this technology removes the need for surgery. The procedure actually prevents fractures. So even before these things happen we can prevent hip fractures and spine fractures. The patient is treated under day surgery and not even in the operative theatre but in the radiology suite," he said.

This advent of new technology and increasing use of biologics bring immense hope to patients who would have otherwise spent the rest of their lives on painkillers and wheelchairs. Parkway Hospitals Singapore has the necessary technology and expertise to treat patients with osteoporosis – even elderly patients in the more advanced stages; patients who wish to learn more about the facilities and services available can contact their local representatives, Parkway Patient Assistance Centre on: 0112809000.