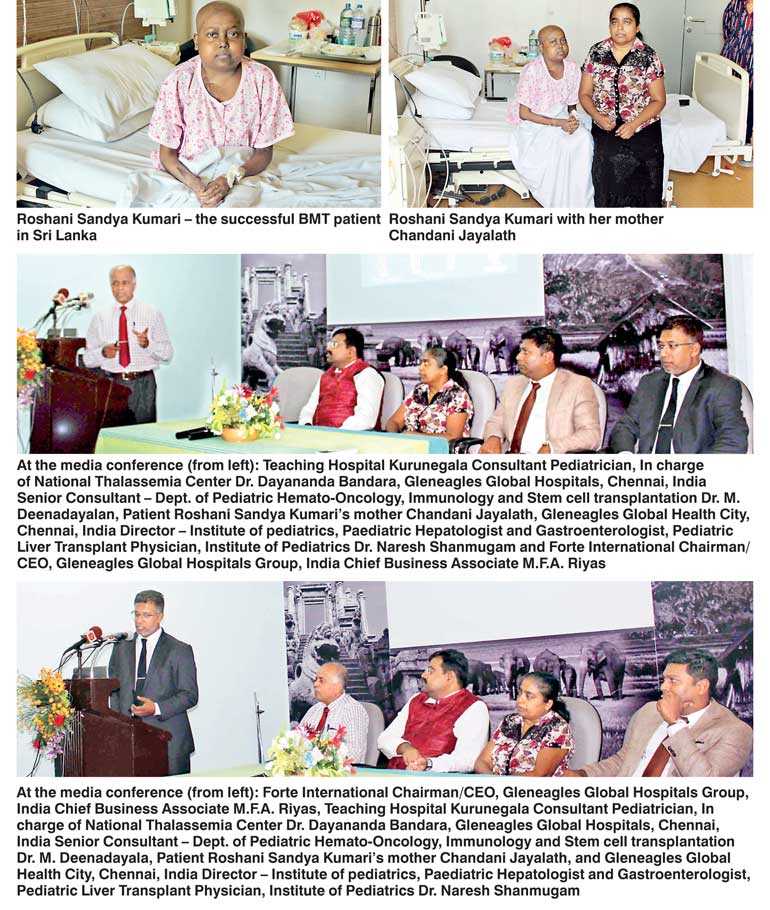 Doctors at Gleneagles Global Health City, Chennai, have successfully performed a Haploidentical BMT for Thalassaemia Major on a 17 year old Sri Lankan girl. Roshani Sandhya Kumari from Kurunegala underwent this procedure as a definitive treatment for Thalassaemia.

Since a fully matched donor was not available, Dr. Deenadayalan and Dr. Vimal Kumar, Paediatric Hemato Oncologists at Gleneagles Global Health City, transplanted 'half-matched' stem cells from Roshani's mother in a bid to both save her life as well as improve her quality of life.

Roshani a 17 year old girl from Kurunegala, was diagnosed with Thalassaemia major when she was less than one year old and she has been on monthly blood transfusions since then. Roshani met Dr. Deenadayalan in an outreach program at Kurunegala and she was advised to visit Chennai for further evaluation. Routine medical checks were done to assess her condition in Gleneagles Global Hospitals, Chennai and it was concluded that a Bone Marrow Transplant was the final solution for her problem. Roshani was the only child in the family, and unfortunately there were no fully matched donors in the family or in unrelated registries. It was then that Dr. Deenadayalan and Dr. Vimal Kumar's team suggested a Haploidentical BMT using her half matched mother as a donor, which could save Roshani's life.

Roshani's mother was prepped with medications during the month of August 2017 and again in January 2018 so that she would be ready to donate her stem cells to save her daughter. The lifesaving Bone Marrow Transplantation was successfully performed on 19 January by a team of doctors led by Dr. Deenadayalan, post which the patient was kept under observation and strict medical supervision. Roshani's condition improved gradually and she was totally fit for discharge in the next two months. She recovered fully and was discharged from the hospital on the 8th of March 2018.

Roshani's transplantation has been successful and she is on regular follow up. She will go on to lead a very normal life from now on, thanks to modern science, the expertise of the doctors at Gleneagles Global Hospitals and indeed the love of her mother.


Haplo-Identical Bone Marrow Transplantation

Bone Marrow Transplantation (BMT) is the only curative option available for Thalassaemia Major. More than 90% of children, who have HLA matched family donors, get cured of thalassaemia by a straight forward BMT. However, only 25% of children have a fully HLA matched donor in their family. The chances of getting a fully matched unrelated donor is indeed very rare.

Haploidentical transplantation using a half matched parent is a treatment option for those who do not have a sibling donor or could not afford an unrelated donor transplant. The advantages of a haploidentical transplant is that the donor (parent) is readily available to donate, and in situations where the safe age for transplant in Thalassaemia (less than seven years) has been crossed and there is no fully matched donor available, families could consider haploidentical transplant.


Thalassaemia

The life of a family having a child with Thalassaemia is fraught with so many challenges. Besides the cost involved for blood transfusions every month, many families have to go to a nearby district hospital sacrificing their daily wage to receive WBC depleted blood which is a necessity in Thalassaemia. Thus the majority of the patients do not receive optimum care. Repeated blood transfusions also lead to iron overload in the body damaging critical organs like heart, liver and thyroid. To reduce iron overload, such children need to be started on iron chelating medications. Various factors like ignorance, poor compliance and unaffordability result in less than 10% of these children getting adequate iron chelation. All these factors make the survival of patients with Thalassaemia beyond the second or third decade of life, extremely difficult.

Thalassaemia, the most common genetic blood disorder worldwide affects the body's ability to produce haemoglobin, the protein inside red blood cells that helps in carrying oxygen to cells. Insufficient haemoglobin leads to anaemia, fatigue and frequent infections and children often require lifelong blood transfusions. Consanguineous marriages, or marriages between closer cousins, are a major risk factor for Thalassaemia.

Every year, 100,000 children are born with this disorder across the world. Estimates in Sri Lanka indicate that there are around 2,000 patients with Thalassaemia syndrome in our country and around 80 to 100 children added every year to this pool. The magnitude of the problem of Thalassaemia is huge in our country; hence we need to have effective screening programmes where Thalassaemia carriers have antenatal testing done to prevent the birth of a child with Thalassaemia Major.

To summarise, in circumstances where there are no fully matched donors available, even half matched (haploidentical) transplants can be considered as a highly successful curative option for children with Thalassaemia.

Gleneagles Global Hospitals Group is one of India's fast growing chains of multi-super speciality, tertiary care hospitals offering comprehensive healthcare services of international standards, strategically located across the South and West of India. Gleneagles Global Hospitals have been bringing the highest quality of technology, skills and ethics to health care. Gleneagles Global Hospitals is one of India's leading tertiary care healthcare providers with a network of nine hospitals and over 2,000 beds.

The Group has carved a niche for itself by excelling in the most complex of surgeries including Transplantation – Liver, Kidney, Lungs and Heart. The philosophy of the Group is to offer Quality Healthcare at an affordable cost. Gleneagles Global Hospitals Group is a part of Parkway Pantai Ltd. Parkway Pantai is one of the region's largest integrated private healthcare groups with a network of 22 hospitals and more than 4,000 beds throughout Asia. It is fully owned by IHH Healthcare Berhad, which is the second largest healthcare group in the world by market capitalisation.

All this was not possible without the help of Forte International, who coordinated matters from start to end and helped Roshani to get a better life. To effectively reach out to the patients across Sri Lanka and to ensure they receive superior healthcare services, Gleneagles Global Hospitals Group, has appointed Forte International as their business partner with the aim of easing the burden of those who wish to travel to India for world class medical treatments.

Forte International, headed by M.F.A. Riyas Chairman/CEO is constantly taking care of and serving patients in Sri Lanka, with the untiring support of medical professionals and doctors in Sri Lanka.