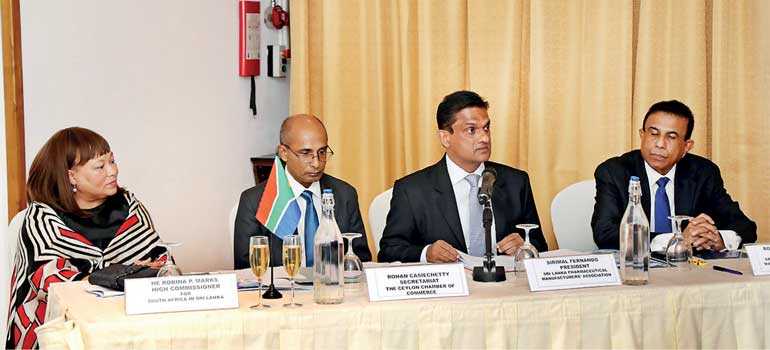 Seated from left: High Commissioner of South Africa in Sri Lanka Robina P. Marks, Ceylon Chamber of Commerce Secretariat Rohan Casiechetty, Astron President Sirimal Fernando, and Lina Pharmaceuticals Manufacturing Vice President Rohan Wetthasingha
The Sri Lanka Pharmaceutical Manufacturers' Association (SLPMA) held its 53rd Annual General Meeting at the Hilton Colombo Residences, Colombo 2 recently under the caption 'Medicines manufactured by Sri Lankans in Sri Lanka, for Sri Lankans and to the World'.

The SLPMA is an affiliated trade association under the umbrella of the Ceylon Chamber of Commerce.

The membership of the SLPMA comprise business enterprises who are engaged in the development and manufacture of pharmaceuticals and medical devices in Sri Lanka.

The Vision of the Association is to promote the efficiency of the pharmaceutical manufacturing industry in order to ensure medicinal products of the highest quality are readily available for the prevention and treatment of human diseases at very affordable prices.

Astron Ltd. Deputy Managing Director Sirimal Fernando, was re-elected as the President of the Council while Lina Pharmaceuticals Manufacturing Ltd. Director Rohan Wetthasingha was elected as the Vice President of the Association for the year 2018/19.

The following members were elected into the Executive Council: Ace Healthcare Ltd.; CIC Lifesciences Ltd.; Emergen Lifesciences Ltd.; Gas World Ltd.; Gamma Pharmaceuticals Ltd.; Glaxo Wellcome Ceylon Ltd.; Hands International Ltd.; Himata Ltd.; Interpharm Ltd., Morison PLC; Navesta Pharmaceuticals Ltd.; Smithkline Beecham Ltd.; State Pharmaceuticals Ltd. and Unical Ceylon Ltd.

In his address, the newly elected President, conveyed his sincere appreciation to Minister of Health Dr. Rajitha Senarathna, MP, for having recognised and encouraged the local pharmaceutical manufacturers, in their efforts of producing quality and effective drugs and supplying to the Ministry of Health through the Guaranteed Buy Back Agreement. Fernando also conveyed his sincere appreciation to the officials at the Ministry of Health, and all other stakeholders who have been supportive towards the development of the local pharmaceutical manufacturing industry.

The President also commented that through the Guaranteed Buy Back Agreement there are many companies interested in joining the Association and appreciated their willingness to develop the industry in line with the vision of SLPMA.

High Commissioner of South Africa in Sri Lanka Robina P. Marks, the Guest of Honour at the event delivered her oration on the Servant Leadership commemorating the 100th birth anniversary of the Late Nelson Mandela which was well received by the audience.