Oticon, one of the world's leading hearing aid manufacturers recently celebrated selling more than one million state-of-the-art Oticon OPN aids to individuals around the world. As the sole agent for Oticon in Sri Lanka since 2005, Vision Care Hearing Solutions is proud to celebrate the brand's success and has provided countless people across the island, with access to world-class Oticon OPN hearing aids. These cutting-edge solutions have transformed the lives of thousands of Sri Lankans and people across the globe, enhancing their quality of hearing and empowering them to communicate with greater ease.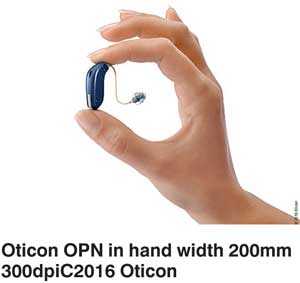 Driven by its motto of 'People First', Oticon creates ground-breaking solutions that give individuals with varying hearing impairments the technical support that they need to share their thoughts and ideas freely whilst engaging in conversations with greater confidence. Oticon OPN aids are designed to not only aid speech and communication, they transform people's lives by breaking down barriers and giving them the chance to interact with others, be active participants in the world around them and enjoy more fulfilling lives and careers.

Oticon OPN is an innovative device that employs an "open sound" approach designed to manage multiple speech and noise sources, even in complex listening situations. OPN's new OpenSound Navigator scans the environment 100 times per second to analyse and balance every sound individually. The Oticon OPN is the first-ever internet connected hearing aid, that allows direct streaming of phone calls and media from an iPhone. Compatibility with Android devices was also made possible with the newly released Connect Clip, enabling all smartphone users to enjoy its benefits.

The product's sales in 2018 show that it continues to be the most revolutionary hearing device in the market to date. In a recent survey, 700 new Oticon OPN users (who are an average age of 61-70 years) were asked to give their feedback about the product. A total of 96% reported that they hear better or much better, 81% claimed that to hear with less effort, 62% said that they were able to keep up with conversations with greater ease and 70% confirmed that they were extremely satisfied with their Oticon OPN hearing solutions.

Commenting on Oticon selling over a million Oticon OPN hearing devices by 2018, Chathira Siriwardena said: "As the sole agents of Oticon devices in Sri Lanka, we at Vision Care Hearing Solutions are pleased that this remarkable product has drastically improved the lives of over one million hearing-impaired individuals across the globe, and positively impacted countless people in our country as well. Designed in Denmark, Oticon OPN aids have helped to transform so many people's lives, delivering better clarity of audibility and improved understanding of speech. Over the years, Vision Care Hearing Solutions has established hearing aid fitting and aftercare processes and services that are on par with international standards, in an effort to bring the best of what the global hearing aid industry has to offer to Sri Lanka. We look forward to the new innovations that Oticon has to offer in the years to come, and hope to continue providing Sri Lankans with access to the latest tools and solutions, that will improve their hearing and their quality of life."

Established in 1904, Oticon is a hearing aid manufacturer based in Copenhagen, Denmark. Vision Care Hearing Solutions supplies the Oticon OPN hearing aids and all fittings and after-sale services that are required to customers in Sri Lanka. Having made great strides in the eye care industry, Vision Care hopes to do the same to help individuals with varying hearing needs and requirements.