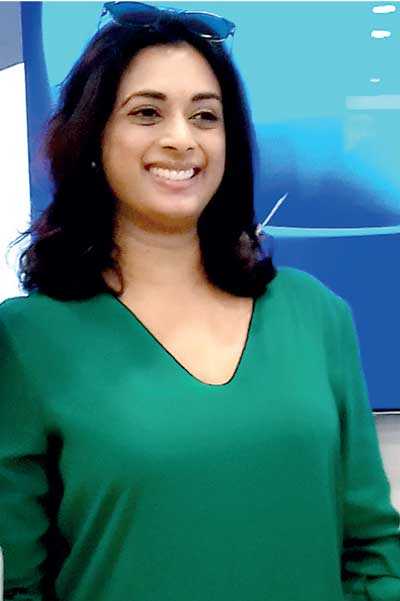 Today we feature an interview with Softlogic Plc Group Director Marketing Desiree Karunaratne, who speaks on ODEL's ongoing Fitness Week.

"With the increasing global awareness on the importance of being and staying fit, while leading fashion labels have also increased their focus on creating trendy and fashionable athleisure as well as athluxury brands with a view to bringing performance and style details together seamlessly without compromising on one or the other, ODEL, being at the forefront of fashion and lifestyle, will launch Fitness Week which we intend making an annual event," said Karunaratne.
Q: What prompted ODEL to have a Fitness Week and will you be making this an annual event?

A: With the growing global trend towards fitness, health and wellbeing, where fitness is really a lifestyle now and no longer an option, people have recognised the need to stay healthy and fit through regular exercise, with many making a conscious effort to build some form of exercise into their weekly routines. Globally too fashion brands have started actively embracing the 'athleisure' fashion trend, casting a nod towards how sportswear can be worn out of the gym and into the club.

Of course ODEL, as the pioneer fashion and lifestyle store in Sri Lanka, wanted to take the lead in being a key promoter and advocate of fitness, the importance of staying healthy and proper nutrition, as we see a great fit between that ethos and some of the products we carry in our store. Hence the launch of ODEL Fitness Week. What's more is we also hope to make this an annual staple on our calendar of activities.

Q: What is Odel Fitness Week about and how is it promoting health, wellness and fitness?

A: ODEL is home to some of the world's most loved and leading sportswear brands including Nike, Adidas, Reebok, Puma, Speedo, Canterbury and Yonex. The ODEL Fitness Week is the perfect platform to create an unparalleled value proposition for our loyal customers by making available to them a range of attractive offers during this week and encouraging them to stay fit and healthy.

ODEL Fitness Week will bring a week's worth of stellar offers and activities to make ODEL the go-to destination for all fitness needs amongst fitness enthusiasts. During the week, there will be 20% off on our branded line-up of sportswear, free gifts with purchases on Superfoods from DELIGHT, 10% off on selected wellness teas as well as a host of free gifts from BLEND.

In addition, we will also have available a selection of special health menus at The Promenade. To add further value in terms of fitness and wellness, Softlogic Life and Asiri Hospitals, both of whom are a part of the Softlogic conglomerate, will offer BMI tests as well as random blood sugar testing, blood pressure testing and doctor consultations for heart disease all at the ODEL Alexandra Place store. We will also hold an interesting panel discussion mid-week where experts in the fields of nutrition, wellness, beauty and sport will share their views on why staying fit and healthy is important, how best to be healthy and fit as well as advice on maintaining a good lifestyle

Q: How is ODEL helping customers pursue healthier lifestyle choices?

A: By activating all of the above we hope to draw more interest to the subject of fitness. The exciting offers in store which we have lined up will surely be of interest to all fitness enthusiasts. Apart from the above we will also be making some transformational changes to our flagship store at Alexandra Place. From the point of entry to the store there will be motivational signs to encourage and motivate people on their journey to staying healthy and fit. The main atrium of the store will see a highlight of the ODEL Fitness Week display. There will be popup stands offering protein supplements through special offers. All shoppers will be given workout cards indicating some easy-to-do workout routines while at home. Changing room mirrors will carry unique and different motivational messages.

Q: Could you tell us more about the sportswear, activewear and athleisure brands and designs at ODEL?

A: ODEL SPORTS is our sports department which has within its portfolio many of the key global activewear brands such as Nike, Adidas, Reebok, Puma, Speedo, Canterbury and Yonex. The product lines consist of a highly specialised and wide offering for a range of sports across basketball, football, rugby, swimming, tennis, badminton, running, training, yoga, athletics, golf and motor racing. Additionally, ODEL SPORTS also offers sporty casual sportswear brands such as US Polo, Arrow Sport and Adidas Originals.

Q: In terms of sales, do you find that customers are now spending more on sportswear, activewear and athleisure wear?

A: We have definitely seen an upward trend within the sportswear department in the recent past which is a clear reflection of the market's uptake towards a change in lifestyle patterns. The growing sales from ODEL SPORTS is a clear testament to shifting consumer needs towards fitness and also athleisure. Sportswear is no longer a boring clothing option for people. Today everyone irrespective of age or gender likes to look good while they train or exercise. Looking good while exercising is a huge motivational driver and performance enhancer.

We are also seeing an increasingly sophisticated consumer who walks through our doors seeking specific sportswear options. Today's consumer is very savvy, updated and is also armed with a lot of knowledge. This makes us as a key fashion retailer all the more encouraged to widen our product offering across active wear as we see this as a key contributor to sales going forward. It is a segment which we feel will witness a strong and consistent growth. Hence we are placing a lot of focus on ODEL SPORTS.

Q: As a responsible corporate citizen, does ODEL feel the need to promote a more active and healthy lifestyle among its customers and what future plans do you have to do so apart from the forthcoming Fitness Week?

A: This is our first step towards creating more awareness among our customers and also rewarding them with many offers which will help them on their path to staying fit. The ODEL Fitness Week is the first of many we hope. And I am sure as we go along we will be making further improvements to make the experience that much better for our customers.

Q: Does ODEL promote a fitness regime amongst its staff as well?

A: Yes, we do. We have been promoting it actively among our staff and have seen many of our staff embracing the need to stay fit by working out and eating healthy.

Q: What special selections of healthy deli items, salads and juices will be on offer?

A: Most of the restaurants at The Promenade have collaborated with us on the ODEL Fitness Week and will promote healthy meals. Sugar Bistro has developed special menus of healthy organic foods; The Regent will also offer healthy Sri Lankan menu options as well as Roots, who have come on board with their natural fruit juices. All water bottles sold at the Promenade during this period will carry motivational messaging to encourage consumers to drink more water and keep themselves hydrated.