Dr. Hyun-Woo Choi exchanging, members of GC Labs delegation, Nawaloka Hospitals Director Prof. Lal Chandrasena (L) and Nawaloka Holdings Chairman Dr. Jayantha Dharmadasa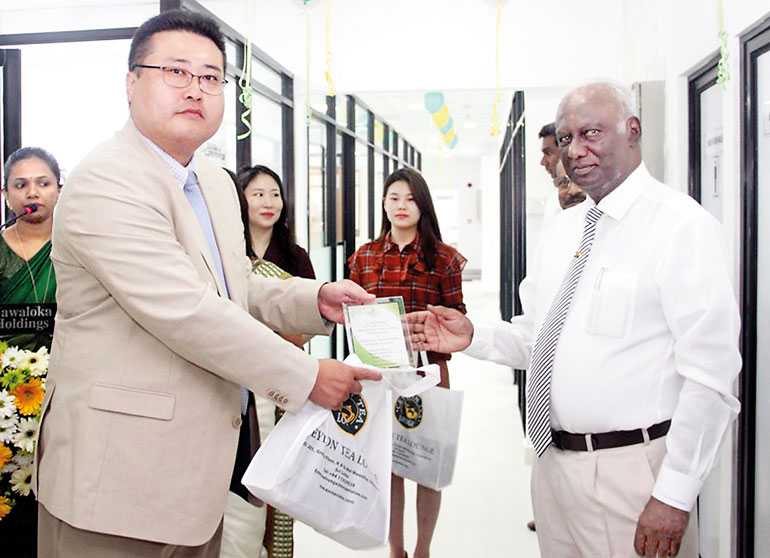 Nawaloka Holdings Chairman Dr. Jayantha Dharmadasa and GC Labs Director Dr. Hyun-Woo Choi exchanging plaques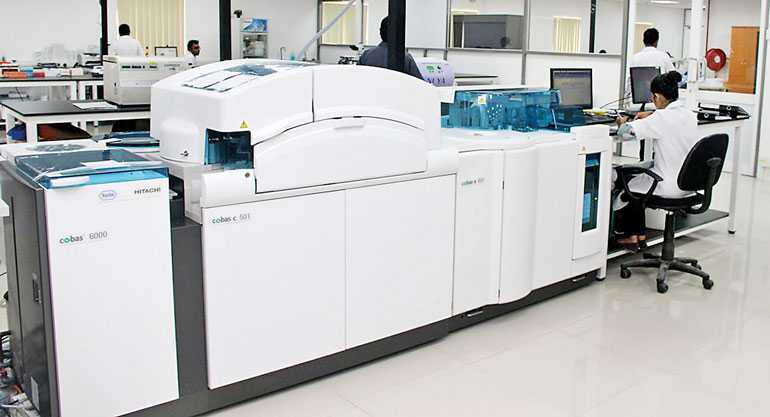 COBAS 6000 Machine
---
Nawaloka Hospitals added a new dimension to Sri Lanka's private healthcare sector with the opening of the largest and most advanced medical diagnostics laboratory complex in partnership with Korean healthcare giant Green Cross Laboratories (GC Labs) on 21 January.
The newly opened laboratory complex covers an area of 20,000 square feet in the clinical building of Nawaloka Hospital, equipped with state-of-the-art technology and a highly skilled team of medical professionals and technicians.

"Nawaloka Hospitals has long served as a source of innovation in Sri Lanka's healthcare sector, having consistently introduced new technology, specialties and allied services to ensure the delivery of the best of treatment to protect the health and wellness of the patients at all times. With the launch of our joint-venture with GC Labs, we are now able to fulfil the promise of drastically advancing our diagnostic capabilities to the highest level."

"We are certain that this sophisticated new facility will provide much needed assistance to our specialist doctors whilst optimising efficiency and accuracy to the benefit of our most valued patients," Nawaloka Holdings Chairman Dr. Jayantha Dharmadasa said.

The new facility will now become the single largest medical diagnostic centre in Sri Lanka, consisting of state-of-the-art equipment such as Sri Lanka's first fully automated modular system COBAS 6000, identification and ABST machine BD BACTEC FX & BD Phoenix M50, automated DNA/RNA extraction machine SEEPREP 12, COBAS e411 backup system for immunology and COBAS C311 backup system for biochemistry.The laboratory is accredited by the state accreditation agency, the Sri Lanka Accreditation Board (SLAB) and ISO 15189-2012. Nawaloka Hospitals is now able to offer rapid and accurate test results 24 hours a day while maximising efficiency and volume of testing while cutting down turnaround times and minimising laboratory errors.Patients now also have access to a wide range of investigations in the specialties of microbiology, immunology, biochemistry, cytogenetics, molecular genetics, specialised tests such as cancer-related genetic tests, and tests for hereditary diseases, prenatal diagnosis, infectious diseases and histocompatibility tests in addition to conventional tests in haematology. Nawaloka's joint venture with GC Labs has ensured that patients have the option of being tested for a wide range of diseases including advanced testing for genetic markers in cases of non-communicable and hereditary diseases; opening up a new paradigm in preventive care and early stage detection. "Nawaloka Hospitals has been the forerunner in providing the most advanced medical diagnostic facilities, which has contributed significantly to the growth of the healthcare industry in Sri Lanka. The investment of Rs. 250 million on infrastructure and state-of-the-art equipment has created a world class diagnostic service provider capable of conducting a wide range of tests followed by the ability to provide the most accurate results to the sector today," Nawaloka Hospitals laboratory director Prof. Lal Chandrasena said.

"As the first laboratory to establish operations in Korea, we have developed extensive and highly advanced capabilities including genetic tests for cancer and hereditary diseases as well as prenatal diagnostics and a range of rare diseases. This ability to quickly and accurately identify conditions enables significantly more effective healthcare outcomes for patients, we are therefore excited to unveil our new lab at Nawaloka Hospitals. This is an event which has been a year in the making and we look forward to sharing our knowledge and technical expertise in order to provide lasting benefits to the people of Sri Lanka," GC Labs Director Prof. Hyun-Woo Choi said. Having made a significant impact on the industry in the United Arab Emirates, Saudi Arabia, Malaysia, Japan, Taiwan, Australia and now Sri Lanka, GC Labs Korea conducts 35 million tests annually, while the mother laboratories conduct over 4,000 tests daily.

A leading clinical laboratory in clinical and anatomic pathology reference testing, GC has enabled patients to receive accurate diagnosis and treatment with unrivalled quality of routine and special clinical tests, ranging from routine tests to highly esoteric molecular and genetic assays.

Nawaloka Holdings Chairman Dr. Jayantha Dharmadasa, Directors Harshith Dharmadasa, Anisha Dharmadasa, Givanthi Dharmadasa, Prof. Lal Chandrasena and GC Labs Director Prof. Hyun Woo Choi participated in the ceremony.

Established in 1985, Nawaloka Hospital is one of Sri Lanka's largest chains of diagnostic facilities in collaboration with GC Labs in Maharagama, Avissawella, Castle Street, Karapitiya, Kolonnawa, Hambantota and Maggona, and regional offices in Negombo and Galle, in addition to service centres in Matara, Weligama and Wennappuwa. Backed by the Korean healthcare giant since 2017, Nawaloka Hospitals conducts 1.5 million tests annually.

Nawaloka Green Cross Laboratories employ modern laboratory practices with particular focus on professionalism and expertise in medical activities in laboratories which enhances the facility's capacity to perform high quality clinical testing that meets global standards.