Nawaloka Hospitals Director Harshith Dharmadasa with the Nawaloka Green Cross Labs, Galle team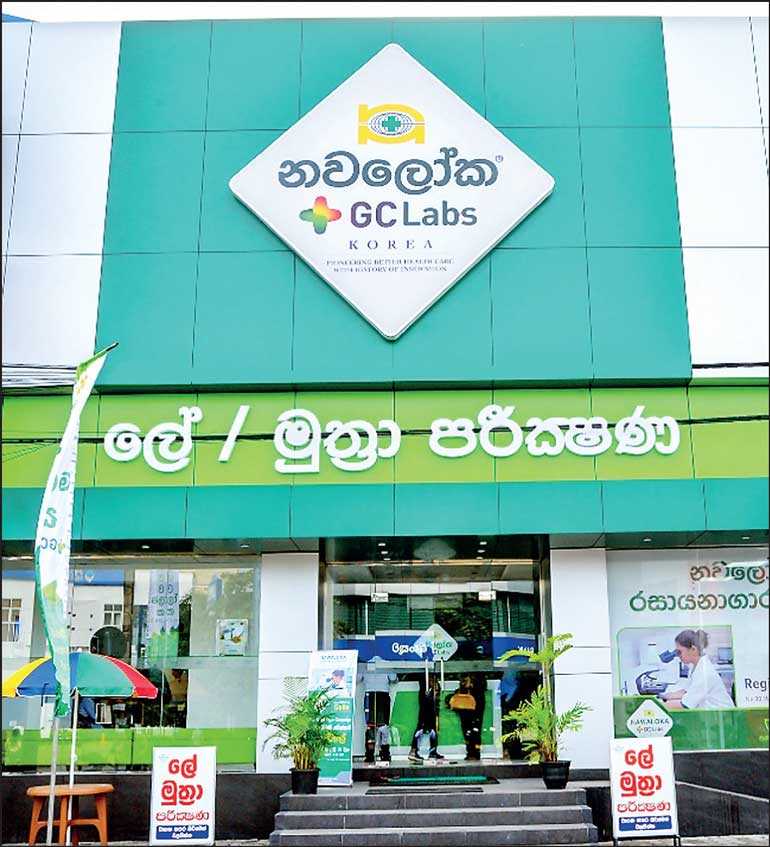 Façade of the premises
---
Offering complex new diagnostic solutions to the district's healthcare sector
Sri Lanka's foremost healthcare provider, Nawaloka Hospitals, recently unveiled its brand new state-of-the-art addition to its well-regarded chain of medical laboratories, Nawaloka Green Cross Labs, in the district of Galle. The facility was ceremonially declared open by Nawaloka Hospitals Director Harshith Dharmadasa.

Equipped to facilitate over 150+ specialised tests in haematology, biochemistry, clinical pathology, histopathology, microbiology and biochemistry, the lab will serve as the main centre of coordination and testing for the rest of the NGC labs located in the Southern District, including two mini labs in Matara and Weligama and three COCOs (Company Owned Company Operated) in Hambantota, Maggona and Karapitiya.

The combination of these six business units caters to tests coming in from over 400+ Nawaloka collection centres setup all across the southern region, servicing private and government hospitals, and nursing homes located in even rural regions such as Nagoda, Elpitiya, Matara, Akurassa, Ebalipitipitiya, Tangalle, Hambantota, and Debarawa. Employing over 25 highly-skilled medical professionals and technicians and overlooked by a team of consultant specialists, this regional lab was aimed at bringing speed, accuracy and convenience into complex diagnostic solutions required by patients in the southern region.

With the whole new portfolio of facilities that go beyond just simple blood tests, the facility aims to maximise efficiency and volume of testing while cutting down turnaround times and minimising laboratory errors – fulfilling a dire need in the district's healthcare sector.

Speaking of the launch of this new facility, Nawaloka Hospitals Chairman Dr. Jayantha Dharmadasa said, "Nawaloka Green Cross Labs prides itself in the provision of quality diagnostic solutions to all Sri Lankans with absolute speed, accuracy and convenience no matter where they are based. With the launch of our new regional facility in Galle, we are now capable of fulfilling a great need in the district's healthcare, protecting the health and wellness of patients based in rural areas. We are certain that this initiative will provide much needed assistance to our specialist doctors whilst optimising efficiency and accuracy to the benefit of our most valued patients."

NGC's network of southern labs operate on a unique pricing strategy that makes healthcare accessible to all patients from all socioeconomic backgrounds, asserting its motto: "Committed towards a healthy nation." Its network of labs serve more than 3,000 doctors on a national scale and over 800 doctors and patients in the southern region per day. The chain operates round the clock; 24 hours a day and seven days a week to offer over 1,000 tests using the latest global advancements in medical technology. It has continuously performed over 1.5 million tests a year, with every test conforming to international quality benchmarks, at affordable prices for all Sri Lankans.

Commenting further on this new venture, Nawaloka Hospital Group Chairman Dr. Jayantha Dharmadasa said, "We are delighted to finally cater to a long felt need by our valued patients in the South. The NGCs new lab allows us to offer better service and heighten the standards of healthcare in the Southern Province by equipping medical personnel with comprehensive treatment options and greater diagnostic capabilities."

Nawaloka Green Cross Laboratories operates in partnership with Green Cross Laboratory Korea which is a leading clinical laboratory service provider in Korea with over 30 years of experience. Green Cross Laboratory Korea facilitates over 4,000 tests and test combinations including highly esoteric molecular and genetic assays.

Established in 1985, Nawaloka Hospital is one of Sri Lanka's largest chains of diagnostic facilities in collaboration with Green Cross Labs in Maharagama, Awissawella, Castle Street, Karapitiya, Kolonnawa, Hambantota, Kalubowila and Maggona, and regional labs in Negombo and Galle in addition to mini labs in Matara, Weligama and Wennappuwa.