The WHO team and the Pricing Committee
---
Today in Sri Lanka healthcare costs are escalating, with large amounts being spent on medicines and these amounts continue to increase, making it a growing challenge for Sri Lanka. Hence, this calls for a fair pricing model for both drug development and drug supply and to exercise a necessary form of medicine price control in the country.
One possibility to make this happen is for policymakers to agree and to define prices for medicinal drugs based upon its value. This will increase affordability and accessibility of medicines while promoting valued innovation.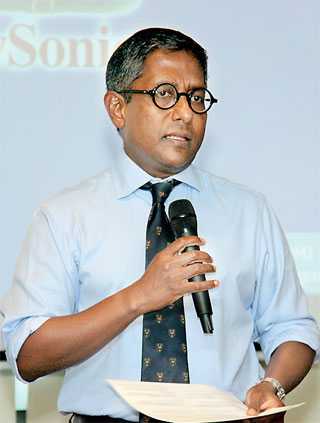 NMRA Chairman Prof. Asita De Silva addressing the audience


While appropriate legislation is pivotal to control medicine prices, it alone is an insufficient mechanism to achieve the level of change required. Ongoing monitoring and ensuring reasonable prices of medicines set, are adhered to, is also of critical importance.

As such, the National Medicines Regulatory Authority (NMRA) is taking a positive stand in seeking to limit inappropriate increases in medicine prices and to ensure public access to essential medicines.

This approach, although technically challenging, is promising because it evaluates the costs and benefits of a medicine, and explicitly links purchasing decisions to a drug's ability to deliver a desired health outcome for a particular population.

Such practices, whilst giving better signals to the industry as to which new drugs are highly valued, and could help promote the right level and type of R&D investment, will also minimise firms launching drugs where it can set a price freely at market entry or negotiate high prices.

Taking the first step towards setting the mechanisms of putting medicine pricing policies in place, NMRA recently partnered with the World Health Organization (WHO) to conduct a two-day workshop on medicines pricing policies.

The eminent panel conducting the workshop included Andrew Rintoul, leading scientist at WHO in Geneva; Public Health Foundation India Health Economics, Financing and Policy Director Dr. Shakthi Selvaraj; WHO Innovation, Access, and Use/Essential Medicines and Health Products Technical Officer Swathi Iyengar and University of KwaZulu-Natal South Africa School of Health Sciences Pharmaceutical Sciences Associate Professor Prof. Fathima Suleman.

The workshop commenced with NMRA Chairman Prof. Asita De Silva who stressed on the importance of implementing strategies for measuring, monitoring and managing prices, which are essential for promoting access to medicines that will in turn lead to effectively responding to public health needs.

Andrew Rintoul gave a global overview of the medicines pricing policies in action across the world. He said: "Promoting affordable and fair prices and cost-effective interventions is central to the achievement of universal health coverage in a country."

He further explained that an "affordable and fair" price is one that can reasonably be funded by patients and simultaneously sustains research and development, production and distribution within a country. He informed that currently almost all high-income countries control and regulate medicines through a range of policy measures.

The workshop examined some key areas of how and what basis the pricing provisions can be developed. Feasible options were recommended to maintain medicine prices at reasonable levels, including implementation features. An analytical framework was discussed for the three components of the policy cycle: formulation, implementation and accountability. Policies related to medicine pricing were analysed for the extent to which they can be appropriately developed and sufficiently implemented.

Different pricing policies for different medicines were discussed, as well as the regulation of pharmaceutical distribution chain and remuneration of pharmacies and taxes. Additionally, the declaration and publication of price information aimed at improving transparency will be one of main mechanisms used to educate the public on pharmaceutical prices.

NMRA hopes that the new measures to regulate medicine pricing, will provide the much-needed access to safe, effective, quality and affordable medicines that will improve lives of the people in the country and lead to a healthier nation in the long run.