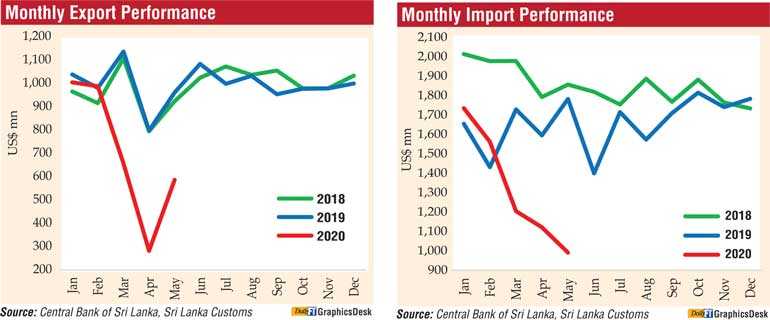 ---
Imports reduce by 44%, faster than exports at 39%
Trade deficit in May reduces by $ 416 m, posts more than 50% reduction from May 2019
But accumulative trade deficit narrows only $ 180 m in first five months
Exports do better in May than April, helped by PPE exports
Import restrictions and lower fuel prices help minimise deficit
Reserves dwindle to $ 6.5 b, rupee appreciates by 2.3%
Sri Lanka's trade deficit plunged by $ 416 million in May as imports declined faster than exports, latest data by the Central Bank showed yesterday, bringing the deficit to $ 407 million, posting a more than 50% reduction than what was recorded a year earlier.

The deficit in the trade account narrowed by $ 416 million in May 2020 to $ 407 million, from $ 823 million in May 2019, as the decline in imports exceeded the decline in exports. Also, on a cumulative basis, the trade deficit narrowed by $ 180 million to $ 3,100 million during the first five months of 2020 from $ 3,281 million in the corresponding period of 2019.

Meanwhile, terms of trade, i.e., the ratio of the price of exports to the price of imports, improved by 20.6% (year-on-year) in May with prices of exports having increased while prices of imports declining.

Earnings from merchandise exports rebounded in May to $ 587 million, with the export sector gradually resuming activities following the relaxation of lockdown measures and the recovery of both domestic and global supply and demand chains to some extent. Earnings in May were more than twice the value recorded in April. However, in comparison to May 2019, earnings from merchandise exports declined significantly by 39%, the External Performance report said.

Earnings from the three major export sectors declined on a year-on-year basis, with industrial exports declining the most and agricultural and mineral exports declining at a slower pace. Major exports such as textiles and garments, rubber products, petroleum products, food, beverages and tobacco declined in May, though earnings from these sectors recovered to about one half of the monthly average value reported in 2019.

However, led by a higher demand for personal protective equipment (PPE) such as face masks, protective suits, surgical gloves, etc., earnings from exports of other made up articles (categorised under textiles and garments) and surgical and other gloves (categorised under rubber products) grew significantly.

Meanwhile, earnings from agricultural exports declined, led by lower volumes of tea exports due to lower domestic production, despite higher average export prices for tea recorded in the international market.

Earnings from coconut exports declined, led by lower volumes of coconut kernel products, though exports of non-kernel products increased. Exports of minor agricultural products improved in May mainly led by the export of arecanuts.

The export volume index declined by 46.8% while the unit value index improved by 14.8% in May, indicating that the decline in exports was driven entirely by lower volumes, compared to May 2019.

Expenditure on merchandise imports declined notably by 44.3%, on a year-on-year basis, to $ 994 million in May, recording a monthly expenditure of less than $ 1 billion for the first time since March 2010. Expenditure on all major import sectors; consumer, intermediate and investment goods, declined in May.

This reduction was mainly attributable to the measures taken by the Government and the Central Bank since March to restrict the importation of selected goods aiming at easing the pressure on the exchange rate and international reserves from the adverse effects created by the pandemic.

Driven by lower expenditure on fuel imports, the expenditure on intermediate goods declined the most, followed by investment and consumer goods. The factors that accounted for the decline in expenditure on fuel include the decline in import prices of crude oil and refined petroleum in the international market, and the reduction in import volumes due to the decline in domestic demand for fuel.

The average import price of crude oil was $ 25.44 per barrel in May, compared to $ 74.76 per barrel a year ago. Expenditure on imports of textile and textile articles declined significantly in May, amid global supply chain disruptions as well as low demand prospects for garment exports in the period ahead.

Import expenditure on other intermediate goods such as base metals, plastic and articles thereof, all subcategories of investment goods and non-food consumer goods imports declined mainly due to the measures taken by the Government and the Central Bank since March to restrict imports and the disruptions to global supply chains from the COVID-19 pandemic.

Import expenditure on food and beverages also declined, although at a slower pace, led by the decline in seafood, sugar, beverages and fruits that offset the higher imports of essential goods such as vegetables (mainly lentils and red onion), spices (mainly chillies) and dairy products (mainly milk powder).

Both the import volume index and the unit value index declined by 41.6% and 4.8%, respectively, in May, indicating that the decrease in imports was a result of both lower volumes and lower prices relative to May 2019.

Gross official reserves stood at $ 6.5 billion at end-May, equivalent to 4.2 months of imports. Total foreign assets, which consist of gross official reserves and foreign assets of the banking sector, amounted to $ 9.2 billion at end-May, equivalent to 6.0 months of imports.

The rupee recorded a significant appreciation during the month of May. In this context, the rupee which depreciated by 9.1% against the dollar by 9 April, appreciated thereafter to record an overall depreciation of 2.3% thus far during the year up to 13 July.

Reflecting cross-currency movements, the rupee depreciated against the euro, the Japanese yen and the Australian dollar, while appreciating against the pound sterling and the Indian rupee during the year up to 13 July.