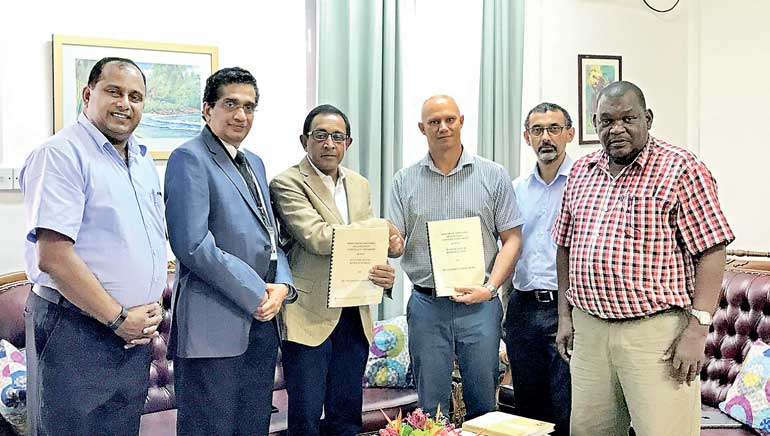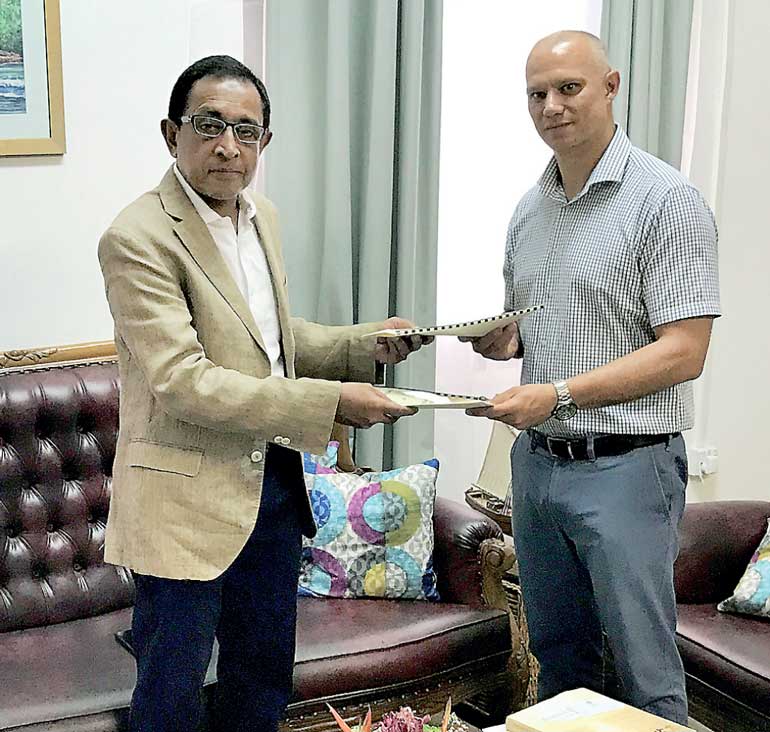 Lanka Hospitals PLC, an internationally accredited healthcare provider inthe forefront of medical industry, being the first ever local hospital with Medical Tourism Certification recently signedan agreement with the Health Care Agency – Ministry of Health Seychelles in a bid to enhance bilateral healthcare ties between the two countries, in addition to extending laboratory and training support for medical and nursing trainees from Seychelles.

The agreement was signed between Lanka Hospitals and Seychelles Health Care Agency and was exchanged between the then Minister of Public Enterprises Development of Sri LankaKabir Hashim andMinistry of Health Seychelles Minister of HealthJean Paul Adam recently. Chairman of Lanka Hospitals Dr. Sarath Paranavitane, Lanka HospitalsGroup Chief Executive Officer Dr. Prasad Medawatte, Health Care Agency SeychellesChief Executive Officer Dr. Danny Lounge were present at this occasion.

Lanka Hospitals being the firstprivate hospital partnered with Ministry of Health Seychelles since 2013, has been able to strengthen relationships by providing specialised services in major specialties such as cardiology, neurology,urology, oncology, gynaecology and obstetrics, etc. The services are dedicated and specialised and are designed to provide personalised medical care forpatients. In the delivery of care for these patients Lanka Hospitals has been able to entrust a further relationship to enhance the services to the needy patients in Seychelles.

Following the newly entered synergy with Seychelles Health Care Agency, Lanka Hospitals will extend a host of services to Seychelles medical and nursing students including laboratory services, internship, familiarisation as well as post graduate training for medical and nursing disciplines. Moreover, the strategic move will direct patients from peripheral hospitals in Seychelles to receive world class healthcare facilities at one of South Asia's leading medical institution – Lanka Hospitals.

As the only hospital to offer specialised service to international patients since 2013, Lanka Hospitals has established a dedicated unit called 'International Patient Care Centre' to offer personalised and finest medical care services including surgeries for international patients.The International Patient Care Centre ensures a holistic approach in care and wellbeing of each patient. Accordingly, the patients not only receive a personalised action plan but also seamless clinical logistics topped with a comprehensive education plan for the patients and their families.

The special centre also deploysmultilingualstaff to converse in the main languages of Maldivian and Seychelles patients, eliminating communication gaps anduncertainties and helping them to acclimatise naturally. Furthermore,the patients are offered premierhealthcare services andamenities delivering ultimate convenience and successful recovery, all for special packages at convenient and affordable rates.

As the first hospital to be certified for medical tourism in Sri Lanka, Lanka Hospitals have complied with the requirements of the Medical Travel Quality Alliance, strengthening their position in the medical tourism sector. Showing tremendous growth in the emerging industry, Lanka Hospitals has made a successful entry in to Seychelles, drawing more than 777 patients, followed by 178 admissions in 2017. Maintaining quintessential traits for being a world class health care provider, Lanka Hospitals has gained a momentous growth through customer referrals from satisfied customers, standing testimony to being a foremost healthcare provider for tourist patients arriving from overseas, mainly Seychelles and Maldives.