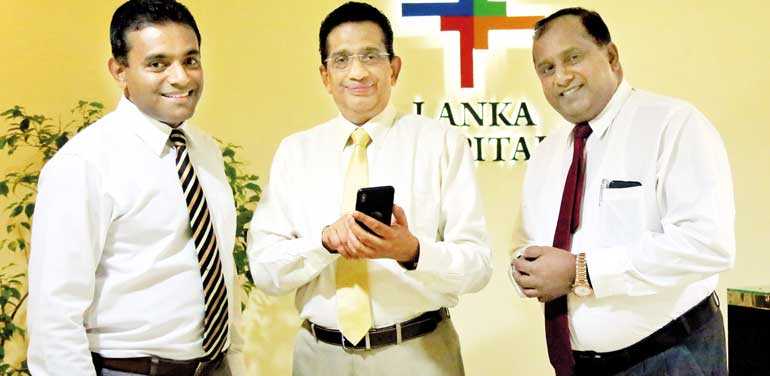 From left: Lanka Hospitals Group Chief Marketing Officer Nimal Ratnayake, Lanka Hospitals Chairman Dr. Sarath Paranavithana and Lanka Hospitals Group Chief Executive Officer Dr. Prasad Medawatte launching the mobile app
Lanka Hospitals PLC, the internationally accredited and multi-award winning healthcare provider in the forefront of Sri Lanka's medical sector, offers a feature-rich and user-friendly app via Apple Play Store and Android App on Google Play for the ultimate convenience of its customers. This easily universally downloadable app is not only free but also helps customers with a number of functions from placing doctor appointments to calling for emergency services in addition to providing easy access to vital health records anytime, anywhere.

Lanka Hospitals App mainly offers a number of key functions such as doctor appointment, reminders, ambulance, find your way, medical and laboratory services assistance, room types and health tracker. With the Doctor Appointment feature, users will be able to not only view the doctors and specialists available, but also schedule their next appointment quite conveniently with few clicks. Initially the user is required to sign up and open a separate account, with the provision of having individual details stored for future reference. Another great feature is the Reminders, where users can record reminders on appointments as well as on specific times to take medicine. Moreover, calling for emergency ambulance service now requires only a single click of a button, where Lanka Hospitals bring speedy emergency care for critical patients requiring urgent medical attention.

Unlike other apps, Lanka Hospitals App also showcases a special 'Find Your Way' Feature, which provides users with specific directions to not only reach Lanka Hospitals premises from anywhere in the country, but also to locate distinct sections within the hospital such as accessing the OPD and the Laboratories. Furthermore, patients requiring to undergo in-house procedures will have the convenience of reserving a room without even stepping to Lanka Hospitals thanks to the App, as it allows them to view 3D simulation of the relevant rooms and reserve one as per their requirement, preference and budget. Among other features, Health Tracker also takes prominence, as it helps the users to record and view their blood pressure, blood sugar, heart rate, cholesterol level as well as weight. This in turn facilitates the users to adjust their diet and practice good health habits in order to maintain sound health.

All in all, Lanka Hospitals App not only adds greater convenience to the users by presenting a number of useful functions at their fingertips, but also by playing a pivotal role for enhancing the overall health and wellbeing of hundreds and thousands of people living across in Sri Lanka and in foreign countries.