A pioneering Sri Lankan education institute with 16 years in the field, the International Institute of Health Science (IIHS) recently saw a number of students graduate with diplomas and degrees in Nursing, Physiotherapy, Bio Medical Sciences, Health Administration, etc.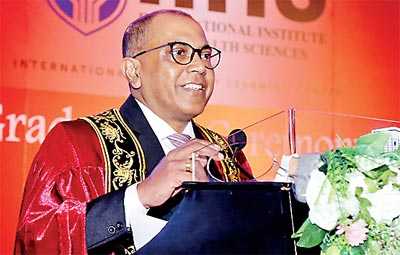 Dr. Kithsiri Edirisinghe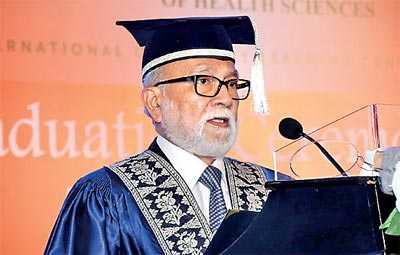 Tan Sri Ir Dr. Ahmad Zaidee Laidin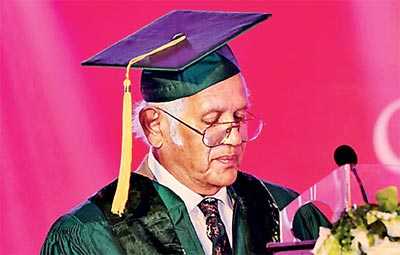 Dr. Nihal DeSilva
With a focus for its young and mature learners going beyond academia only, giving them the confidence and aptitude to become all-round achievers, IIHS continues to soar in the Sri Lankan, and even South Asian, education sector as it stands out as one of the very few private institutes to offer unique international pathways to globally-recognised universities as well as helping fast track careers in healthcare. IIHS is also especially honoured to be the home of hard working, ambitious, critical thinking and determined students who continue to take large strides within the academic world.

"Many academic and non-academic milestones have been achieved for the year 2018. In order to align with the vision of the Founders of IIHS, we have opened doors in education island-wide with our centres in Badulla, Kandy, Galle and Anuradhapura. We believe in providing accessible, affordable education for all and we hope to be the regional hub for education by the year 2020," said IIHS Co-Founder, CEO and Director of Academics Dr. Kithsiri Edirisinghe speaking at the graduation ceremony.

Dr. Edirisinghe also added, "IIHS has had a successful year in terms of partnerships, and our latest programs encompass the University of Aberdeen, Coventry University, Deakin University, Helsinki Metropolia University of Applied Sciences and Open University Malaysia. In the next few years, IIHS will export its program regionally and we would be the first in the industry to do so. Through quality academic delivery, via our Commonwealth Award-winning Learner Management System, and thorough engagement with the community, we will continue to produce holistic healthcare leaders for the world."

Commenting further, IIHS Dean and Chairman Dr. Nihal De Silva said: "It is my privilege to be at yet another excellent IIHS Graduation event. IIHS has produced over 700 graduates over the course of the last 15 years. Our graduates have excelled professionally and our alumni are a great testimonial to our achievements. Many have ventured overseas to unfamiliar terrain and continued to do very well. They are not only standard bearers for IIHS, but also for Sri Lanka, bringing great pride to our country."

Representing IIHS's international partners, Open University Malaysia (OUM) Senior Advisor Prof. Tan Sri Ahmed Zaidee said, "The IIHS-OUM Partnership extends over five years now, and it is heartwarming to see so many students graduate from IIHS. Based on the achievements and outputs of IIHS, I am glad to state that the students have been working hard and achieving global recognition while being engaged in their academic work."

Commenting on behalf of IIHS's local partners, Kotalawela Defence University, Professor of Medicine Prof. Rezvi Sherrif said, "It is indeed my privilege to be here at the IIHS Graduation Ceremony 2018. The IIHS graduation ceremony always showcases the finest young health care professionals in the fields of Nursing, Physiotherapy, Bio Medical Science and Health Management. I am proud to say that the quality of education delivered by IIHS is of higher quality and is no match for the competitive health care education institutes in Sri Lanka. IIHS has uplifted the reputation and professional status for nurses in Sri Lanka, it is indeed a leader in producing wholesome professionals locally and internationally."

Adding to this, Asiri Group Hospital Director Operations Dr. Samanthi De Silva said, "Asiri Group Hospital has a great clinical partnership with IIHS where we provide clinical placements for the health care students of IIHS. I wish all the graduates the best of luck in their endeavours as the current foundation that has been created can be used for greater things. When hiring health care professionals, it is imperative to hire holistic individuals and I advise all the graduates of IIHS to continue their academic work while improving their soft skills."

As Sri Lanka's premier International University Learning Center (IULC), IIHS has for 16 years offered programs ranging from Certificates to PhDs. As a well-respected IULC, the programs offered at IIHS are done so in partnership with leading global universities with which IIHS has secured pathway opportunities for students to achieve their international dreams. For a nominal price, IIHS provides students are provided with the opportunity to receive a quality education and be a globetrotter while achieving a promised return of investment through ample job opportunities.

IIHS provides a comfortable learning environment, which understands and nurtures student-centricity. The importance of student-centricity has been highlighted in international education delivery standards, where teachers ought to move away from the traditional teaching methods, which draw upon a teacher-centric classroom. The faculty of IIHS consists of experienced, yet youthful, staff who arm students with a range of qualities and values, which keep them up-to-date on modern trends and learning styles.

Valuing a SMART learning environment, with a continuously upgraded curriculum through the input of its partners and aligned with international trends in education and teaching, IIHS produced the first Collaborative Teaching in environment in South Asia – a system which supports learning outcomes whilst students are provided with ownership of their learning experience. IIHS prides itself on being the No. 1 in terms of Research, Evidence Based Practice and Reflective Practice arming students with a skill set to understand innovative and unique trends in healthcare. Further, students during their time at IIHS engage in multiple community projects so they build empathy and learn about existing local and international healthcare issues at a community level.

IIHS has identified multiple areas in the learning process, which would make a student internationally geared. Distinct areas and features include personality development and soft skill development whilst gaining a thorough understanding of traditional methods education versus modern virtual education.

Contact Nadeeka on 0114651144/0766568353 or nadeeka@iihsciences.edu.lk to learn more about IIHS programs and how to join up.