Claims hat-trick for best delivery innovation, health promotion and patient care initiatives in Asia
Leading Sri Lankan healthcare provider Hemas Hospitals clinched three coveted awards for Patient Care Initiative of the Year, Service Delivery Innovation Initiative of the Year, and Health Promotion Initiative of the Year at the Healthcare Asia Awards 2019, becoming the only Sri Lankan hospital to win at the Healthcare Asia Awards and establishing its place among the Asian healthcare giants.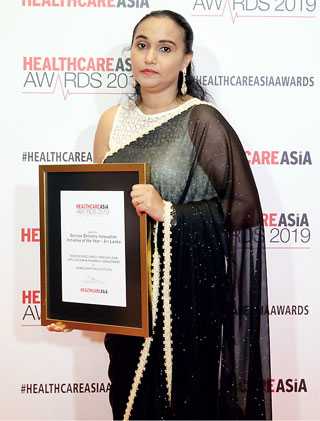 Hemas Hospitals Pharmacy Head Shermila Edward with an award
Held for the second time at the Conrad Centennial Singapore on 23 May, the ceremony was graced with over 140 senior executives and prime industry figures from prestigious Asia-based hospitals and healthcare firms. The gala night featured 50 awards for which nearly 200 nominees were announced.

The expert panel of judges included respected industry veterans who judged the finest healthcare project, service, strategy or initiative based on criteria of uniqueness and innovation, effectiveness and impact, and dynamism. Launched by the Healthcare Asia Magazine in 2018, the awards program is designed to recognise hospitals and healthcare institutions that rise above industry challenges and initiatives that capitalise on the lucrative opportunities available in the global healthcare market.

Commenting on the chain's latest significant achievement, Hemas Hospitals Managing Director Dr. Lakith Peiris said: "As the only hospital chain in Sri Lanka to be recognised at the Healthcare Asia Awards 2019, we have established ourselves as one of the top healthcare providers in Asia, maintaining standards and best practices similar to those of top internationally-acclaimed hospitals in the Asian region. We are also happy to have been accredited by the Australian Council on Health Standards (ACHSI) for quality and patient safety,The IMS (Integrated Management Systems), Occupational Health and Safety Assessment Series (OHSAS), and ISO 15189. "Winning these three awards validates the immense daily effort and investment each and every employee has poured in over ten years to uplift clinical excellence at Hemas Hospitals. Furthermore, we are extremely proud to have represented our country and put Sri Lanka on the map for excellence in healthcare, beating out numerous other top notch hospitals located all over the Asian continent.

Apart from becoming the first internationally-accredited hospital in Sri Lanka, we have embarked on a digital journey to become the first smart hospital in Sri Lanka. We have brought a gamut of digital health services right to patient fingertips throughseveral digital platforms, including Hemas Health App, Livetrack and Lab Portal. We will also be the first Sri Lankan hospital to introduce EHR (Electronic Health Records).Hemas Hospitals is constantly gearing up to evolve and embrace technological innovation, enabling customers to always remain connected to the hospital while promoting wellness."

Hemas Hospitals has constantly proven itself to match the standards of the country's best hospitals, enriching the lives of the millions of people it touches by carefully aligning its operations with international best practices. It has also substantiated this ideal with numerous CSR projects over the years. These include the 'Suwa Nena' community health awareness campaign, 'Suwa Sisu' school health awareness campaign, forums at which the feedback of patients is gathered and their opinions discussed and numerous programmes which have aided the education and training of doctors. This latest round of international recognition will cement Hemas Hospitals as a pioneer and innovator within the healthcare industry in Sri Lanka.

'Piyawara', launched in partnership with the Children's Secretariat of the Ministry of Women and Child Affairs, is the hospital chain's flagship CSR initiative where over 53 preschools were constructed to house over 140 teachers and 3,200 children at an investment of over Rs. 400 million.

This is in addition to 'Ayati', where the Hemas group tied hands with the University of Kelaniya, MAS Holdings and the Sri Lankan Army to construct a state-of-the-art national educational centre for children with disabilities in Ragama – a project valued at Rs. 650 million.