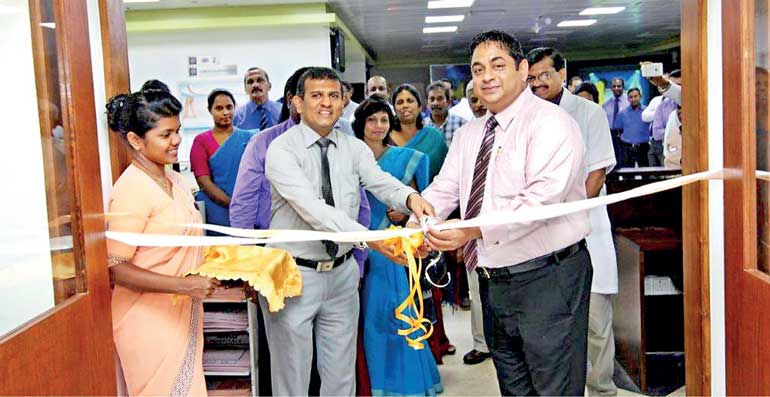 Hemas Hospital Wattala Director General Manager Dr. Lasantha Karunasekera and Hemas Hospitals Managing Director Dr. Lakith Peiris opening the revamped Radiology Department

Hemas Hospital Wattala, the award-winning healthcare facility in the Gampaha District, recently upgraded its Radiology Department, thereby elevating itself to be the most up-to-date radiology facility in the country.

The new upgraded Radiology Department features cutting-edge, sophisticated diagnostic equipment which offers premium clinical outcomes at affordable rates.

The radiology facility is under the purview of a panel of experienced consultant radiologists and radiographers. The revamped Radiology Department now consists of a 1.5 Tesla Magnetic Resonance Imaging (MRI) Scanner and a 128 Slice Computerised Tomography (CT) Scanner which add to the superiority of their state-of-the-art facilities. The Philips Multiva 1.5 Tesla MRI Scanner, with a spacious bore and soothing music to reduce claustrophobia for patients, delivers up to 16 times faster imaging and offers superior image quality. The highly-advanced GE Optima 128 Slice CT Scanner will be the only scanner in the area that can perform advanced heart and vessel assessment with a 40% lower radiation dose. The installation of this high-end diagnostic equipment will further help Hemas Hospitals Wattala provide higher clinical competencies for patients across the country.

In addition, current mammography and X-ray machines and dental x-ray machine have been upgraded to the latest technological spheres to deliver the best quality images and aid the clinical staff for precise diagnosis and better clinical outcomes.

The unveiling of the revamped Radiology Unit was graced by Hemas Hospitals Managing Director Dr. Lakith Peiris, the management of Hemas Hospitals, consultant radiologists, technicians, special guests and staff members. Apart from that, Hemas Wattala also opened a Day Surgery Unit and Consultant Lounge on the same day.

Hemas Hospital Wattala Director General Manager Dr. Lasantha Karunasekera said: "The primary aim of our Radiology Department is to provide an imaging service combined of a high standard of technical excellence and an equally high quality of patient care. The revamp of our Wattala Radiology Unit with the most advanced diagnostic tools available in the region will help our highly-experienced panel of consultant radiologists and technicians to provide the highest quality care and improved outcome to its patients. With a range of services being offered at our revamped Radiology Unit – from sophisticated MRI/CT scans to digital X-rays, we are ready to serve our patients with care and confidence round the clock, seven days a week."

The radiology unit will also offer the widest array of services such as digital x-rays, mammograms, ultra sound scanning and Doppler studies, C-arm facility, IVP (Intravenous Pyelogram Procedures) and CT/Ultra Sound guided Fine Needle Aspiration procedure (FNAC) and biopsy. All these facilities will operate 24/7, making it the first radiology unit in Sri Lanka to do so and will provide great value for money for the services patients seek from the unit. Since its inception, the MRI and CT scan facilities at the Wattala Hemas Hospital have been able to save more than 20,000 lives of critical and emergency patients.