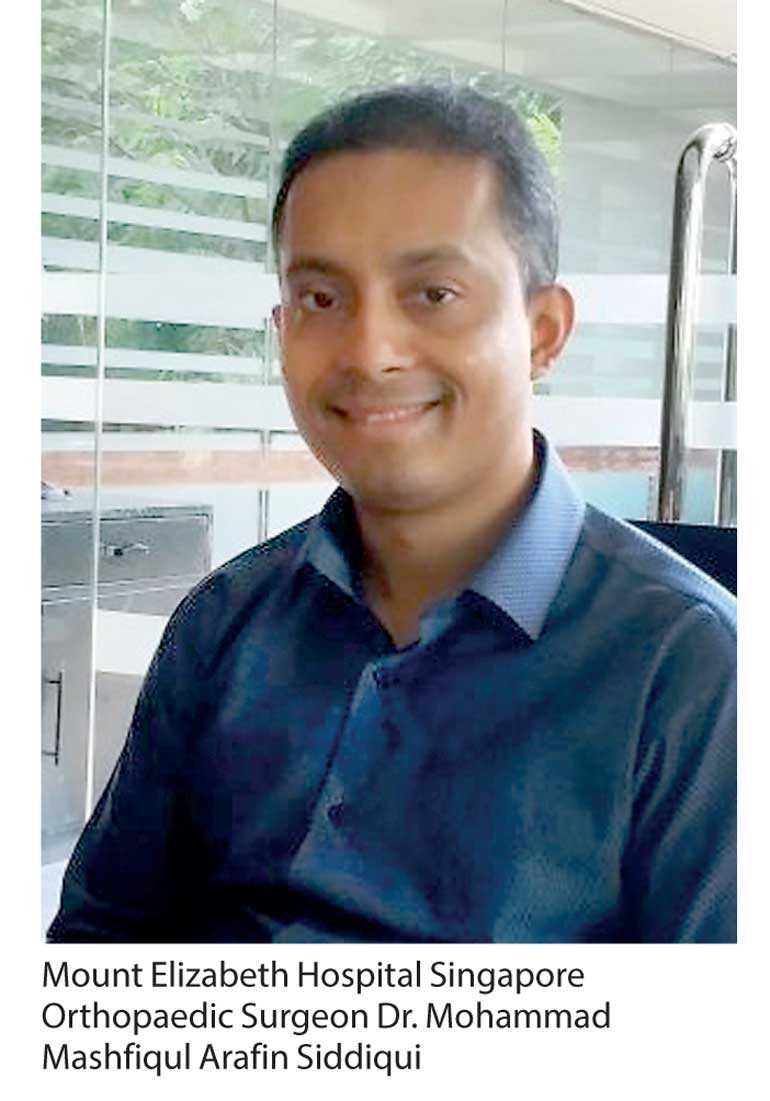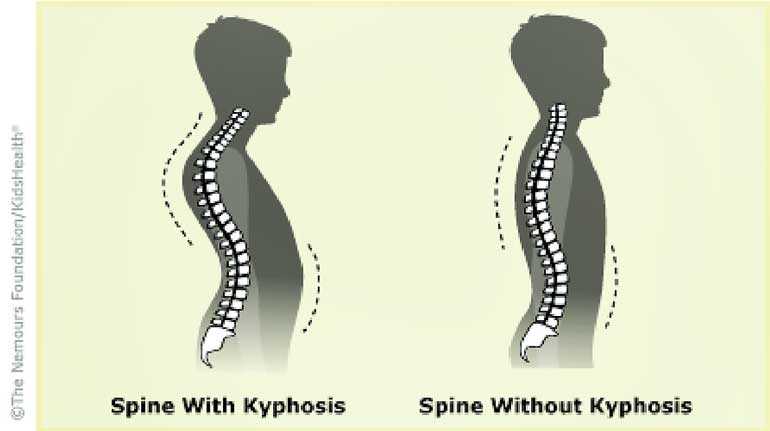 By Fathima Riznaz Hafi

Teenagers in hunched postures are becoming a common sight. Parents naturally find it worrisome and need to keep reminding them not to slouch but after a while they go back to the same position. Some children start off with good posture in childhood but eventually in their teens, or even pre-teens they start to develop a hunch.

Mount Elizabeth Hospital Singapore Orthopaedic Surgeon Dr. Mohammad Mashfiqul Arafin Siddiqui says it is becoming increasingly common and is often the result of prolonged use of phones or computers, in a slouched position, especially among teens.

"That will give you a lot of backaches too because the posture is wrong; the muscles are trying to support the spine but the mechanical advantage is less because it is more forward so it's trying to pull it back, resulting in aches," he told Daily FT.

Kyphosis and scoliosis

"There are two types of curving that commonly take place – one is side-bending; that's called scoliosis, where they tilt to one side – the spine is curved in a left-right direction. The other type is the hunch, which is curving in a front-back direction – we call it kyphosis," he explained.

"Scoliosis doesn't really have much to do with posture – it's more of genetics and is more common in women; teenage girls tend to get it. Some boys also develop it but girls predominantly. Many of them have it mild but it worsens when they start to have their peak velocity growth – when they start to grow very quickly in their teenage years – that's when the curve starts to worsen because they are growing, and the curve grows with the growth of the child. At a certain level, when it is 25 degrees, we consider bracing these children; once it is 45-50 degrees, sometimes we have to operate," Dr. Siddiqui said.

"The hunch on the other hand, is a problem with the posture – front to back. Postural kyphosis results from slouching; and nowadays we see more and more of something called 'text neck', especially among the youth." Text neck is a type of repeated stress injury causing pain in the neck and is due to excessive usage of hand held devices such as mobile phones, while the neck is in a forward and downward position over a sustained period of time.

"Children and teenagers are constantly looking at their mobile devices and their neck is always flexed. Just a few degrees, 10-15 degrees of neck flexion, will freeze the forces that can go through the spine, and the neck; and when you flex forward, the centre of gravity moves forward. The force goes to the front of the disc and there is wearing out of these discs; they flex forward," he said.

Scheuermann's Disease

While postural kyphosis, the most common type of kyphosis, is attributed to poor posture and slouching, there are other types of kyphosis, which arise due to a variety of other factors. Dr. Siddiqui explains, "With hunching there's the neck part, and the mid part (thoracic part) of the spine. If they get the hunch at the mid-part we have to consider the possibility of other medical conditions such as Scheuermann's Disease, which is a condition where the bone is a bit wedged; that means the back part of the bone is taller, the front part of the bone is narrower. It's like a trapezoid. So when the back side is taller and front side is shorter, they hunch. If they have multiple bones like that, their posture will automatically be hunched."

Scheuermann's Disease also has a genetic component but only to a certain extent; some people just get it. It mostly affects the adolescent group. Asked if it can be fixed he said, "It can be fixed but often it does not need to be fixed – it just looks like the person has a bad posture; but it is not 'bad' – it's not so serious and it's not that common to operate on them. They can stay that way but sometimes it can progress. They can get backaches if it's really severe; or it's more than 60 degrees – then we have to think about doing something; otherwise if it's not so high we can just leave it," he said.

He added that if there are any rapidly progressing curves, whether it is side to side curve, or front to back curve, we need to investigate it to exclude other causes – such as tumours and spinal cord abnormalities. Those are rare but if the curves rapidly progress we have to look out for those possibilities.

Prevention through posture

Though some conditions, such as Scheuermann's Disease cannot be prevented, some are easily preventable. Dr. Siddiqui says proper posture is very important, especially to prevent the front to back hunch.

"They must sit up straight; the neck should always be on the shoulder. Sitting should be 90 degrees on the hips and 90 degrees on the knees; the feet always supported; use an arm rest such that it's not too high and not too low. When using the computer, the monitor should be just above the eyebrow – you should look straight at the screen and not look up or down. The best is the desktop because with the laptop you have to look down. You can limit the usage; for example, don't do hours at one go; after an hour do a little bit of stretching and then go back because the muscles get tired, so you have to stretch it a bit," he advises.

He also suggested options in the way we use the devices: When using a handphone, for example, it is better to hold it up a bit when reading (well then of course you will strain your shoulder); but there are other things one can do like when taking phone calls, a headpiece can be used, in which case there is no strain on the spine or muscles; and nowadays there is software that allows text to speech recognition so it is not necessary to read or type all the time; and of course you must limit the time. He stressed that there should be a time limit – you shouldn't be doing this all day.

Prevention through exercise

Exercise is highly beneficial not only to prevent the hunch but also to strengthen the back, thereby also preventing other related ailments of the spine. There are different exercises for different parts of the spine; core exercise is very good for the thoracic spine and the lumbar.

"You can do exercises of the back for kyphosis as well as scoliosis but scoliosis is a bit harder to prevent because it's mostly genetic. Swimming is good; walking in the water is also good because when you walk in the water, chest-deep, you are walking against resistance and that will help to build up the core; it's just like planks which are also very good for the core," he advises.

"For exercise of the neck, it's more of stretching – most people after they've been using the computer for a while, with their head to a certain position, the muscles are holding the head that way and naturally after a while it will start to ache. A 'chin tuck' is very good exercise for this; you can even do it at the office."

He noted that sometimes people hunch because the core may not be strong. If the core is strong usually the posture will be good. Again, exercise is best. "Stretching exercises like yoga and pilates are also good. Most people, when it comes to exercise, they only think about cardio but cardio has got nothing to do with posture; it's a different type of exercise – which is good for the heart. For exercises of the spine, anything you do, there's the stretching component and the strengthening component. Doctors and physiotherapists will be able to provide guidance," he said.

Dr. Siddiqui's areas of interest include spinal degeneration (in the neck and back), prolapsed intervertebral disc (slipped disc), cervical disc replacement (replacing the discs in the neck), spinal deformity (such as scoliosis) and spinal tumours. He is one of the few surgeons in Singapore experienced in the removal of massive sacral (bottom of the spine) tumours and subsequent reconstruction of the spine to the pelvis.