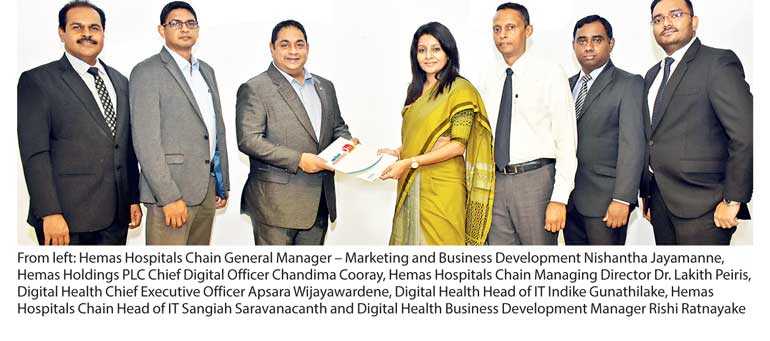 Doc990 recently announced the onboarding of Hemas Hospitals to expand the reach of healthcare services offered to customers. Through the integration of Hemas Hospitals, customers can now make bookings at branches in Wattala and Thalawathugoda. Appointments to Hemas Hospitals can be made by calling 990, visiting www.doc.lk or via the Doc990 Mobile Application.

With 3,000 specialist doctors and over 1,000 channelling partners islandwide, Doc990 currently extends its services to over 85 hospitals across the country. A joint venture between Sri Lanka's premier connectivity provider, Dialog Axiata PLC and healthcare institutions, Asiri Hospital Holdings PLC, Nawaloka Hospitals PLC and Ceylon Hospitals PLC (Durdans), Digital Health Ltd., has been instrumental in delivering state-of-the-art digitally integrated healthcare solutions through Doc990and will further propel and help transform Sri Lanka's healthcare landscape and infrastructure to enrich Sri Lankan lives.

Hemas Hospitals is the first internationally accredited hospital chain in Sri Lanka by the prestigious Australian Council for Healthcare Standards International (ACHSI) Accreditation, delivering patients with international standard healthcare in terms of safety, superior clinical outcomes and service delivery. Hemas Hospitals is also backed by Hemas Holdings PLC which has built a reputation of trust and dependability since its inception 70 years ago.

Hemas Hospitals Chain Managing Director Dr. Lakith Peiris said, "Hemas Hospitals has embarked on a digital journey of transforming into a chain of smart hospitals and laboratories, introducing a number of digital health services including an electronic medical records system, a newly launched internally developed smart laboratory portal which is integrated with the advanced laboratory information system connecting the network of 47 laboratories islandwide realtime, and online access to channel over 500 consultants visiting the hospitals covering all medical and surgical specialties. The partnership with Doc990 would definitely be an enabler in providing better customer experience as a digital mode of access to channelling doctor appointments."

Digital Health Ltd. Chief Executive Officer Apsara Wijayawardene said, "Doc990 currently offers a range of medical services and onboarding Hemas Hospitals is another key step in the direction to provide accessibility and convenience to Sri Lankans. Doc990 includes a wide array of services including channelling doctor sessions at hospitals islandwide for physical consultations, Tele-Doctor service where leading consultants could be contacted over the phone, delivery of medicine to the doorstep, and access to lab reports at key laboratories via the Doc990 web portal that will deliver convenience and empower Sri Lankans in their healthcare journey."

The partnership will support the journey of the customer by providing a digitally empowering experience for their healthcare needs and extend a wide spectrum of healthcare services from the convenience of their mobile phones and the website. Sri Lanka's leading medical booking app, Doc990, is integrated with mobile operators and banks for multiple payment options such as add to bill, eZ Cash, Genie, Amex, Visa and Master Cards.