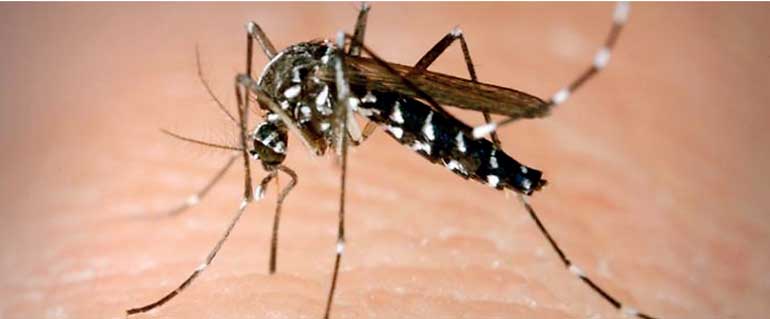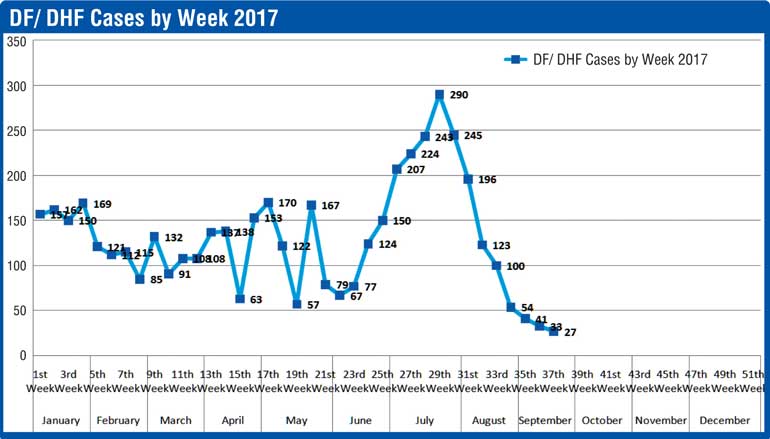 By Fathima Riznaz Hafi

After terrifying the nation with its deadly attacks this year, dengue is finally settling down with a 90% reduction in cases. The number of dengue cases had been high from the beginning of the year and continued to rise, soon reaching epidemic levels. Efforts made to bring the situation under control were futile as numbers remained at alarming levels and deaths continued to be reported from various regions.

"This year the country had experienced a three-fold increase of dengue cases for the first time. Last year the entire country had 62,000 cases and the city had 3,780 cases while this year the number of cases in the country is 150,000 – that's a three-fold increase," Colombo Municipal Council Chief Medical Officer Dr. Ruwan Wijayamuni told Daily FT.

Dengue was at its peak during the months of July and August but now the month of September brings tremendous relief to all as we see a massive drop, with 30 cases being reported. "We experienced a high number of cases during the third week of August, where we got 290 suspected cases of dengue per week, but it has reduced to 30; so we now have a 90% decrease from 290 to 30," he said.
What contributed

to the epidemic?
Dr. Wijayamuni explains, "The dengue outbreaks are linked to the rain pattern and also the type of virus (serotype)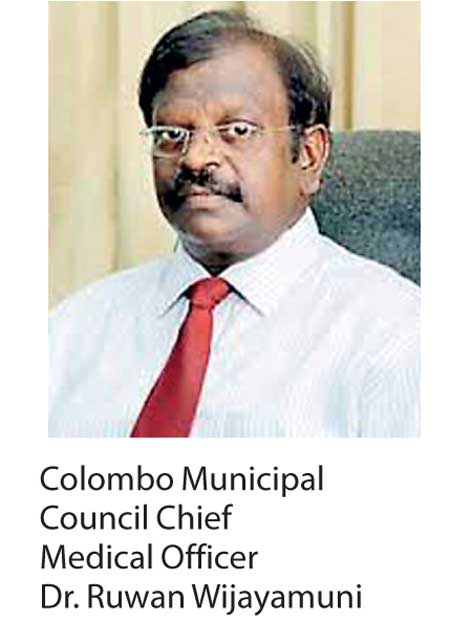 that prevails during a particular outbreak. This year a couple of things happened – factors that were favourable for the epidemic sort of situation. The first thing was very irregular rain pattern. We have two peaks per year – that's the July/August peak and the November/December peak. Usually our monsoonal rains are very heavy but this year it was very scattered and the showers were not heavy. When the showers are very harsh and strong, all the mosquito eggs get washed away but when you get scattered rain, all the receptacles are here and there – thrown by people and things get blocked. What we saw with the rain was there was one week of no rain – then a slight shower – then no rain again."

"The mosquito life cycle is such that when they lay eggs,within five to six days, the adult mosquitoes start flying off from those places. In between the rains when temperatures are high, the hatching also speeds up; so these are the factors that we were experiencing this time," he added.

He further noted that for dengue to spread we need areservoir, a healthy individualand an infected mosquito to take the virus to the healthy individual. There are four viruses – Dengue 1, 2, 3 and 4. Dengue 2 is the nastiest virus. It cannot survive on its own – it needs a reservoir and this reservoir is the dengue patient. The dengue patient, during the fever is very infectious as that is when the virus is present in his blood (viremia). When the aedes mosquito is having its blood meal it will take that virus into its body and then spread it to a healthy individual and he becomes sick.

This time the serotype also changed; we had Type 1, 3 or 4 during past outbreaks, but this time it was found that almost 100% of the patients had Type 2 virus which the country did not have for about eight years. As a result most of us did not have the antibody or the immunity to fight.

Reiterating that there should be a reservoir, a healthy individual and an infected mosquito to take the virus to the healthy individual, Dr. Wijayamuni noted that to break the chain or the transmission cycle we need to eliminate the mosquito. "Eliminating the mosquito is a gigantic task because during its lifespan it can lay eggs at least five to six times and each time it can lay 400-500 eggs. Of these eggs around 50% are female. The 400 eggs multiplied by 5 is 2,000 and out of the 2,000, 1,000 are female. Each of them can do the same. So we are fighting a war here – we kill one and we have another 1,000 more!" he explained.

"The biggest culprits helping to spread the disease are the construction sites – places where we find a lot of water collection and blocked water. The other culprits are government and non-government households and institutions," he added.
Breaking the cycle
In their efforts to battle dengue they had very few options left. "For dengue we don't have a vaccine yet and we don't have any specific treatment, so all we can do is to reduce the mosquito population. We had limited options but did a few things in contrast to other areas in the country. From our house-to-house inspections we found that 15% had 'potential' breeding places. By potential I mean they can collect water if it rains and when the water is collected, within five weeks the breeding can start. From 15% we were able to reduce cases to about 9-10% but we want to bring it down further to about 5% in order to prevent another outbreak. This is our main task and where we need public support."

This year alone they have conducted 22 city-wide household inspections, deploying 8,800 personnel – Army, Navy, Air Force, Environmental Police, Public Health Inspectors and the Public Health staff of the Colombo Municipal Council.

They adopted a high risk strategy whereby they selected high risk areas where the most number of cases were reported and conducted the household inspections there. "We found and eliminated lots of breeding places from the vicinity of those victims and most of the time the victims were facilitating breeding within their own premises – sad to say – this is where we have to be very vigilant and people should be educated," he said.

They started very early morning fogging: 5:30 a.m. to 7 a.m. and then 5:30 p.m. to 7 p.m. because that is the time that mosquitoes start looking for their blood meal. Colombo was the only council that started the early morning and evening fogging and that was very successful – not only outdoor fogging but also water-based indoor fogging. They also used BTI dunks and Aicon sprays.

Dr. Wijayamuni says the combination of fogging – both outdoor and indoor, finding and destroying breeding places, larva site spraying, the use of BTI and Aicon and health education – contributed to the successful reduction in the dengue cases. "We have brought it down by 90%. The present number is therefore 10%; from 290 per week to 30. But I fear with the current rains that we are experiencing it might go up again," he said.
Keeping numbers down
When asked how they plan to keep the numbers down as there is potential for numbers to go up again dueto the rain, Dr. Wijayamuni said, "We are mainly concentrating on from where the cases are coming up; there may be some elements who are facilitating the production of these mosquitoes, so we have to go from house to house. We are going to have another program this week from the 22nd and will conduct city-widehouse-to-house inspection.

"Last year alone we had filed 982 cases and fines were imposed on them – more than Rs. 2.8 million – and this year we have filed more than 493 cases now resulting in nearly Rs. 1.5 million in fines. That's the last thing we want to do – we don't want to take people to court and punish but we are compelled to do that. However we are only taking people to court for breeding – not for potential breeding."

He stressed that people should be vigilant, willing to cooperate and act responsibly, by keeping their households and vicinity free of potential and actual breeding places, in order to prevent the recurrence of an epidemic. Through the continual practice of fogging and residual spraying with Aicon, along with responsible behaviour of individuals, further outbreaks can be avoided, he said.