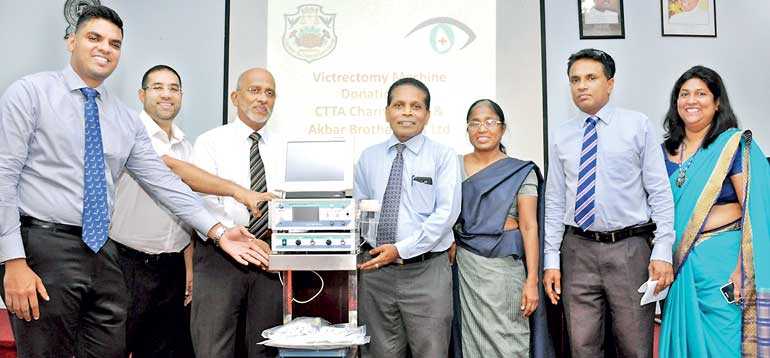 From left: CTTA Sub Committee Chairman Peter de Silva, Akbar Brothers Director Mansoor Akbarally, CTTA Chairman Anselm Perera, NEH Director Dr. Lionel Muhandiramge, Dr. Manel Pasquel, Dr. Kapila Banduthilaka, Dr. Lalanthi Daluwatte
The National Eye Hospital (NEH) of Colombo was gifted a state of the art machine for Vitrectomy surgery worth Rs. 6.5 million recently. The funds for this equipment was raised jointly by the charity arm of The Colombo Tea Traders' Association (CTTA) and Akbar Brothers Ltd. (ABL).

Renowned Retinal Surgeon and Consultant Dr. Kapila Banduthilaka was instrumental in making this happen. He stated that the NEH was in dire need of such a machine and it will greatly help in treating many patients who have been long wait listed. NEH Director Dr. Lionel Muhandiramge appreciated this kind gesture which contributes immensely to the betterment of the society.