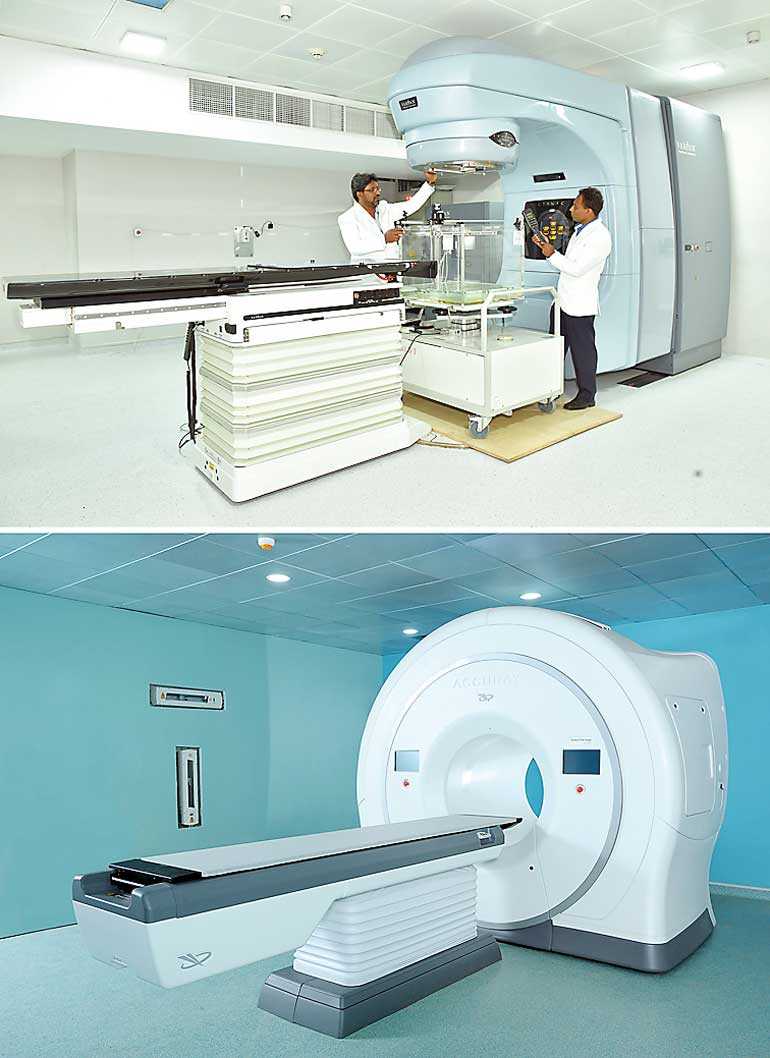 The two radiation machines
---
Ceylinco Life has announced that the company's policyholders are eligible for up to 50% off on the costs of radiation therapy at Ceylinco Healthcare Services Ltd. (CHSL), a wholly-owned subsidiary that offers the latest advancements in cancer treatment.
A cancer fund launched by the country's life insurance leader six years ago, finances special rebates on radiation treatment at CHSL, with policyholders whose policies are three years or more eligible for a 50% rebate on treatment and newer policyholders receiving a 25% rebate.

The announcement of the latest rebate scheme comes hot on the wheels of the commissioning of a new state-of-the-art hi-precision Clinac iX linear accelerator purchased by CHSL from Varian Medical Systems, to replace its older linear accelerator.

Commenting on the rebate scheme, Ceylinco Life and CHSL Chairman R. Renganathan said: "The Cancer Fund is yet another demonstration that our credo – 'A Relationship for Life' – goes far beyond being just a marketing slogan. We truly care about enhancing the quality of life of our policyholders. This fund provides policyholders affordable access to the best cancer treatment options available in the country, should they require them."

CHSL offers five types of cancer treatment at its facilities in Colombo. One advanced form of radiation therapy is delivered through the newly-acquired linear accelerator, which is equipped for highly precise Intensity Modulated Radiotherapy (IMRT). Another form of treatment is TomoTherapy which combines IMRT with the accuracy of computed tomography (CT) scanning technology, all in one machine. CHSL is the only company that offers TomoTherapy in Sri Lanka. Other treatments are brachytherapy, which involves placing a protected source of high energy radiation directly within the tumour; chemotherapy, where chemical substances are used to treat the disease and Radioactive Iodine Treatment for hyperthyroidism. It is delivered in a single dose and has minimal or no side effects.

CHSL's new linear accelerator delivers significant improvements in precision and reduced treatment times, enabling its Radiation Treatment Centre to efficiently deliver wide-ranging radiation therapy treatments including 3D Conformal Radiotherapy, Intensity Modulated Radiotherapy (IMRT) and MV based Image Guided Radiotherapy (IGRT).

The most experienced and affordable private cancer treatment centre in the country, CHSL has successfully administered radiation therapy to over 5,000 patients over the past decade. Besides its two radiation treatment units – the Ceylinco Radiation Treatment Centre and the Ceylinco TomoTherapy Centre, Ceylinco Healthcare Services owns and operates the Ceylinco Diabetes Centre, offering comprehensive screening, diagnostic services and medical care.