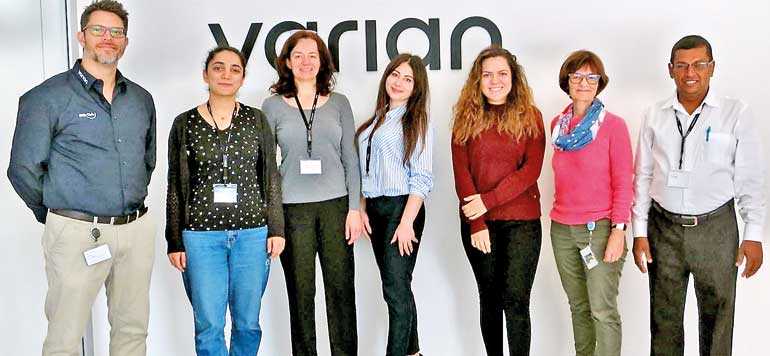 Thilak De Silva (extreme right) with participants of the training program in Switzerland
---
Thilak De Silva, the Chief Radiation Therapist at Ceylinco Healthcare Services Ltd. (CHSL) recently visited Switzerland for a training program hosted by Varian Medical Systems International AG, a global leader in Radiation Oncology.
He is the second member of the staff of CHSL's Radiation Treatment Centre to undergo training in Switzerland in the past two months, the company said.

The five-day training course is linked to the acquisition of a new hi-precision Clinac iX linear accelerator for CHSL's Radiation Treatment Centre from Varian Medical Systems.

The course titled 'Oncology Information System Clinical Implementation' covered a variety of topics ranging from an in-depth introduction to the system architecture to using the equipment in coordination with ARIA, a comprehensive information and image management solutions operating system that allows users to oversee all aspects of oncology.

This program was conducted with the aim of introducing the new Oncology Information System and to provide training on how to setup the system prior to on-site training. Thilak De Silva has been practicing in the field of radiation therapy for 28 years in both the private and public sector of Sri Lanka. He holds a Diploma in Radiography from the School of Radiography in Colombo, and specialised in radiation therapy, locally. He possesses extensive international experience too, having worked at the International Atomic Energy Authority (IAEA) in India, USA and Singapore.

With more than 7,400 linear accelerators installed around the world, of which nearly 200 are operating in India, Varian Medical Systems has extensive global and regional experience in radiation oncology. The Varian Clinac iX linear accelerator houses a range of capabilities that not only streamline the treatment process, but also expand possibilities for clinics.

The most experienced and affordable private cancer treatment centre in the country, CHSL has successfully administered radiation therapy to over 5,000 patients over the past decade. The treatment facilities offered by the Company are estimated to generate a saving of $ 500,000 in foreign exchange per year from its two radiation treatment centres — the Ceylinco Radiation Treatment Centre and the Ceylinco TomoTherapy Centre. Ceylinco Healthcare Services also owns and operates the Ceylinco Diabetes Centre, offering comprehensive screening, diagnostic services and medical care.