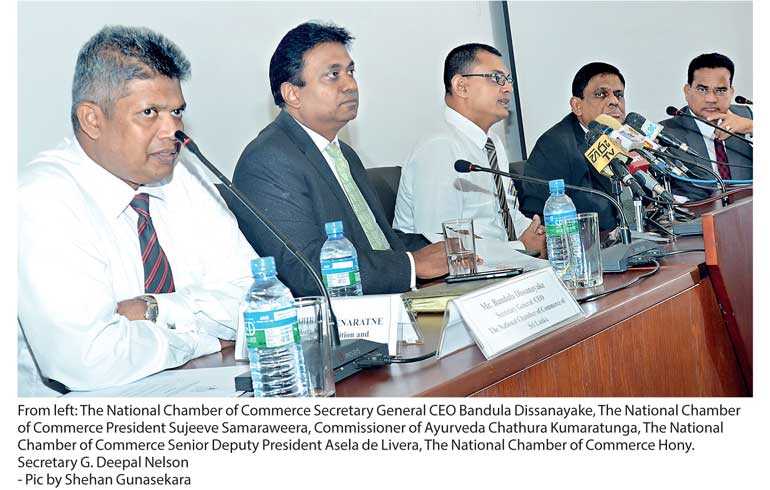 By Safna Malik

The seventh edition of Ayurveda Expo 2018 will be held from 13 to 15 July at the BMICH, giving a centre stage to local and foreign ayurvedic practitioners to showcase a wide range of ancient treatment methods for non-communicable diseases.

The National Chamber of Commerce jointly with the Ministry of Health and Indigenous Medicine will be organising Ayurveda Expo 2018 to promote natural treatment methods among the local and international market.

The three-day exhibition will contain stalls with Ayurveda herbal products, nature friendly health foods, beverages, spas, Ayurveda educational institutions ,yoga, acupuncture, homeopathy, beauty care products, herbal cosmetic products and mainly focus on treatments to prevent and cure diabetes, chronic respiratory diseases and even cancer which are rapidly growing in Sri Lanka.

The National Chamber of Commerce President Sujeeve Samaraweera addressing a news conference said, "This exhibition is not only about herbal products but it is also educational. It brings together and shares the knowledge of both Ayurvedic and Western medical practices. We will discuss the new developments of the medical industry. We urge the Government to give the equality to Ayurveda and Western medicine treatments in hospitals in order to treat patients more efficiently."

The National Chamber of Commerce CEO Bandula Dissanayake said this exhibition will give maximum exposure to Ayurveda practitioners to publicise their products and services; it will be an opportunity to interact with foreign and local buyers.

"We are expecting over 30,000 visitors to experience and witness ancient treatment methods and to know about indigenous healthcare products and services in Sri Lanka and other countries," he added.

In addition, a symposium including Ayurveda and indigenous medicine will be held alongside of the exhibition by experts and researchers from local and foreign countries. Ayurveda practitioners and doctors from India, Bangladesh, China, Japan, and South Africa with expertise on indigenous medicine will be present during the three-day expo to guide and enlighten people on the indigenous medicine and ancient treatment methods. Special importance will be given to attract foreign delegations with a view to promoting Sri Lankan Ayurveda sector and health resorts as a tourist attraction.

Herbal product manufacturers, buyers and sellers of Ayurveda medical products, beauty culture agents, beauty care products manufacturers , health resorts and spas, Ayurvedic hospitals, clinics and all institutions related to the field from Sri Lanka and overseas countries will have a hands-on experience and opportunity to showcase a wide range of products and services to the public.

The exhibition will also create a platform to local and overseas organisations to engage in the indigenous healthcare system.