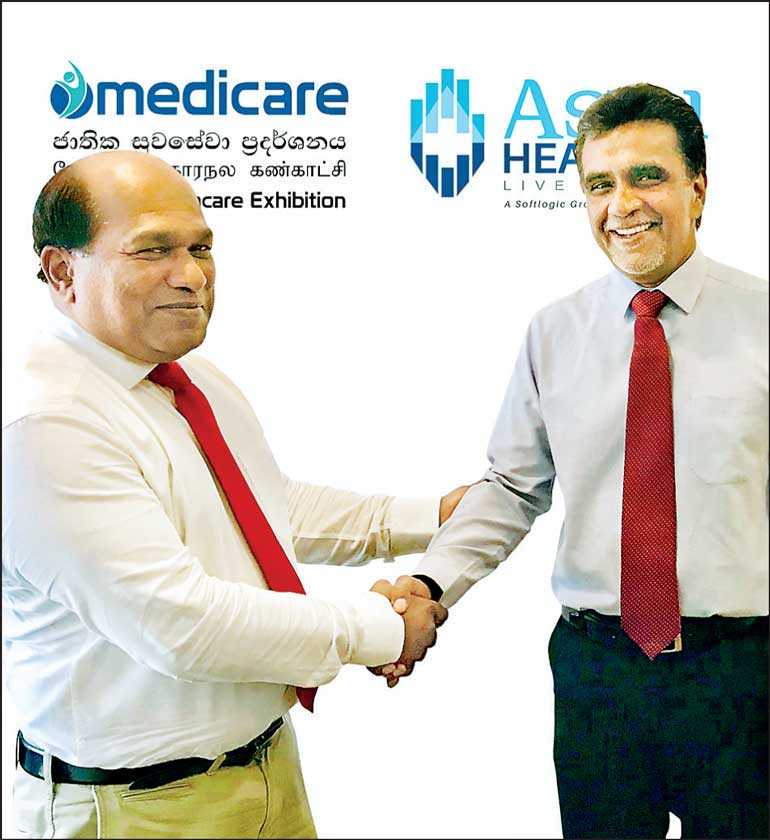 Asiri Group of Hospitals Group Chief Executive Officer

Dr. Manjula Karunarathna (right) after signing agreements with Ministry of Health General Medical Services Deputy Director and Medicare 2019 Organising Committee Chairman Dr. Amal Harsha de Silva (left)

Asiri Group of Hospitals' stall at Medicare 2018 filled with enthusiastic visitors
---
Showcasing its commitment to uplift the medical industry, Sri Lanka's premier healthcare provider Asiri Group of Hospitals has stepped forward to support the 10th edition of Sri Lanka's largest medical exhibition, Medicare 2019 – National Health Exhibition as the Platinum Sponsor.

The premier healthcare exhibition is organised by the Medicare Organising Committee in collaboration with specialist medical associations, under the patronage of the Ministry of Health, and is expected to feature over 220 local and international stores, showcasing a wide range of products and services. The exhibition will be held from 1 to 3 March at the Sirimavo Bandaranaike Memorial Exhibition Hall, BMICH and is expected attract over 15,000 visitors

As the Platinum Sponsor for the Medicare 2019 – National Healthcare Exhibition, Asiri Group of Hospitals will be the Official Hospital Partner and Official Neurosurgery Partner as well as the Official Laboratory Partner. Asiri Group of Hospitals is planning to offer a number of free services and advisory services during the Medicare 2019 exhibition to the general public.

The Medicare premier healthcare exhibition was founded 10 years ago with the goal of bringing all local and international healthcare experts under one roof to create a direct link between the industry and the general public. The 10th Medicare exhibition will feature a national Healthcare Exhibition, Medical Tourism Expo, Ayurveda Expo, Healthcare Awareness Expo and Medical Equipment Expo, providing public with useful, timely and accurate information.

As a premier health service provider in the country, Asiri Group of Hospitals' efforts to raise the level of awareness amongst the public with lifestyle choices for sound preventive healthcare and the availability of medical resources within the country has been consistent and the group wishes to continuously support national initiatives such as Medicare 2019.

Further information about Medicare 2019 can be obtained by contacting the officials on 0777287072 or by visiting the official web portal of the event www.medicare.lk or www.facebook.com/medicare.lk.