Treatment now available in neighbouring India
By Fathima Riznaz Hafi

A technological breakthrough in medical procedures, the Transcatheter Aortic Valve Replacement (TAVR) brought hope to elderly patients when it was first introduced in France a few years ago, offering a safer option to the conventional open heart surgery for valve replacement.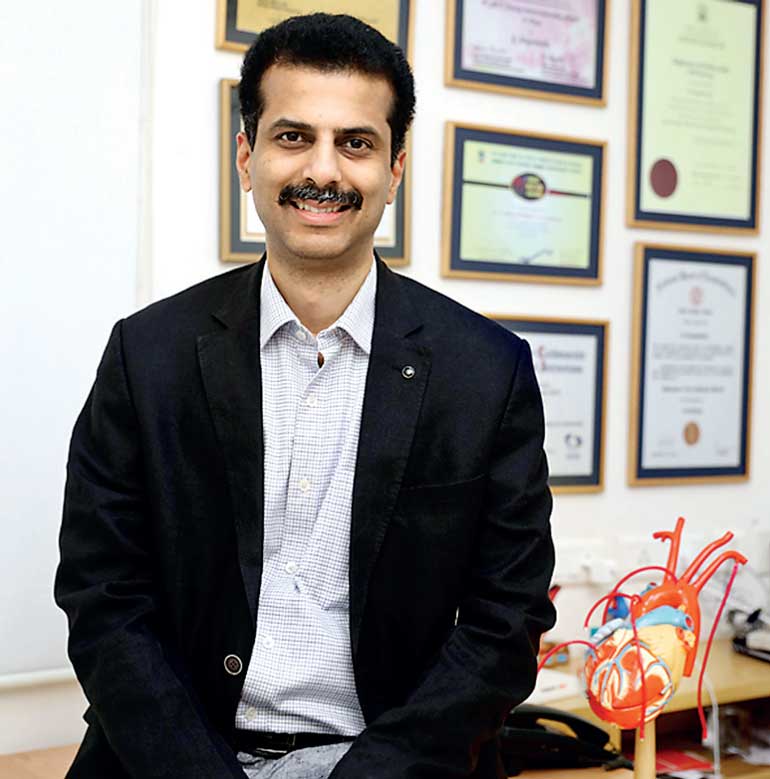 Apollo Hospitals India Senior Interventional Cardiologist Dr. G. Sengottuvelu
Elderly patients fall in the high risk group for receiving open heart surgery and are therefore declined as candidates, thereby removing their chances of survival. This new minimally invasive procedure however comes with lower risks and can even be performed on patients with co-existing complications that come with old age. It replaces the old, damaged valve without removing it and a replacement valve is wedged in the place of the aortic valve.

After its initiation in France, the program spread slowly to other countries and has been successfully carried out in the West for a few years now but due to its unavailability in Sri Lanka, local patients had to either travel far to seek treatment or forego treatment and give up hope for recovery. Fortunately, two years ago, the program made its way to Apollo Hospitals in nearby Chennai subsequently bringing convenience to Sri Lankan patients who can now seek treatment without having to travel great distances.

Spearheaded by Apollo Hospitals Chennai Senior Interventional Cardiologist Dr. G. Sengottuvelu after he underwent TAVR training in France, the program is carried out with state-of-the-art facilities and a supporting team of experts.
Aortic Stenosis

What sort of ailment necessitates valve replacement? Dr. Sengottuvelu explains, "The heart has four valves; out of that there is one called 'Aortic Valve' which is a very important valve that supplies blood – it connects from the main chamber to the aorta. That valve opens and closes and blood flows through. For normal people the valve will continuously function; but for some, over a period of time there is valve deterioration, due to wear and tear, particularly when age advances. The result is a condition called Aortic Stenosis (AS).

"The valve becomes very thick and calcified (calcium deposits) and the narrowing of the aortic valve opening restricts the blood flow from the left ventricle to the aorta and may also affect the pressure in the left atrium. AS can occur due to congenital heart defects but is very common due to old age as calcium or scarring damages the valve and restricts the amount of blood flowing through the valve. The patient starts developing symptoms – like chest pains, breathing difficulty, fainting and fatigue and consequently the valve has to be replaced because if left untreated, aortic valve stenosis can lead to life-threatening heart problems.

"Conventionally the valve replacement is done by open heart surgery but most elderly people may have other co-morbid conditions such as asthma, heart problems, and previous bypass surgeries – and are not suitable for open heart surgery. They are at very high risk and so surgery is not considered for them."
The solution: TAVR

"For patients in this condition, now there is a procedure called 'Transcatheter Aortic Valve Replacement' (TAVR); whereby the valve is replaced by catheter means, without surgery. It is similar to the way we insert a stent, which is a metal spring to remove the block. We place a fully collapsible replacement valve (mounted on a frame similar to a stent) to the valve site through a catheter. Once the new valve is expanded, it pushes the old valve leaflets out of the way and the new valve tissue in the replacement valve takes over the job of regulating the blood flow," he said.

Providing further detail through images, Dr. Sengottuvelu explained how this procedure is carried out: "The leg arteries are connected directly to the heart, so we can go through the leg arteries with the catheter, cross the aortic valve, and release the valve. This is a self-expanding valve – when we release it, it expands on its own. The valve is inside a stent. Once you put it there, it starts opening and closing – it functions properly; and then the catheter is removed.

"The other type of valve is called the 'balloon expandable valve' whereby we use a balloon to open the valve. This is done in a similar way – we go through the leg artery directly into the heart, and load the balloon inside the body (the balloon is placed inside a big stent which is housing the valve). The heart is transiently stopped and at that time we inflate the balloon and the valve is put in place. Once in place, it starts functioning instantly. We deflate the balloon which is then removed completely from the body, through the leg artery."
Preparation and planning

"Preparation and planning is very critical because the valve is not always circular – it can be elliptical in shape and varies in sizes. So we do a CT scan to assess the patient's size and precisely measure the valves and also the area and circumference or perimeter and then based on that, we arrive at the diameter so that we can correctly size the patient's valve. We have different sizes and choose the right size which is the best suiting valve for the particular patient.

If we undersize the valve – if it is too small – it will start leaking inside and if we oversize, it can rupture. So we have to appropriately size," he said.

"We also have to ensure the leg arteries are adequately sized to take these bulky devices; or whether there is a lot of calcium, which will not allow the device to go; or sometimes the catheter may not go up through the path. So we look at everything and then have a big discussion with our team, and make our decision."

TAVR is a team process, involving cardiologists, radiologists, cardiac surgeons and anaesthesiologists; it's a dedication across medical specialties collaborating to a team-based treatment approach because many of these patients – since they are elderly – have multiple problems; they often have neurological, kidney problems, etc. so the team has to collaborate in order to perform successfully.
Risks and benefits

As with any procedure, TAVR comes with a few risks, which include bleeding at the catheter insertion site, vascular damage and abnormal heart rhythms, all of which will be discussed during the screening process. However, in comparison to conventional open heart surgery the risk related to TAVR is much lower.

Also, with open heart surgery, the patient has to go under general anaesthesia while TAVR is conducted under mild sedation. The hospital stay is also significantly shorter, lasting only a few days, following which patients can return to normal activities.

TAVR has been adopted worldwide, with over 300,000 implantations carried out globally and volumes are predicted to increase four-fold in the next decade owing to the number of AS cases rising rapidly. As longevity escalates in Sri Lanka, we see an increase in the elderly population and it is reassuring to note that if they are in need of this facility, it is now within close distance.