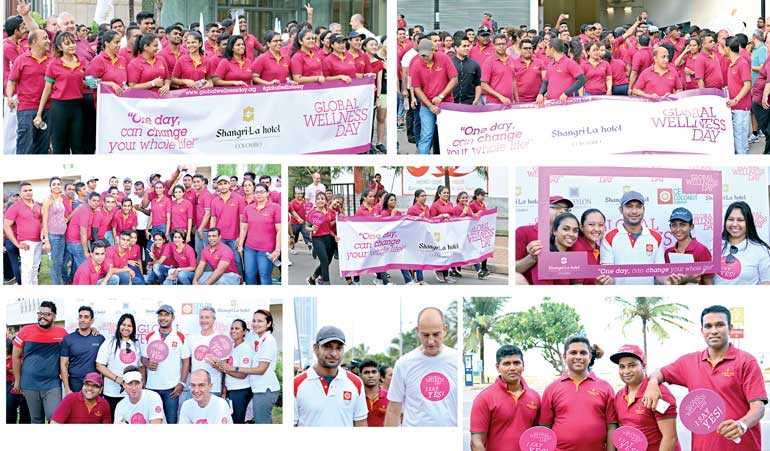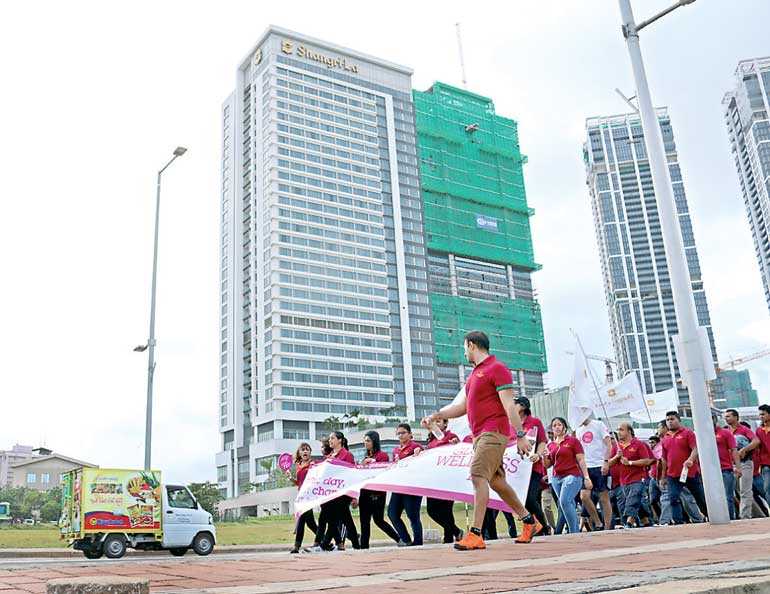 As part of the Shangri-La Colombo's 'Global Wellness Month', this past Saturday saw the hotel host a 2.5km 'Wellness Walk' along Galle Face for its employees and sponsors.

The walk which began around 7 a.m. Saturday morning was among a host of activities lined up for the health-focused month, which the hotel hopes will provide 'an inspirational start to live a healthier and happier life'.

This year, the hotel's second year taking part in Global Wellness Day celebrations, sees events take place from 1-21 June for both employees and guests, such as the Sunrise Yoga session which was held on Friday to kick off the initiative.

"Global Wellness Month at Shangri-La Hotel, Colombo is a journey of self-awareness," stated a release. "It is an international, non-profit event, created by volunteers, experts and celebrities. Global Wellness Month includes physical exercise, healthy eating, living well, mental exercise and is a social movement that aims to raise awareness on improving the quality of life across the world."

Guest of Honour at the event was none other than Kumar Sangakkara in his capacity as a Director of the Ceylon Coconut Company, itself a frequent collaborator with Shangri-La Colombo.

"One of the core missions of Ceylon Coconut Company is to champion the paradigm shift in healthy eating, and enhance awareness of how coconut plays a role in that cause. To that end we are extremely excited to partner with Shangri-La Hotel, Colombo, during their Global Wellness Month, to showcase the versatility in healthy eating made possible by our humble Ceylon Coconut," he said.

The former Sri Lankan Test Captain also gave some of his tips for a healthy lifestyle.

"If you can get 20-30 minutes of walking, of cycling; cycling is particularly good because it doesn't put any pressure on your knees, hips and ankles. If you don't have time do simple things, walk everywhere, take the stairs, if it's a 500 metre walk, and it's not too hot, don't take a taxi just walk. And also be careful of what you eat."

Spa Ceylon was also a part of the walk, with Co-founder Shalin Balasuriya among those to take part.

"Wellness is ingrained in the very DNA of what we do. Over the entire month of June we'll get the opportunity to really embrace our commitment to this idea of wellness by taking the message across the country," said Balasuriya.

"We're encouraging this commitment to setting wellness goals at both personal level, and via larger community minded initiatives like the in-store recycling project. We look forward to engaging with likeminded Sri Lankans."

Shangri-La's #MyWellnessGoals campaign is looking for calls for action from Sri Lankans on how they will commit to wellness.