By Kumar de Silva

Prime Minister Ranil Wickremesinghe was recently critical of the Daily FT over two opinion articles on Government plans for the Hambantota port and offers of tabs to students, and went on to liken the paper to cheaper than toilet paper. He had concluded his comments on FT stating "Anyway (such reporting) will help the FT to increase its circulation. I have asked the Finance Minister to put an 800% tax on toilet paper, because FT will be the alternative."

I found this little "jewel" of a piece of criticism both terribly distasteful AND absolutely hilarious. It took me thirty years back in time, to 14 July 1986, to Bastille Day in Paris.

After months of eating bland 'white' food, I found myself at a dinner party that night where the hosts were from the Reunion Islands. The food was l-a-c-e-d with chillies and spices. I loved it and went on a binge to make up for all those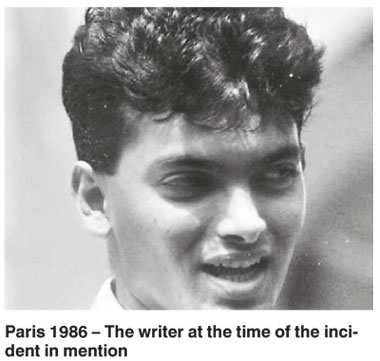 lost months. Then came the beer and the wine and the champagne and we were ready for the overnight alfresco dance party. One hell of a party it was ... with music throbbing out of massive speakers and a few hundred people all jumping up and down and contorting and gyrating with not a care in the world. As the night grew I felt my stomach rumble. I ignored it and continued regardless. The rumbling became more and more frequent. I knew trouble was brewing down there.

It was only then that I realised that I had, by my vigorous contorted dancing, churned all that chilli hot and spicy food with beer and wine and champagne in my stomach which had NOT been accustomed to such food for months. I had to run to the loo. I began to sweat profusely and feel delirious.

"Excusez-moi toilette s'il vous plait ? Toilet please ? I frantically asked around and looked around for a loo but there wasn't any in sight. I could not defecate on the banks of the river Seine (where I was) and be charged for public indecency and polluting a national landmark.

This was well after midnight. Then descended a brainwave! I ran up to the street above, ran into a café, dived into the WC, frantically plonked myself on the throne and heaved a massive sigh of relief. There was a comfortable numbness in my jaws. O la la relief it was as I sweated and emptied my bowels. The feeling was gratifying and so I took all my time. Yes I did generously pollute the sewers of Paris that night, but then that's what sewers are meant to be.

Mission accomplished and I looked to clean myself. Hand-bidets and washing one's posterior with water were not even heard of. I looked for toilet paper. The fixture was there but the roll was empty. I was trapped inside the WC. I had no handkerchief. Nor could I have ripped my shirt to clean myself. I went into panic mode again and it was not one bit funny. The stench was unbearable and so all the more why I had to somehow get out of that little 4x3 WC.

I thanked my lucky stars for the creative cells in my brain as I remembered the little 'pocket diary' in my hip pocket. It had loads of phone numbers written by hand. (Mind you mobile phones and the internet didn't exist at that time). And as fate would have it, half of that diary had blank pages. They beamed up at me and seemed to chirp in unison: "Use us, use us". I carefully tore them one by one and g-i-n-g-e-r-l-y used them as toilet paper.

But there was a hitch too. They were 3x2.5 inches in size and non-absorbent. You can imagine what a delicate operation I had to perform. I did it with great concentration and came out smiling with the cleanest bum in Paree. O la la again …

PS: Oh fellow Wesleyite and Ed-in-Chief Monsieur Nisthar Cassim if only you had started the Daily FT at that time, I could have saved my little pocket diary!!!