This little brown cow was given in fulfilment of a vow to a local Hindu soothsayer, protected by Buddhists, rescued by Muslims and saved last Christmas

By C. Gadiewasam

On 20 December, a social media SOS went out through the Animal SOS Facebook page about a malnourished brown cow running loose in Salawatte, a marshy area in Wellampitiya, with a terrible gash in her face from a rope having been tied too tight, bleeding and suffering. The SOS was shared by more than 200 concerned animal lovers and no one seemed to know what to do. I did not see this notice till much later.

On 21 December as I was just leaving for work one of my neighbours approached me and sheepishly said there was a cow in trouble down in the wela (marsh) at the bottom of my road. (And that he had once seen me rescuing a puppy with a broken leg and possibly since Salawatte people are beyond such eccentricities I'd been noted by my neighbours as one of those crazy animal supporting busybodies and possibly classed with NGOs, traitors, feminists and homosexuals... You got the impression that a few hundred years ago I would have been burnt at some stake along with my poor rescued cat, if Salawatte had been a British village…)

So I went and inspected the cow.

The injury was simply horrifying, especially after people shrugged and said she had been like this for months. She had been suffering silently, banging her head into walls in an effort to get rid of the rope, and leaving the place bloody. People didn't seem really concerned except that now she was actually smearing blood on people's walls and smelling bad, which was an eyesore and nuisance.

I just could not walk away. I was determined to be a complete and utter nuisance to every sniggering person in this neighbourhood until this matter was solved. So I hatched Operation Munchi. Plan A was to capture her, cut the darned rope and medicate her.

First we had to catch her.

About 15 phone calls and two Facebook SOSs later, I was to understand that:

1. Private vets and clinics are understaffed/have no handlers/are on vacation/i.e. don't care.

2. The local police do not know about it so it didn't happen/also do not care.

3. The wildlife authorities are not allowed to mess with cows since they are classified as domesticated.

4. Hundreds of people really wanted to help but didn't know where Wellampitiya was, etc.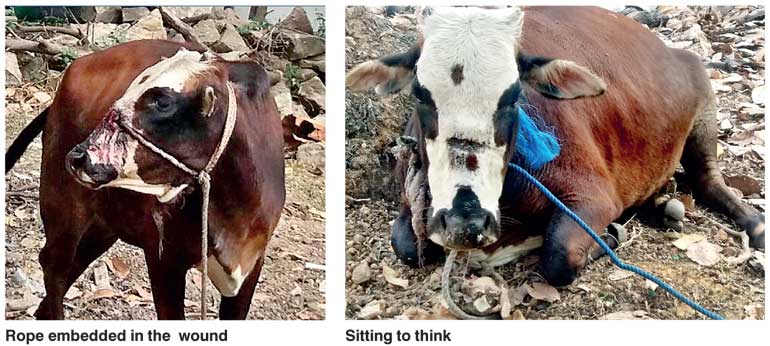 Someone else kindly recommended a dog catcher with ketamine injections on a long stick but the truth is that this terrified cow wasn't actually going to hang around waiting to be poked with injections from a long stick and also one has to be very careful with sedating a cow/or giving them oral medicines due to their complicated digestive systems.

Munchi for some reason also hated and was terrified of men particularly. I don't want to even begin to speculate why this is but truly when any man walked around she was very uneasy and she very well knew the difference between men and women. Moot point, no veterinarian was going to run around in the marshes of Salawatte trying to catch a galloping runaway cow.

11:50 a.m. Thursday update: I had sourced village experts who said they could noose her and tie her to a tree. I begged someone to recommend a humane and clever vet who would visit Wellampitiya and perform a mini operation.

2:30 p.m. Thursday update: I had called three known vets who all said we should contact the Kolonnawa Government Veterinary office at IDH junction. Locals said they had already contacted them, and I too called but the Government Vet demanded the cow be caught first... and the Salawatte men had tried for many days to catch her but had no luck as she would run away. I was to hear this sorry story repeated by a number of burly men.

This was Wellampitiya, a town well known for its thugs, drugs, shootouts and criminal gangs and all these large strong men were telling me that they could not catch a small cow. In time I believed them – I was pretty sure they would honestly have tried especially when they were high, short of pocket money or when they needed something to nibble with the cocktails…

3:48 p.m. Thursday update: Called the Kolonnawa Government Vets, they say to call Wildlife Department or to catch the cow, otherwise they are unable to handle. Two or three famous veterinary clinics said they cannot handle cows as handlers not available, etc.


5:15 p.m. Thursday update: I sourced a team from Hanwella of proper buffalo handlers and was worried that this might involve some temporary trauma as we had no sedatives. A contact from the Zoo told me that the Wildlife and the Zoo were probably not allowed to handle domestic animals. No official rescuers with dart guns were going to race to her rescue.

My next update was at 10.22 on Thursday night and I wrote this on a laptop in the dark, the lights having gone off in Wellampitiya due to a lamp post collapsing. We had run about for three whole hours in the rain trying to catch this cow.

We couldn't. My good friend Zeenath who uses a crutch for some years now since an accident did everything she could to give directions and coordinate but the cow outwitted us thoroughly. It has to be noted here that the good residents of Salawatte actually stole the mobile phone of one of the cowboys during the fray and the Wellampitiya Police at 10:30 in the night refused to make an entry about this instead unless we brought a document from the Telecom Regulatory Authority… The Police also denied any knowledge about the injured cow, and were definitely not interested in that story.

Zeenath and I hatched plan B, which was to use gentle feminine charm and befriend our feisty heavyweight herbivore and try to catch her. She was after all practically eating out of our hands, it's just that she would not let us touch her neck ropes. This idea had its flaws because whereas she is a gentle soul, when she starts to run it is like a small truck without brakes and anyone who gets tangled in that setup could very probably die. By this time I had alerted my animal activist friends, and we were constantly brainstorming as to what could be done.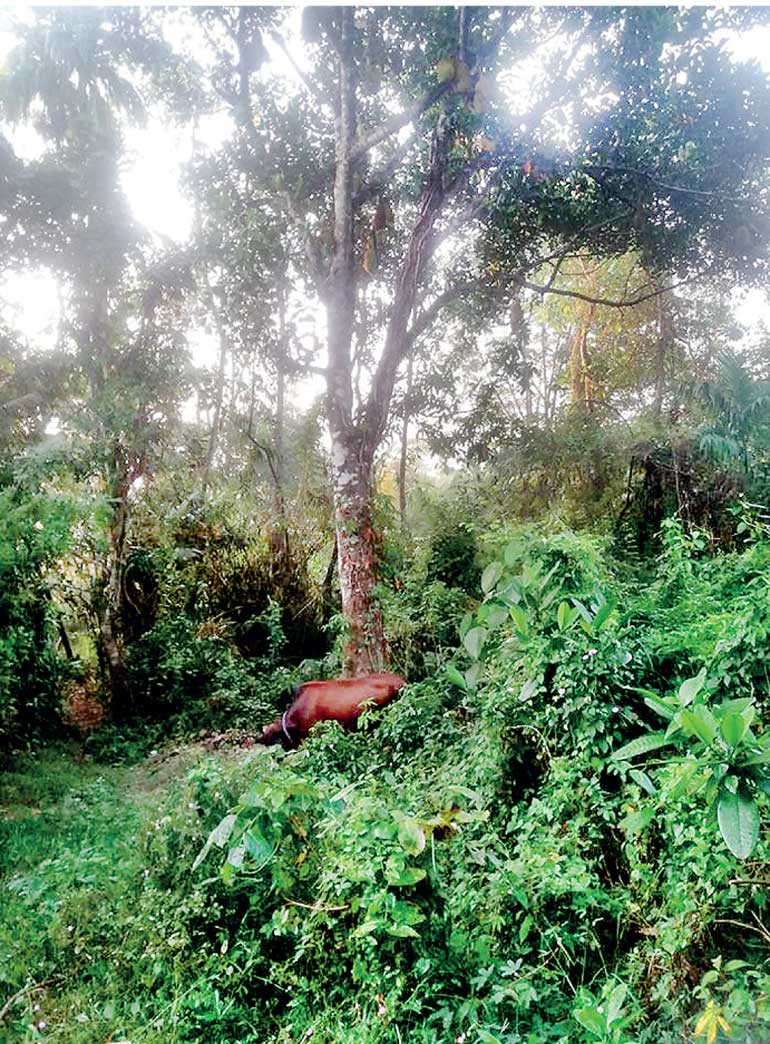 Update Friday morning: The Hanwella cowboys had been alerted to the routes taken by Munchi, who is a creature of habit, and they had cleverly erected a small neck trap which would tangle her on the way to dinner. This had worked and there she was, annoyed but quiet enough. Things developed from here very quickly. The Salawatte menfolk grabbed her and sawed off the terrible rope that was cutting her flesh (thankfully I did not see this brutal operation and it was over very quickly) and she was secured for a vet to come and attend. Friday was frankly one of the best days of the year as far as we were concerned.

On Saturday, the day before Christmas, a team of vets from SkyPet Hospitals came over and in a two-hour operation, secured her tighter, sedated her, cleaned the wound thoroughly and gave her a set of strong antibiotic injections which would last a week they said. You can view videos of this very professional procedure on my FB page.

By Friday more than 300 people had shared, commented advised and encouraged us on my FB posts, and the Daily Mirror had kindly run my appeal which resulted in a large number of calls coming in offering to help (proving the cow was captured of course). Two anonymous donors, Muslim and Christian, sent funding to fully cover all medical and other expenses and all my friends pitched in, in so many ways.


My friends and I learnt so much in the week to follow – what cows eat, what to do if you need to catch one, what the Government and other authorities will and mostly will not do, and that there is a lot of love and kindness out there from places where you may not expect to find it. We are still learning and might need crowd support when it comes to the tricky issue of wading through local politics and paperwork and finding permanent safety for this poor gentle soul.

There is also the issue of unregulated releasing of so called "merit cows" in the city, which just adds to the population of starving animals walking around eating garbage and being a nuisance, which is presumably why someone had tied her face in the first place – this will need intelligent solutions.

The experience also it taught us that a few determined ordinary housewives can sometimes prevail where lots of strong men have failed.

A warm thank you to all involved, especially Zeenath Amanath, Christine Perera, Nadeesha Paulis, Skypet Hospitals Dr. Asanka, Dr. Pasan, Dr. Percy, Jennifer Rodrigo, Marilyn Wouters, Sakuntala Sachithanandan, Sriyanie Wijesundera, Asanka Perera, the Ex-Pats Furniture Service group, Daily Mirror and Daily FT and everyone commenting, sharing and cheering us on, and of course the Hanwella Cowboys without whom this could not have been achieved, never forgetting our blessed anonymous donors…

You can follow Munchi's subsequent adventures at www.aljuharawrites.blogspot.com.