By Shannine Daniel


Chris Creations run by Christine Joseph Batcho is a home-based cake business located in Dehiwala. Christine specialises in cakes and cake structures for wedding ceremonies as well as cakes for birthdays and other special or festive occasions.

A former student of Mallika Joseph, she has been trained in modern cake decorating, sugar crafting and sugar artwork on fondant structures according to the British Sugar Craft and Wilton USA methods. She has done her basic training in bread-making and pastry-making at the Prima Bakery Training Institute (PBTC).

Speaking to the Weekend FT, Christine gave us some insight into the procedure behind her wedding cakes and the wedding cake structures.

"My customers give me a picture the design they want, usually something which they get from the Internet, otherwise they tell me their budget and then I have the freedom to design the structure in a way which keeps to their cost limit," she said.

She went on to say that roughly about one week or one month is take to create these 'fondant dummies'; it usually depends on the number of tiers and the amount of flowers or sugar artwork that they want to decorate the structure.

"Other than sugar flowers, any other cake decorations can be made within about a week. When it comes to the flowers then about one month's time is needed to make them; the more flowers the more time is needed," said Christine.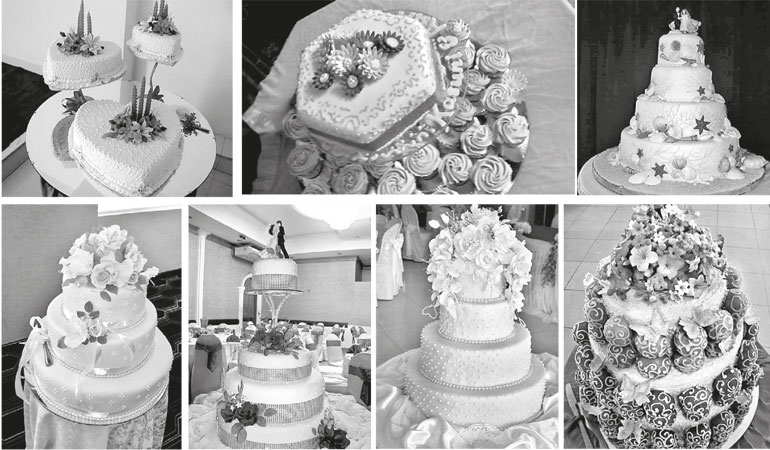 Wedding cakes and structures


This is why she gets her customers to give her an exact number of these flowers as well as the type of flowers they want as decorations. The large petalled tea roses are the most common type of sugar flower most seen on wedding cakes and Christine revealed that a lot of time and effort goes into creating them, and she can make up to 10 or 15 of these roses within a day. According to Christine the final assembling of the cake structure takes a maximum of one day to put everything together.

When it comes to wedding ceremonies, she does not allow her customers to handle the delicate structures by themselves, she personally takes it upon herself to deliver and arrange it at the designated venue.

Christine also revealed that her customers who order both their wedding cake structures and the cake from her, get a discount on their cake pieces.

"The wedding cake itself is always baked at the last moment because it needs to remain fresh," she added.

Other than her specialities, Christine also bakes up other varieties of cake such as love cake, date cake, fruit cake and Christmas cake. The price for her cakes with fondant icing, which include wedding cakes and Christmas cakes, is Rs. 2,500 per kilo whereas for other cakes with butter icing she charges Rs. 1,800 per kilo.

She also makes all sorts of savouries including rolls, patties, mini pizzas, pastries and savoury buns, sweets such as milk toffee, coconut rock, Turkish delight, marshmallows and kisses and baked treats such as cupcakes, brownies, éclairs and donuts on order basis.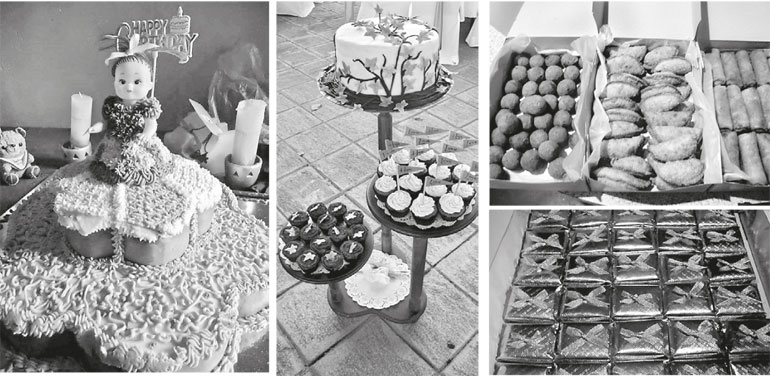 Cakes and other items


She has made up to 350 of these food items on order basis for her clients and requires a minimum of 50 items for a single order, with exceptions only for her oldest regular customers. Ten of her regular clients frequently order her Christmas cake and love cake and she has about 25 regulars who order her birthday cakes for both adults and children. Christine also frequently caters short eats for sales, fundraisers and special occasions held at her church. She also offers the option of delivering her cakes and food items to her clients but with an additional cost.

Having officially been in business since 2006, Christine is a full time mum to three young children who is passionate about her baking and a lot of effort goes into her creations. We were curious to know how she manages her business along with taking care of her kids and running a household, and she revealed that at first she would get much help from her mother with the household chores and with some of the large-scale orders she undertakes and tries to get most of delicate sugar crafting, which includes making sugar flowers for wedding cakes, done while her sons are at school.

Now she gets the help of her sons sometimes; her eldest son, 13-year-old Aaron helps her with the sugar crafting, while her youngest son, seven-year-old Jacob, helps by mixing or beating the cake batter.