A walk to bring awareness on cyber exploitation and violence against children in Sri Lanka

The Voice Walk was held for the fifth consecutive year on 19 August, to raise awareness about the crisis and implications on our future generation and society due to the unprecedented rise in the number of reported cases on cyber exploitation and violence in the country.

The campaign slogan 'To be a Voice for the Voiceless' is the vision of the Founder of the Voice Foundation Senior Pastor Dishan De Silva of Bethany Christian Life Centre.

"To build a better Sri Lanka, we first need to be better Sri Lankans, and the Voice Walk was a call for action to parents and adult citizens of our country to immediately take more responsibility to help protect and develop the children of Sri Lanka," commented De Silva. "To raise awareness and bring hope to the hopeless and be the voice for the voiceless is the passion and mission that drives the foundation."

The Voice Walk Colombo ceremony was attended by Deputy Minister of Policy Planning and Economic Development Dr. Harsha de Silva, Prime Minister's Spokesperson and Deputy Head of the Prime Minister's Office for Prime Minister Ranil Wickramasinghe Rosy Senanayake, National Child Protection Authority Chairman Marine De Livera, UN Sri Lanka Resident Coordinator and UNDP Sri Lanka Resident Representative Una McCauley and representatives from UNICEF.

Key supporters of the walk included Grasrooted Foundation, World Vision Lanka, LEADS, Women's and Childcare Bureau, Child Care Probation, Sri Lanka Police, CCC Foundation, CCH Foundation, Bethany CLC, Touch Community, Emerge Lanka, Family Wellbeing Foundation, Tears Foundation, Fridsro Projects, the Lions Clubs, Leo Club of Nawala Metro, Homagama Central and Katuwawala.

Others included pre-schools (Little Heaven), schools (OKI international), orphanages, lawyers, doctors and cause-related activists.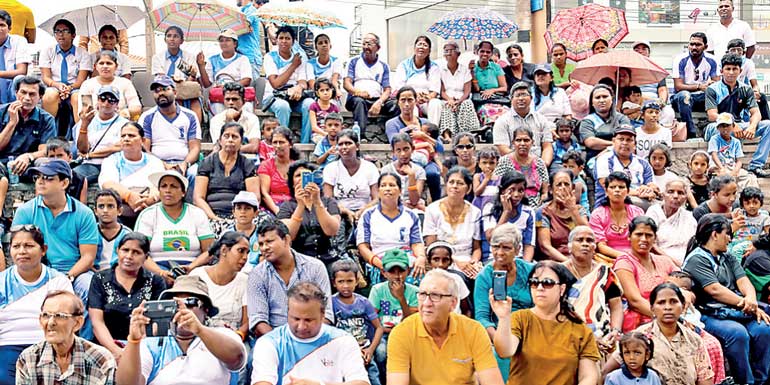 The Voice Foundation, chief organiser of the Voice Walk, is currently collaborating with government Gfficials and the corporate sector to help partner in several prevention programs on cyber exploitation and violence and is partnering with Grassrooted Foundation to conduct CEV prevention workshops across the country and the safe house project launched in January 2016. Some key Voice Foundation initiatives have been designed to mitigate stigma and provide resources for prevention, and address the alarming number of child abuse cases reported in the country.

The Voice Foundation is an alliance formed between the Bethany Christian Life Centre, Touch Community and the Little Heaven Kids Ministry, and includes volunteers from the corporate sector, working together towards the key goal of eliminating violence against children. In line with this several other walks took place in different Cities in Sri Lanka including Batticaloa, Kilinochchi, Galle, Matara, and Hambantota to make this campaign more effective and a national one to protect our children from CEV. These walks were represented by many other INGOs, NGOs. Speaking at the Voice Walk Colombo, the Deputy Minster addressed the importance of parents making meaningful connection with their children in a digitally-constructed world and that it is the family connection that will prevent many issues.



Keynote speaker Hans Billimoria, the founder of Grassrooted, said: "We need to bring a culture of respect in our society where people will respect others online and offline." He also requested the Deputy Minister to bring up this issue in Parliament and include it in our education curriculum and support to prevent CEV.

The vote of thanks was made by Voice Foundation Director Moses Akash De Silva. "This is just the start of everything, let us join together and begin from our homes to make meaningful connections, we request all of you to join hands together with us to safeguard our children's future by joining together irrespective of our caste or creed. Children are children and it is our duty to be a voice for the voiceless."

Some 3,000+ people took part in the awareness walk across the country, which was supported and partnered by 78 organisations.