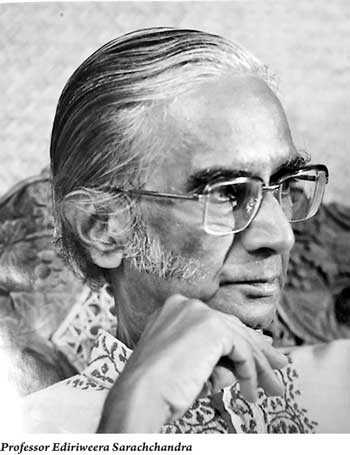 By D.C. Ranatunga

"I drew material for my plays from a body of myth and legend that has been current among my people for some two thousand years and has influenced their attitudes and actions. I was hoping to get at the roots of our culture, at the roots of people's thinking, at the racial unconscious, so to say, and to remind people of the fundamental values that have formed the basis of our culture, values that four centuries of civilisation have nearly wiped from memory. But I have not advocated in my plays an uncritical acceptance of these values. The subtext, which is often not apparent to the average playgoer, suggests that some values of a feudal culture are not consistent with modern man's attitudes and should be discarded. As an example, I would like to mention the attitude toward women that find expression in some of these legends.

"The values that are valid for all time are sympathy form human suffering, sympathy for the oppressed and downtrodden, and a sympathetic understanding of the human condition. These are values that transcend all limitations of time and place."

These words are quoted from the Response by Professor Ediriweera Sarachchandra to the Citation delivered at the presentation of the Ramon Magsaysay Award to him in 1988. I came across the document as I looked though my collection of papers on Dr. Sarachchandra to locate some relevant material for his 104th birthday falling on Monday, 4 June.

After summing up his life story and his efforts to revive the values that remain endangered, the Citation refers to the need for a healthy nation to live harmoniously with its past. "Sarachchandra therefore writes plays – plays in form and content that transcend the present and speak to the permanent experience of his people."

As to his selection for the Award, the last paragraph of the Citation reads: "In electing Veditantirige Ediriwira Sarachchandra to receive the 1988 Ramon Magsaysay Award for Journalism, Literature, and Creative Communication Arts, the Board of Trustees recognises his creating modern theatre from traditional Sinhalese folk dramas and awakening Sri Lankans to their rich and spiritual heritage."

A well-compiled life story was also released along with the Citation.

Glancing through his life story, it's interesting to note that just as much as he changed his schools from time to time (his father being a Government servant in a transferrable service – attached to the Postal Department), he also did numerous jobs until he settled down in his university teaching life.

Born in south Sri Lanka at Ratgama, Dodanduwa as a Buddhist, he went through a series of Christian missionary schools as a student. These were Richmond College – Galle (Wesleyan), St. John's College – Panadura and S. Thomas' – Mount Lavinia (Anglican), and back in Galle, St. Aloysius (Jesuit). In between when his father was stationed at Hewaheta close to Kandy, he learnt Sinhalese, Pali and Sanskrit under Buddhist monks prior to joining University College (1933-36) for his first degree in the above three subjects.

His first job was as a teacher at St. Peter's College, Wellawatte for just one year after which he joined Lake House, Administration Dept. for two years. Interest in music took him to Santinikan (1939) and on his return, was back to teaching – at S. Thomas' – and then to the Sinhala Dictionary as a sub-editor (1942-44).

While studying for Master's degree in Indian Philosophy as an external student of the London University, he got a lecturer's post at University College to teach Pali. It paved the way for him to proceed to the London University for a post-graduate degree in Western Philosophy. Having being awarded a doctorate (1949), he returned to be appointed Professor of Pali.

He first made his mark as a writer – both in Sinhala and English – in the early 1040s. His first book was 'Modern Sinhalese Fiction' (English- 1943) which created a stir when he wrote that Sinhalese writing had its share of mediocre efforts and even plagiarism. "I was badly lashed," he said commenting on the reaction to the book.

In the same year, he wrote and produced the first drama – 'Mudalalige Peraliya', a translation of Molliere's 'Le Bourgeous Gentilhomme'. He continued to write and produce dramas (also written by him) until the late 1980s.

When we moved to Peradeniya Campus as the first batch of freshers in 1953, Professor Sarachchandra was teaching modern Sinhalese literature. We were fortunate to be his students in the second year, if I remember right, before he proceeded on a scholarship offered by the Rockerfeller Foundation to "go anywhere you like and study drama in any part of the world you like", in the words of Chadbourne Gilpatric of the Foundation.

We then missed him during the final phase of our university career. However, two plays written by him were staged during his absence. One was 'Veda Hatana' directed by Newman Jubal, the Hungarian expatriate then living in Australia (having escaped the Nazi holocaust), who came on the invitation of Prof. Ludowyke. The other was 'Vandinna Giya Devale' directed by Prof. Jotiya Dhirasekera.

By the time Dr. Sarachchandra returned, we had left the campus having finished our degree course. He was soon back in action and created 'Maname,' marking a landmark in the history of Sinhala drama. That's another story.