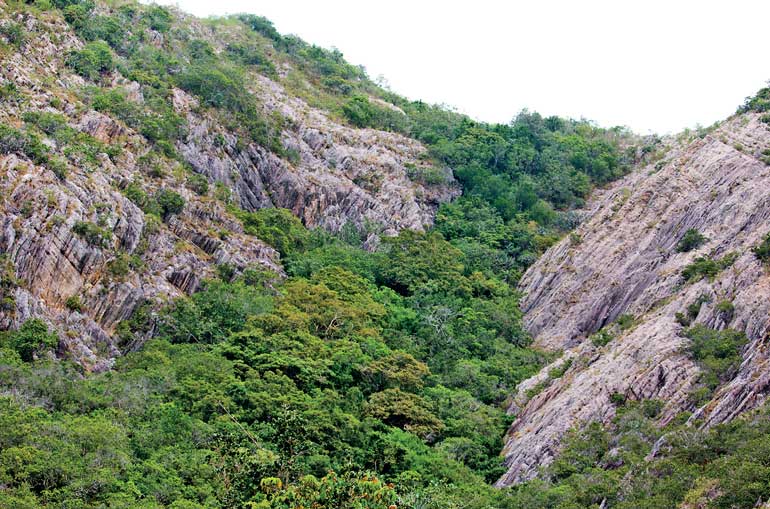 Jathika Namal Uyana is a haven of ironwood trees and pink quartz mountains
By Aysha Maryam Cassim

Jathika Namal Uyana is an archaeological reserve situated in a natural forest habitat of Na trees. It's more than just a sacred site: The garden is home to a large bed of fossilised plants and is a sanctuary for birds. You can reach Jathika Namal Uyana from Dambulla or Galewela in less than half an hour. The sacred woods are in close proximity to several other important archaeological sites such as the drip-ledge cave site in Budugehinna, Viharahinna and Awukana in Kala Wewa.



History

Namal Uyana has a long history dating back to the era of King Devanampiyatissa in the Anuradhapura Kingdom. According to the park's official website, an epigraph in Andiyagla indicates that it was grown as a park in antiquity during the period starting from King Devanampiyatissa (307-267 B.C.E) to King Dappula IV (8th century AD). It is believed that when King Kashyapa IV built huts in Rathmalagala Viharaya, King Dappula IV too constructed a Viharaya called Rathdematamal Pirivena in Namal Uyana which later fell into ruin. It was King Maha Vijayabahu who took the initiative to promote the park as a sacred garden and a sanctuary for Buddhist monks. Today, Venerable Wanawasi Rahula Thero, who has been residing in hermitage under the shade of a Naa-canopy since 1991, protects and preserves the sacred forest and its rose quartz deposits as the guardian and keeper of the Jathika Namal Uyana.

Historical evidence reveals that the park was once a plantation which, over time, matured into today's Ironwood (Na) Forest. Na trees proliferate the 238-acre vegetation of Namal Uyana. At present, 60 acres of the woods have been apportioned as an archaeologically significant area. There are a few remnants of ancient religious structures such as Bodhigara, Stupas and Stone pillars of an Uposathagharaya scattered around the park.

Quartz mountains

Na, the national tree of Sri Lanka is revered for its herbal and spiritual value. Apart from Na trees, Namal Uyana is renowned for its mountains made of quartz. Locally known as Rosa Thiruvana Gala, the unusual quartz outcrop is estimated to be over five hundred million years old. Pink quartz is also associated with healing properties and is considered to be sacred.

To see the famous pink quartz mountain, you need to walk along a 30-minute nature trail. Undisturbed by the chaos outside, you can listen to the sound of water gushing through the streams which harmonises well with the atmospheric sounds and silence. There is a well-formed concrete track through the forest which leads you to a viewpoint where the quartz deposits can be seen. The hike up the crystalline rocks is not challenging. But make sure you wear the right shoes and carry a water bottle and a hat to protect yourself from the scorching sun. If you need refreshments, there's always the option of having a glass of belimal with some jaggery (palm sugar) or some cool narang juice at the small hut at the foot of the mountain before you head up to the summit. On the summit lies a Buddha statue where one can spend some peaceful time enjoying the panoramic view of the surroundings.

For those who visit the rock for the first time, note that only some of the quartz deposits on the mountain have a pink hue. Over the years, much of its colour has been washed out due to climate change and many people were left with disappointment after seeing the unusual hue of the minerals instead of the fuchsia pink that images seem to depict.

Significance

The sacred woods of Namal Uyana is Sri Lanka's largest forest of ironwood trees and is home to rare rose quartz mountains. The historical and geological importance of this site was unnoticed for far too long. It was thanks to Ven. Rahula Thero's efforts that Naa Mal Uyana received world acclaim for its beauty and cultural heritage. Upon being declared as a National Heritage site under the Department of Wildlife Conservation (DWLC), Namal Uyana became popular among locals and tourists in the recent years. The sacred garden, oriented with an abundance of natural resources and blessed with biodiversity, still remains a remote attraction that is visited by people who love the uncrowded beauty and tranquility of nature.