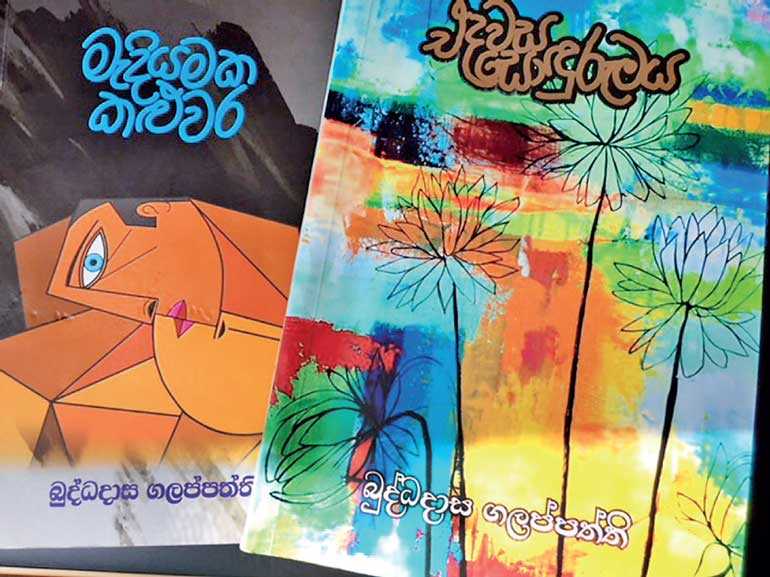 Buddhadasa Galappatty – best known as Buddhi – had several other interests while serving as a senior executive in the corporate sector. Theatre was one such interest, not as an actor or producer but as a behind-the-stage craftsman.

He did make-up of the Maname actors at one stage and was much in demand at the time Sinhala drama reached its zenith. And then he was into writing poems soon to be followed by short stories and a few novels. In between he started writing to the newspapers and has been a "confirmed" columnist over the past few years.

Though a bilingualist, Buddhi prefers to write in Sinhala. Over the years he has developed his own style of writing which the readers are fond of.

I like to repeat what I wrote once reviewing one of his books: "Each time Buddhi Galappatty releases a collection of short stories or poems, he does not allow the reader to relax. He tempts the reader to read the whole thing in one go. You just can't keep the book down! What is the secret? It's a combination of factors – the easy style of writing, the interesting plots, the

scenario he creates and the way he puts across the selected themes."

I experienced the same reading through his latest creation – 'Mediyamaka Kaluwara' (Dark at Midnight) – written after a break of six years. In between he had been busy writing columns to a couple of newspapers and continued publishing selected columns in book form. He had also continued his interest in poetry.

Reading through 'Mediyamaka Kaluwara' where Buddhi exposes contemporary society, he makes the reader wonder whether some of the incidents he relates can really happen. Or he may be forewarning as to which way society is moving.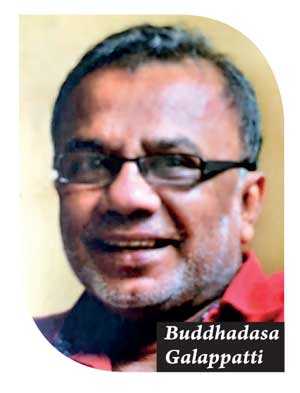 Some may accept these as day-to-day happenings. There may be others who may consider these as a deterioration of what we have been preserving in the name of tradition and values. Are families forced to indulge in activities against their will due to problems of survival? Are moneyed people taking undue advantage of their positions to satisfy their sensual pleasures? In presenting the stories Buddhi is clever in taking the reader through routine life rather than fancy stories.

The titles he uses for each story are very catchy. 'Kiri muttiya gange giya', for example, is the popular nursery rhyme which we were used to hear our grandmothers used to sing to put the little ones to sleep. Here he relates the plight of a young couple waiting for a baby to arrive and something unbelievable happens.

'Handunagaththoth oba maa,' the film song which has been sung over the years, is another. Here Buddhi relates the dilemma of a new teledrama actress who seeks the help of the producer to collect enough SMS messages to become the most popular actress. At the end of the story one begins to wonder whether this is the 'teledrama culture' where high-ups are taking undue advantage of young girls.

Buddhi uses lot of 'singlish' words in some stories, obviously following the trend today amongst youngsters today who cannot be without a mobile phone.

Buddhi has also released the seventh volume of his newspaper columns. First he called the series 'Sahurda Satahan' and later changed to 'Edavasa Sondurumaya'. This is a boon for readers who cannot bother to collect the columns as they appear in the newspapers, as we used to do during our school days collecting cricket pictures.

Buddhi picks on topics of the day for his columns which include events, personalities, politics, arts and the like.