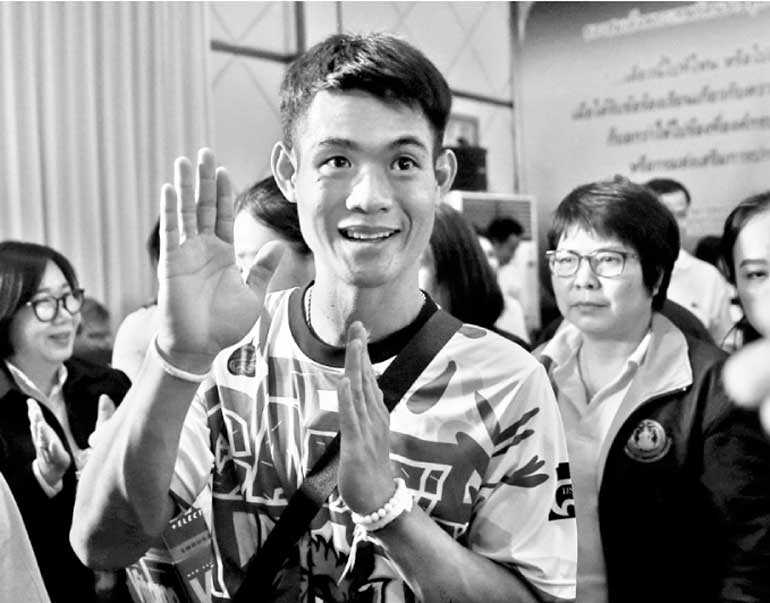 Twelve Wild Boars soccer players and their coach play soccer as they arrive for their news conference in Chiang Rai – Reuters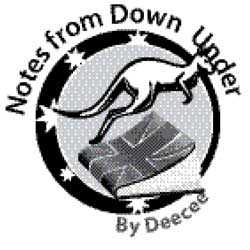 What a tense fortnight it was! Though the incident happened in the remote highlands in Thailand, it became headline news in all media in most countries in the world, if not all. People everywhere were so anxious to know the fate of 12 boys and their football coach.

They went into the Tham Luang cave hoping to come back in an hour but got trapped when sudden rain blocked their exit. When they were found missing, Thai authorities lost no time in rallying round their divers to rescue them. Calls for help from other countries were answered swiftly by Britain and Australia.

Nine days passed before the boys were found by two British rescue divers. A few days later a fine team effort ended in success. Expert divers guided the boys and the coach through darkness and submerged passageways towards the exit.

In an exclusive interview to 'The Sunday Times', Australian diver Criag Callen from Perth and Adelaide anaesthetist Dr Richard Harris described the operation.

On the first day they were inside the cave, they went to the end where the boys were, checked on everyone and spoke to them. After telling the plan to rescue them, the boys were asked to pick who was going first. Though they had spent nine days without food, the Thai divers who had first got there had given them food, spent time with them keeping their spirits up and looking after them. "A lot of credit goes to those divers," Craig Challen said.

When the rescue operations began, each boy was accompanied by a diver who also carried his air supply. The boys were heavily sedated ahead of the rescue to prevent them panicking.

"It was absolutely life and death. We didn't expect to get all 13 out of there alive," Challen added.

"Some moments of significant fear, I have to say, and then great results and some really joyous moments to finish," Dr. Harris summed up.

The boys and the coach were rescued in three stages over three days. All 13 were transferred to hospital where they received medical and psychological assistance.

The very day they were released from hospital they appeared at a press conference.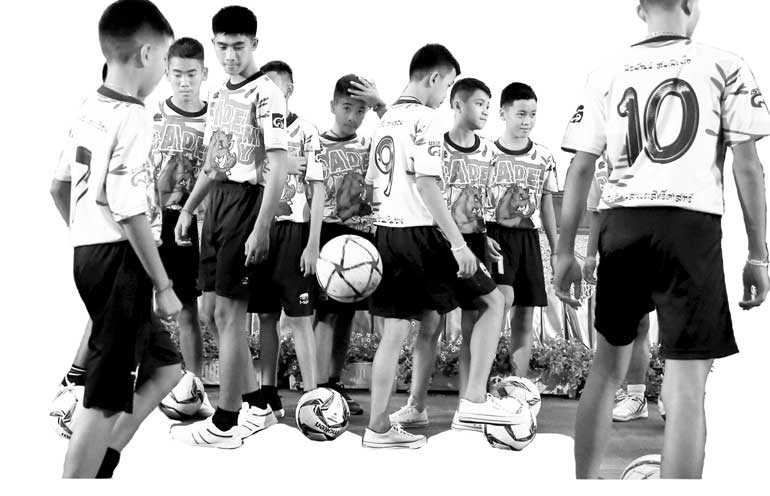 Coach Ekapol Chantawong waves as he leaves the news conference – Reuters


Clad in their club's kit, the 12 members of a junior football team, the Wild Boars, came with their coach. They were greeted by a banner that read 'Bringing the Wild Boars Home' on a stage designed to look like a football pitch. Extracts from media reports of the press conference:Coach Ekkapol Chantawong revealed how, on the first night they were stuck in the cave, the group was not too afraid. "'Let's pray to God before we go to bed,' I told everyone. At that time we were not afraid, no," the coach said. "I thought the next day the water would recede and someone would come and find us."

The team explained how they went to the cave after soccer training to explore and planned to spend only an hour inside but when they tried to get out, at a junction, the water had risen. They tried to swim a section, to see how deep it was, at one stage.

The coach and one team member then held a piece of string between them as the coach tried to find his way out while the other stayed put. "If I pull the string twice it means I am able to get out of this cave," he told the other team member.

He couldn't get out and the boys were stuck. But the coach said they never stopped trying to find a way out. "We were determined to find a way out. I told everyone to have a good spirit, don't give up."

The questions to the boys were all vetted by psychiatrists before the press conference and there were no questions about their fears, about how terrified they were and about the fact that they had been sedated to make the difficult journey out.