Punsanda paaya Moratuwa dilenna – dilenna

Moratuwa nam upan gama ape

Moratu kollo preethi geetha gayanna

Moratu kello dance natanna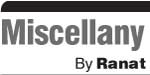 The four lines sum up the happy-go-lucky 'musical mood' in the premier baila town with boys singing and girls dancing. Reading about the 'Punsanda Paaya 2017' show, I was reminded of our school days several decades ago. Whether one was from Moratuwa or otherwise, at parties and outings Moratuwa was everyone's birthplace!

We quickly memorised the words. In addition to the introductory verse, our favourites included 'Hai hooi Babi achchige bicycle eka'. We were not bothered as to who had composed the baila or who had sung what. We liked the words. They were simple and easy to remember. The tunes had the rhythm ideal for a sing-song.

Then we heard of Wally Bastian, the police officer turned 'baila master' who is considered by many as the 'Father of Baila'. His creations are still quite popular. The present day top level baila singer Desmond de Silva repeats these at his concerts giving due credit to Wally B.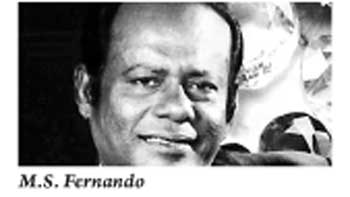 It was really M.S. Fernando who brought baila to its peak earning the title 'Baila Chakravarti'. His was a wide spectrum. He performed on stage, was as a playback singer in about 150 Sinhala films, and appeared in several films. He became the biggest draw at stage shows. His personality was just what the crowds wanted. His voice and movements thrilled them.

MS toured several countries and his efforts were rewarded with the presentation of the Golden Lotus Award in 1973. The origin of baila along with kafrinha in Sri Lanka dates back to the days of the Portuguese. Researcher of Asian music, Dr. Tony Donaldson refers to African Kaffirs who were brought to Ceylon in 1630 to work as slaves or soldiers. "The Kaffirs were once described as a people 'steeped in opium and witless with drink'. It was the carefree spirit of the Kaffirs that inspired two music forms known as chicote and kafrinha infusing them with humour and satire," he writes.

Donaldson adds: "The Kaffirs and Portuguese Burghers mixed freely together, and in time both chicote and kafrinha came to be subsumed under the general term baila, which is a Portuguese word for 'dance'. Baila is traditionally performed at social occasions. The best baila singers are sometimes called 'baila captains' who are said to be able to sing up to 30 or more songs in an evening. Baila is also sometimes performed in a competitive style of singing between two singers in which each singer strives to outwit the other." A research study done by Professor Sunil Ariyaratne on kafrinha and baila won the State Literary Award in 2015.

In later years a host of singers made their mark as baila singers. They include Maxwell Mendis, Anton Jones, NihalNelson and Saman Silva. With the advent of pop groups, baila became part of other types of light music. Meanwhile, Nissanka Wimalasuriya founded the Moratuwa Wheels Band – the first string dance band from Moratuwa. He played the Hawaiian steel guitar, harmonica, piano accordion and the violin. Thilak Wijedasa was the first drummer and the vocalist. (He boasts that he still mimics Louis 'Satchmo' Armstrong). Vernon Perera, Ossie Perera and Elsworth de Alwis were the other members - every one of them playing one form of guitar another. Thilak recalls how, having started in 1968, the band played at sundown dances at Maliban House, Bambalapitiya and at Vivil de Kaws dance classes. They played at the beach club on most Saturdays.

Keeping the flag flying is the Moratuwa Arts Forum which organises the 'Punsanada Paaya Show' annually.