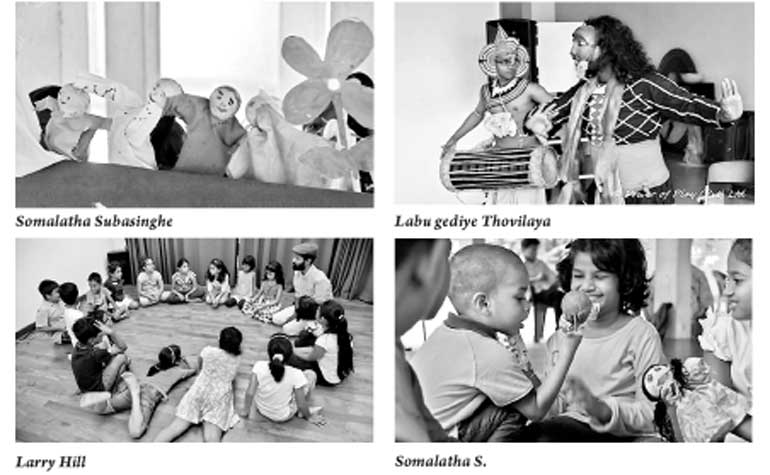 The Sooriya Village, in line with the spirit of Children's Day, is hosting a festival in their own aesthetic by bringing drama, stories, and music on 1 October from 4 p.m. to 7:30 p.m.

The Sooriya Village has partnered up with Somalatha Subasinghe Play House with their session of Tellers and Listeners, Sulochana Dissanayake of Power of Play who will be bringing us Labu Gediye Thowilaya, and Larry T Hill who is no less than a magician with his simple set up of a mic and a Loop Pedal.

The first act by the Somalatha Subasinghe Playhouse is on Storytelling which is a method used to pass on visions, values, feelings, and memories of generations to the young ones in words. Storytelling is a powerful method of educating children on an array of subjects.

Somalatha Subasinghe Play House, since its inception, has been trying to educate children on basic art forms through the medium of theatre. Hence the storytelling by the actors of Play House use words, movements, music and dramatic scenes to enhance artistic taste, cheerfulness and playful sense of the child through aesthetic experiences. (Performance time: 4-5 p.m.)

With a striking solo performance, Larry T Hill crafts cheeky musical tales using just voice and a looping pedal. He records layer upon layer of his voice live on stage, creating elaborate yet fun musical pieces which you might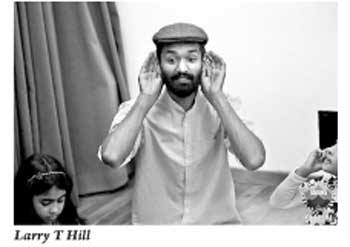 expect to hear from a small band. Performances can be energetic and animated, soulful and outrageous, witty, pretty or sometimes just silly. The sharp beats, deep bass lines, and sweet harmonies will have you hooked, singing the tunes all the way home. (Performance time: 5.15-6.15 p.m.)

Labu Gediye Thowilaya by Power of Play is a folktale where a whole Thowiyala was held inside a magical gourd. It is brought to life by low country dancers, live music, and fire dancing. The act will tickle the children funny and amuse the child in all of us adults. The performance will be in English and Sinhala and will run approximately for 60 minutes. (Performance time: 6.30-7.30 p.m.)

International Children's day first came into existence in 1925 in Geneva, in order to draw attention to issues specific to Children. It was the Soviet Union who called attention to the need for a day specific to Children. Different countries celebrate this day on different days and in Sri Lanka, we choose to celebrate it on 1 October each year.

In 2012, the United Nations led the initiative for the education of Children. To enable attendance of school for all children, to promote peace, respect and environmental concern were some of their goals. On Children's day, the focus is on bringing awareness to the millions of children in child labour, misplaced due to wars and armed conflict, child abuse and exploitation and discrimination because of religious, minority issues or disabilities. Children equals hope, and in their growing young minds, the keys to solving the issues that plague us today. Their outlook on life in general, their penchant for curiosity makes them thinkers, makers, leaders.

The Sooriya Village, true to its form, is plunging in, with an interest in feeding and nurturing the minds of the young with music, art, and stories. Kindle them fires young!

The Sooriya Village, located in the heart of Colombo at No 49 Skelton Road Colombo 5, provides amenities such as rehearsal suits, a top gear recording studio, library and research services, a tech-based lecture room, a restaurant with mouth-watering delights, dorms, tea/coffee/juice lounge, performance spaces and plenty of hang out area.

Sooriya's vision is to provide a facility for artists and art enthusiasts to nurture and explore the culture of arts delivering the best possible service and experience. The Sooriya Village welcomes the young and the old for an evening in the Sooriya Village gardens to celebrate the Children's Day.

Please call 0112552666 for inquiries on tickets.