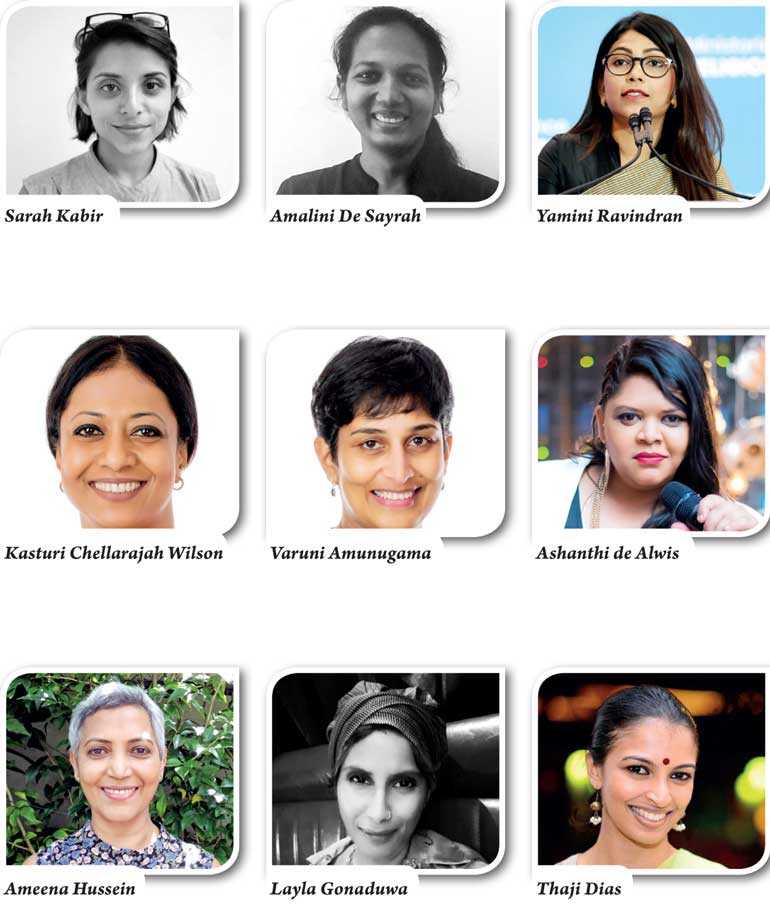 The spotlight is on women in the month of March, with the Cargills International Women's Day Festival, 'The Change Makers,' being presented by Table by Taru and Kaleidoscope with Savithri Rodrigo at Lake Lodge on four Mondays – 1, 8, 15 and 22 March.

Founded on the theme for International Women's Day 2021, 'Women in Leadership: Achieving an equal future in a COVID-19 World,' Table by Taru at Lake Lodge, a small luxury boutique hotel in the heart of the city, and YouTube digital program 'Kaleidoscope with Savithri Rodrigo' are collaborating to present the first-of-its-kind festival – Cargills International Women's Day Festival of Change Makers.

The festival features a galaxy of active change makers, who as thought leaders have prompted and impacted change in disciplines, competencies and careers. Four Mondays in the month of March will feature 'The Peace Prompters,' 'The Pioneers,' 'The Creative Forces' and 'The Positive Disruptors' in an hour's dialogue and discussion moderated by host of Kaleidoscope Savithri Rodrigo, concluding with canapés and aperitifs.

The festival will be held at the newly-revamped and reopened Taru Villas' restaurant Table by Taru. Seating is limited as stringent COVID-19 guidelines are being followed to create a safe environment for all participants while maintaining the intimate ambience Taru is renowned for.

Tickets are priced at Rs. 20,000 for the Festival Pass (which gives access to all events of the festival) and Rs. 6,000 for the Day Pass to an individual event. For more information, call 0768 119 191. Seating is at 4:45 p.m. each day, with the program starting at 5 p.m. sharp.


The team

Nayantara Fonseka a.k.a. Taru – Founder and Chairman of Table by Taru, Taru Management Ltd., Taru Villas Ltd., and Taru i e, says: "To make a change is to make a difference. To make a difference is to aim for the stars and beyond – leaving fear behind, do not ever stop trying – for in trying you will never fail."

Savithri Rodrigo, Host, Director and Executive Producer of 'Kaleidoscope with Savithri Rodrigo,' asserts: "The COVID-19 world we are experiencing has proved many things – that people are adaptable, can transform and are optimistic; but most of all, we have seen women take on the mantle of leadership and initiate change. Both Taru Villas and my program 'Kaleidoscope with Savithri Rodrigo' believe strongly that it is women who will be the catalysts in this changing world and the Cargills International Women's Day Festival of Change Makers brings some of these change makers' stories to the fore. The women we feature are multi-faceted, committed, dynamic and different. They are peace-prompters, pioneers, creative forces and disruptors, all for the sake of a holistic good and achieving an equal future for all in a COVID-19 world. Do join us and hear their stories and be inspired."

Taru Management Brand Communication Specialist Mahika Chandrasena adds: "Renowned for her unusual and innovative events, Taru hopes that this will be the genesis of an annual event in breaking new ground with the focus to inspire, empower and connect. This is why we have collaborated with 'Kaleidoscope with Savithri Rodrigo' and these festival partners, as they share the same philosophy with a focus on helping forge a more gender equal world."

The Festival, introduced by women for women, collates socially conscious partners into the equation with Cargills coming in as Festival Title partner and the UNFPA, which has as one of its objectives the ending of gender-based violence and harmful practices, is Event Partner. In addition, Healing Island is Wellness Partner, Exclusive Radio Partner is Lite 87 and Official Digital Media Partners are Hi Online, Daily Mirror Online and Daily Mirror Weekend Online. The Beverage Partner is Wineworld.


The Peace

Prompters – 1 March

'The Peace Prompters' on 1 March features women activists who have been fighting to advance peace, reconciliation and nation building. Panellists are Author and Researcher – Peacebuilding and Reconciliation Sarah Kabir; Writer, Researcher and Activist Amalini De Sayrah and Director for Legal and Advocacy NCEASL Yamini Ravindran.

"If we want to move forward, it is essential that we look back. That we understand our history as a nation, and where we come from as a people. History does not belong to the past alone, rather continues to define us, our present and our future. For positive peace, it is imperative we understand, acknowledge and accept our past. To borrow from the words of Amanda Gorman, being Sri Lankan isn't just a pride we inherit, it's the past we step into, and how we constructively heal and reconcile with it," says Sarah Kabir.

"The work of peace and reconciliation is a task that should be done by both men and women in partnership. Women, after all, make up half of every community! Women, time and time again, have proven to be powerful agents of peace. Today, women are involved in different aspects of peace-building. They are advocates, relief workers, peacekeepers, mediators, and community leaders. Too often, in the context of conflict, women are portrayed as vulnerable victims. However even though women are disproportionately affected by violence, they have in many places played important roles in efforts to prevent and mitigate conflict and rebuild the resilience of affected communities," notes Yamini Ravindran.

"I believe that we owe it to our fellow citizens of this country to remain critically engaged with the society around us, be it with the actions of the state or even the people we are closest to, to ensure an equal future for all people in this country, irrespective of their gender, ethnicity, religion, class, sexuality or ability. Change in this direction must come from within institutions and systems, but this solidarity as well is essential if we are to ensure a future where absolutely no one is left behind," asserts Amalini De Sayrah.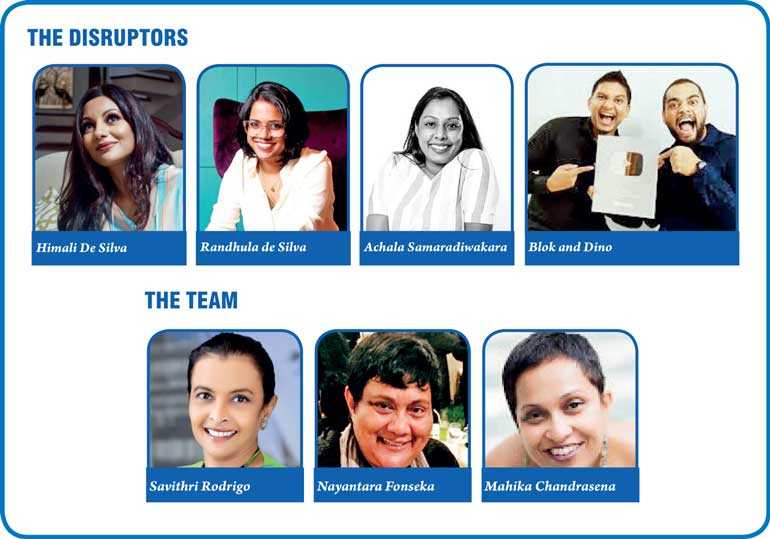 The Pioneers – 8 March

'The Pioneers' on 8 March features women who have chosen to challenge conventional career paths and now lead their disciplines with tenacity and purpose. Panellists are Triad Joint Managing Director Varuni Amunugama Fernando, Hemas Holdings Group CEO Kasturi Chellarajah Wilson and Sri Lanka's first female hip hop artiste Ashanthi de Alwis.

Varuni Amunugama Fernando says: "Change makers come in many forms. Actually the most admirable of them are in fact gainfully employed homemakers who multi task with unparalleled energy, pragmatic creativity and unwavering commitment to build their family teams. In my opinion, anyone who challenges convention with new ideas needs to be recognised. And, anyone who gives back to this country positively needs to be celebrated!"

"The recent past has shown us that we need to learn to celebrate and embrace diversity to overcome the challenges we face. By letting go of our biases, and instead focusing on the strengths people possess, we can, together shape a better united nation that thrives," notes Kasturi Chellaraja Wilson.

"Music is more than just a career choice for me, it is a passion. I have been in this industry for over 20 years, starting out as a young school girl finding my feet in music and growing to be an artiste with an International career and an entrepreneur for music education, paving the way for many talented individuals to find their pathway in music, just as I did. I am glad to be a part of the International Women's Day Festival of Change Makers and hope that I can open doors for more women to be at the forefront of music in Sri Lanka," states Ashanthi de Alwis.


The Creative

Forces – 15 March

'The Creative Forces' on 15 March celebrates who have revolutionised the creative arts. Panellists are Author and Publisher Ameena Hussein, inter-disciplinary artist and Pro Helvetia awardee Layla Gonaduwa and Principal Dancer of the Chitrasena Dance Company Thaji Dias.

"The creative word can be a powerful force to create change. I believe that writing and reading can give everybody both men and women a way to ensure that justice and equality become the norm rather than the exception. I am honoured and pleased to be a part of the Cargills International Women's Day Festival of Change Makers," says Ameena Hussein.

"Gender equality is an essential part of any equation in any field, if one wants sustainable development in a free and fair society. This inclusiveness is a pre-condition. It is simple. If you believe that all human beings deserve equal rights and opportunity in this world, then there is no need for feminist advocacy. As an artist, with a platform and following, I have used my art as a tool for challenging politics involved with these issues. Most times, haptic or visual representation makes a bigger impact and carries the message farther than the traditional modes. It is something I will continue to explore and exploit to get the message across," asserts Layla Gonaduwa.

"Be it a man or woman, creating equal opportunity needs to happen according to the way each person is wired. One cannot do what another does. In my profession for example, I specialise in Kandyan dance, which was predominantly a male dance form. My grandmother Vajira broke the stereotype to become one of the first professional female dancers in Sri Lanka, creating an essence within the technique which was uniquely her own. For me it's not about outdoing another person, but finding my own creative identity within the technique to bring out the best in me. That's how successful female dancers before me have found their ground within this male dominant form," adds Thaji Dias.


The Positive Disruptors – 22 March

The Positive Disruptors on 22 March, the concluding day, will be the finale with two sessions and a networking event.

Session 1 will feature Co-Founder/CEO of GoodLife Accelerator and Director and former CEO of Hatch Works Randhula De Silva, Founder of Ape and Co-Founder and COO of COLLAB Himali De Silva and Co-Founder of Good Market Achala Samaradivakara.

"Due to COVID, the world is changing rapidly and there is a need for women led startups to also have a voice and be brought into the spotlight, as we can change the world around us positively," says Himali De Silva.

"Disruption is made up of two simple things. Mindset and bravery. An open mind to embrace things that we're not used to, the ability to shift our perspective away from our conditionings and personal biases. And bravery, to put ourselves out there to do things for the first time, not only to disrupt the status quo but to be disrupt ourselves. To just go ahead and colour outside of the box. These two elements coming together is what will help us really evolve as humanity to take on a more equitable future," asserts Randhula de Silva.

Session 2 featuring Gehan Blok and Dino Corera will be an unusual discussion with two young people who truly disrupted the comedy realm with a discussion on the portrayal of women in disruptive comedy.

An extract of each discussion will also be featured in the 'Let's Talk' segment on 'Kaleidoscope with Savithri Rodrigo' that week.