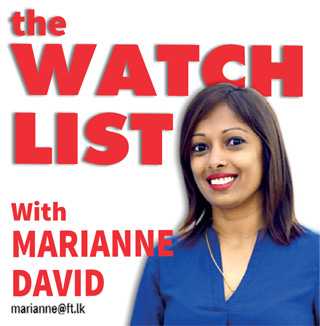 Birthed by the passion to teach her own children to read, Wiz Phonics by Zahara Jawfer Tharique has now grown into a widely-popular learning aid. An experienced educator, Zahara realised there was a lack of resources available when she started teaching her twins, so she decided to make them herself. Her social media posts about learning activities with the high quality and visually appealing products she made were received very positively by other parents, leading to the launch of Wiz Phonics. Today the range comprises the Wiz Alphabet Cards, the Wiz Phonics Cards, the Wiz Phonics Flex Poster, the Wiz Sight Cards and the Wiz Peek-A-Boo Cards. All the cards are water, stain and bend proof too and come with smoothened edges, ensuring they are baby- and child- safe.
Following are excerpts of an interview outlining the Wiz Phonics journey:
---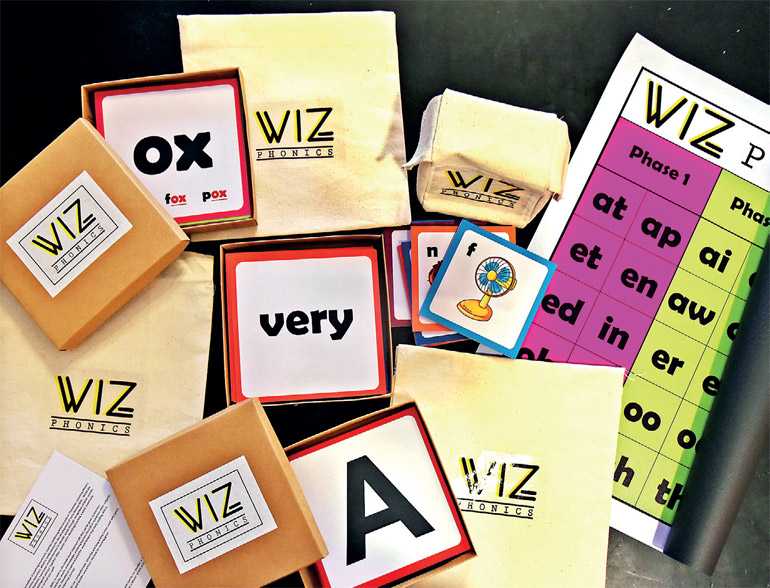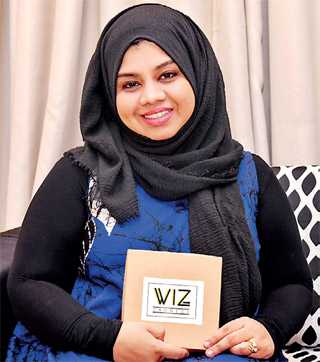 Zahara Jawfer Tharique

Q: What inspired you to start Wiz Phonics and how has the response been?

Wiz Phonics is a passion venture. It was inspired through teaching my five-year-old twins, Liyanah and Eesa. It all started when I opened my personal Instagram blog, Zeeetalks, back in 2017. It is a lifestyle blog opened for me by my husband, Tharique Iftiquar. He encouraged me to begin the blog because he knew I had a passion to write.

On Zeeetalks, I shared everything I wrote – poems, quotes, life experiences as a daughter, wife, educator, post graduate student and working twin mom. Over time, the page gained traction and I found that people were able to relate to my journey, my writing and my personality traits. It felt as though I was voicing the thoughts of many women; it felt empowering.

On Zeeetalks, I started sharing learning activities I did with my children. These posts gained a lot of popularity among my Instagram following and I would get loads of messages asking me to post more, as it helped other mothers, so I continued as I found it rewarding.

When I started teaching my children phonics it felt no less than a battle. I called it the 'Phonics Battle' on my blog. I had to do a lot of research on how best to present all this new information to my twins! I worried about how they would receive and remember all these new letter shapes and sounds. So I took the responsibility of making it simple for them to comprehend – that's what teachers do, that's what their mother has always done best!

At this time, I was also reading for my Masters in Education from the University of Nottingham (UK). I based all my research for my Masters on early childhood education and parental involvement. I felt like it was my responsibility as a mother to support their studies even more so because I was an educator.

My mother, Jasmin Azeez, used to be this super-involved parent and I think I subconsciously aspired to be her. All this was never easy, I was trying to balance a job, private tutoring, home front and my kids. When I look back, I don't quite know how I got here. On the hardest of days, I would tell myself that I was doing this for my children. When I got to know I had gotten through my Masters with a Distinction, I hugged my children and my mother and cried buckets. It was a wonderful feeling! I did it, I could happily tell them when they are older, 'Mamma did it for you two!'

When I started phonics with my twins, I found that there were limited resources available for purchase in Sri Lanka. I had to hand make everything from scratch; getting them down was not economic due to the high freight costs! Also, most available online resources required payments phase after phase. So, I developed my own set of resources – each resource aimed at promoting learning and memory retention. With these, I saw how my children quite easily caught up with their reading!

They are turning six this December and can now read short sentences; there is more work to be done! I'm absolutely grateful to their wonderful school and teachers who have helped them along the way. However, I believe that in the early stages, regardless of the educational institution a child attends, parents need to reinforce and support learning that happens at school. Children spend more time with parents within a domestic sphere and international educational research shows that parental involvement is positively linked to increased academic performance in children.

When I posted stories of me using these resources with my children on the blog, I got many messages inquiring where I purchased them from. Many people sounded disappointed when I told them I made these and they were not available for purchase. I felt bad that I couldn't help them further and that was when Wiz was born – the idea for Wiz, at least.

As always, I narrated it with passion to my husband and my family, they have been the sole reason I was able to materialise and create what is now Wiz. It may be my idea but it's been a team effort, so I feel it is imperative that I thank my absolutely wonderful support system here – my husband, Tharique Iftiquar, for being my backbone in everything I do; my parents, Jasmin Azeez and Mohamed Jawfer, for their blessings, support and prayers; my maternal aunt, Powkiya Azeez, for always treating me like her own daughter; my parents through marriage, Halima Marrikar and Iftiquar Majeed, for encouraging me to keep studying and being supportive in everything I do; my wonderful siblings, Zulaika, Zulfa, Zikra and Yasir, for being my wings of support and strength; my wonderful friends, who have been my greatest cheerleaders and constructive critics; and most of all my twins, Liyanah and Eesa, for inspiring me to be the best version of myself.

The response to Wiz has been amazing! Wiz hit 1,000 followers on Instagram just a day-and-a-half after I launched the page. In a week, I shipped my first international order and in two weeks I launched a new product as well. I am overwhelmed by the love and positive feedback I have been getting. I am eternally grateful to God Almighty for His Grace on me and family and I am humbled by all the support I have been gaining on social media.
Q: What are the learning aids products in the Wiz Phonics range?
All Wiz cards are designed to look aesthetically appealing and striking to aid in enhanced visual stimulation.

The Wiz Alphabet Cards are a set of 26 comprehensive cards (upper- and lower-case letters). These cards are letter based to promote easy learning of letter forms.

The Wiz Phonics Cards are a set of 41 comprehensive cards with 82 phonics sounds. The cards are colour coded to differentiate Phase 1, Phase 2, Phase 3 phonics and consonant blends. It is the phonics cards that unlock effective reading in children.

The Wiz Phonics Flex Poster is a visual reinforcement tool for stimulating semi-conscious learning. Children learn effortlessly when they glance at it repeatedly.

The Wiz Sight Cards are a set of 44 comprehensive cards with 88 sight words – sentence support words and frequently used words.

The Wiz Peek-A-Boo Cards are a set of 26 comprehensive picture-based cards for little munchkins.

To make them more baby friendly, these cards are water, stain and bend proof too and come with smoothened edges.


Q: What ages do you recommend each product for, how should a parent go about introducing them to kids, and what is the time commitment you recommend?
All Wiz products that have been introduced so far can be used between the ages of one to seven. Ideally, parents should spend 30-40 minutes with their children daily or even every other day. Parental Involvement helps children greatly and the routine teaches them academic discipline which would aid greatly in future educational endeavours.
Q: Do you offer advice on how to use the products to parents who may need guidance?
All my cards come with a carefully-curated instruction card. Those who get in touch with me over the Wiz page always have loads of questions. My team and I always take time to answer these queries. I also post short explanatory and training videos on the Wiz page for further reference. Apart from this, I am also actively working on initiating workshops to train mothers and early childhood teachers. I will be announcing details on the Wiz page about this shortly.
I am positive that my prior experience as a teacher training lecturer, my academic and professional training and credentials in the field of education, and my years of teaching experience will help to execute these workshops to the best of my ability; I am looking forward to it.


Q: How can people purchase the products?
As of now, they need to contact Wiz through Instagram and Facebook platforms, through the user account Wiz Phonics. I have had a few offers to resell products in local stores, but I haven't confirmed yet.


Q: Your products are of high quality and beautifully presented. What are the materials used and is there a focus on being environmentally friendly while ensuring they are also child safe and child friendly?
Apart from quality of product, I also focused on a lot on packaging. The first set of flash cards I made for my children are almost two years old and they still look as good as new. I taught them to put away the cards into a small box I maintained for this purpose. Over time, they learnt that they need to put them away safely and tearing and scribbling on books/cards were not something their mother was okay with. So it wasn't just about storage – it was about teaching children accountability.

For this reason, I wanted my products to go out with reusable storage – I knew it would increase the lifetime of the product too. I decided on thick cloth pouches as they offered protection and are safe and eco-friendly. I ardently believe in giving something back to Mother Earth; this is me trying to do that in little ways. Of course, the pouches and quality packaging increase cost and lower my profit margins, but this venture was built out of passion, inspired by my own children, so there is a lot of love and not just a monetary aspect to it.


Q: Could you outline your experience in education and how that helped in the creation of the Wiz Phonics range?
Most of my experience has been teaching older children, for over 10 years now. I love making information simple and delivering it effectively. It was not until I started teacher training and teaching my twins that I started to explore early childhood education. I hope, God willing, to further my studies and read for my PhD in the field of Education in the near future.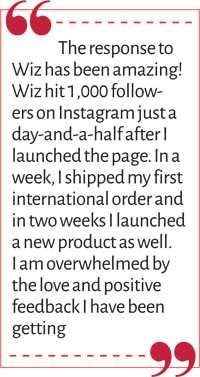 Q: As a parent yourself, how have your children responded to Wiz Phonics?
Oh, they have been absolutely thrilled! They love the new upgraded and colourful version of the cards as opposed to the initial ones I made. I think they are also learning a lot about entrepreneurship – they see the constant hustle and bustle related to Wiz and I think it's all new and exciting to them! They keep talking about wanting to make products of their own.

A few weeks ago, my son announced he was going to make lotions and sell! He made lotions out of baby powder and shampoo and I only found out what he was up to when my newly-opened bottle of shampoo was finishing off way too fast! He calls his product line 'The Darkside' by Eesa. My daughter makes beaded bracelets and calls her venture 'Raven' – I think this was inspired by a cartoon they watch.

My husband and I thoroughly encourage their ideas; we even got stickers printed for their little ventures and encourage their uncles and aunties (our friends and family) to buy from them! I like to think they would make wonderful entrepreneurs one day and contribute positively to society.

As far as Wiz is concerned, I think they are genuinely curious as to why I am suddenly making hundreds of packs of the same resources I used with them. When they asked me about it, I told them that I wanted other little children to learn to read like they do and these cards would help children learn with their mothers, like I do with them! They seemed pretty convinced and coming to think of it, I told them exactly what I want Wiz to be and what it is!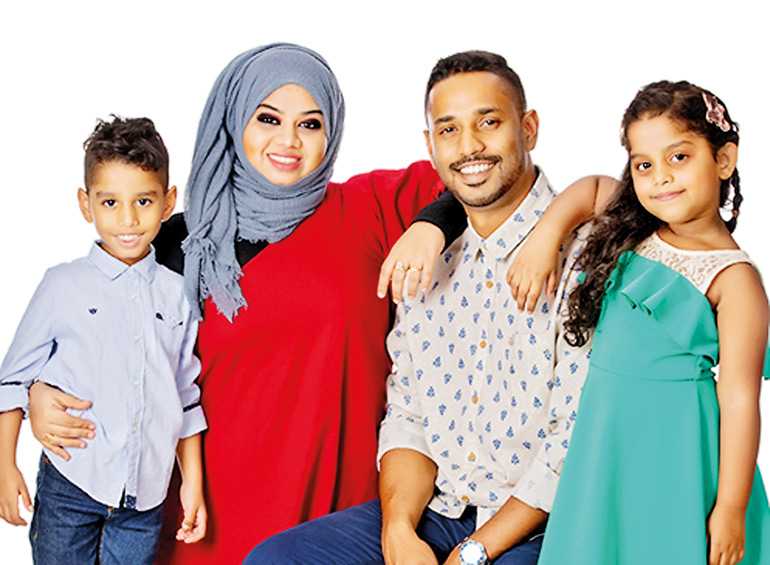 Zahara Jawfer Tharique with her husband Tharique Iftiquar and kids Liyanah and Eesa
---
Pix by Ruwan Walpola
---