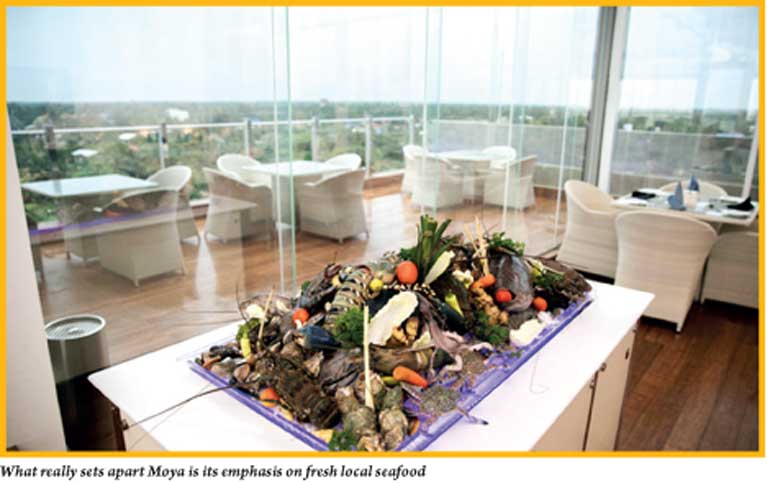 By Madushka Balasuriya

Being an island nation, Sri Lanka is, unsurprisingly, synonymous with seafood. But where the best seafood in the country is, is still subject to much debate. The latest contender to put its name in the proverbial hat is Moya, a fine dining seafood restaurant housed at Amagi Aria in Negombo.

Based purely on aesthetics, Moya – also a term referring to the point where fresh water and sea water meet – has several things going for it. The Amagi Aria property offers arguably the closest view of the Negombo lagoon save for traversing it by boat, while the Moya restaurant, located on the rooftop on the 7th floor, goes a step further serving up glorious panoramas.

Moya also provides ample seating, with a spacious floor plan that is simultaneously capable of accommodating up to 80 pax while also ensuring that diners are given sufficient personal space. Three balconies meanwhile offer outdoor seating options and spectacular vistas of the lagoon.

"Imagine having seafood seven stories high, I think that's very, very unique. It's also the best sunset in the whole of Sri Lanka," boasts Renuke Coswatte, General Manager Marketing & Operations at Amagi Hotels.

Emphasis on fresh local seafood

Attractive aesthetics aside, what really sets apart Moya is its emphasis on fresh local seafood. Thanks to Amagi Hotels Chairman Somanathan Ganeshanathan, who is also involved in the exporting of seafood, Moya is capable of serving up some of the freshest seafood anywhere in Sri Lanka, explains Coswatte.

"The fresh catch of the day is very important to us. You need to make sure that your ingredients are actually fresh, that's the starting point for any meal or any chef. The fresh seafood makes such a big difference."

We at Daily FT found our way down to Negombo to see what all the fuss was about.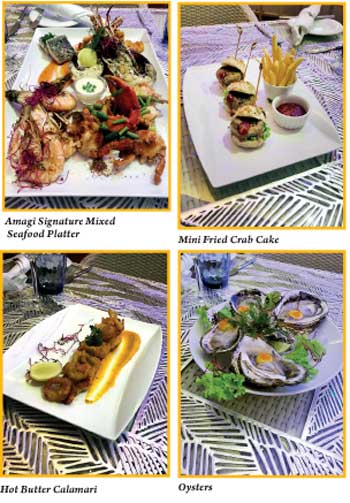 Value for money

In the first three months since its launch, despite limited online exposure, Moya has been receiving rave reviews from patrons. One thing the restaurant is keen to focus on is its price point. "If you have the same kind of thing in Colombo, you'll be paying at least twice the price," claims Coswatte.

And he's not wrong. An extensive menu boasts roughly 50 items, though the beauty with seafood is that options increase exponentially when the various methods of preparation are taken into account – and Chef Brandi and his team are more than willing to accommodate your personal tastes.

The menu is divided neatly into several sub sections, from your standard fare 'Appetisers & Salads,' 'Mains,' and 'Desserts,' to more niche sections such as 'Lagoon Crab Delights' and 'From the Sea'. A major plus point is also that prices quoted are inclusive of taxes and service charge – restaurants which fail to do this have always been a pet peeve of mine.

Appetisers and soups range from Rs. 600 for a Spicy Red Mullet Soup to Rs. 1,300 for Chilled Scallops, while Mains go from Rs. 750 for a Clam and Sausage Stew to Rs. 1,800 for a Monster Baked Crab. Desserts, starting at Rs. 450, don't stray beyond Rs. 550, while the plethora of seafood on offer – fish, lobster, squid, crab, and prawns – is priced per 100g.

Tasting

My dining companion and I tried several dishes, however for the purpose of brevity I will only focus on the few that really stood out.

To start, no seafood review is complete without discussion of a Lankan staple the hot butter cuttlefish – a dish that is now almost as quintessentially Sri Lanka as string hoppers, kiri hodi and pol sambol.

The Hot Butter Calamari (Rs. 1,200), served alongside a lime garlic mayo, basil oil and – intriguingly – a carrot purée, was exquisitely prepared and presented with the batter crispy and light without over distracting from the flavour of the calamari. The carrot purée meanwhile was an inspired addition, adding much a delightful sweet relief to the acidity of the lime garlic mayo.

A different preparation of hot butter cuttlefish – slightly spicier with hints of sweet and sour sauce – was also present in the Signature Mixed Seafood Platter (Rs. 6,900) – one of two Jumbo Platters on offer, the other being the Golden Crab platter (Rs. 3,700). Alongside the cuttlefish, the seafood platter comprised lobster, crab in bbq sauce, jumbo prawns, and Modha.

The platter, which was completed with sides of lemon butter sauce and a sweet chilli dressing, is easily enough for two (or one very hungry individual) with each item cooked to perfection. The standout was the lobster, with the meat positively melting in my mouth.

For a starter we were served Oysters (Rs. 950), a simple title for a dish which belies its sophisticated nature; served with a fresh quail egg yolk, salmon caviar and shallot vinegar, it was an uncomplicated yet satisfying dish which set the tone for the rest of the meal.

The highlight of the meal was undoubtedly the Mini Fried Crab Cake (Rs. 1,100). Essentially three crab cake sliders, the patty is made of avocado-mixed crab, chilli and pineapple – it was simply one of the finest crab dishes I've had the pleasure of eating. While it is listed under mains, this writer recommends ordering several of these delightful creations, alongside a cocktail from one Moya's extensive list of beverages.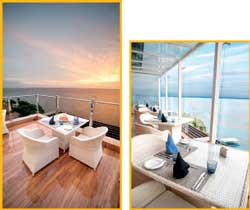 Verdict

Moya's one caveat is that it is located in Negombo, however that is not the problem it once was. Travelling on a weekend evening, we made it there in 45 minutes flat. Negombo is also now known for its vibrant nightlife and Moya is a fitting new addition.

It is also arguably some of the best seafood in the country, and new additions are expected with newly-installed Executive Chef Brandi Kumara looking to put his own twist on an already-impressive menu.

"With the highway it's much easier to travel and people are also looking for newer experiences, they don't want to be stuck in Colombo. Come in, have a meal and enjoy relaxing by the lagoon," courts Coswatte.

Moya is open seven days a week from 7 p.m. to 10 p.m., though it is highly recommended to arrive a little earlier to enjoy a relaxing beverage on a breezy rooftop as the sun sets over the Negombo lagoon, along with some of the best locally-sourced seafood in Sri Lanka.