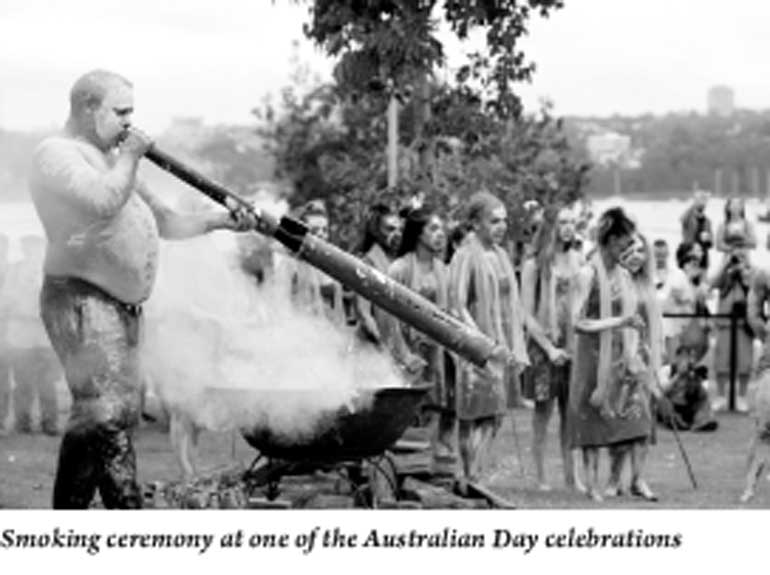 An Aboriginal leader conducting the traditional smoking ceremony was something special during Australia Day celebrations on 26 January. It is an age-old ceremony where native plants are collected and used to produce smoke. This is believed to have cleansing properties and the ability to ward off unwanted and bad spirits which are said to bring bad omens.

Rituals and ceremonies of numerous forms are found in any form of civilisation. From times immemorial they continue to be play a vital part of Aboriginal culture. They are practised in Australia in the belief that they would grant the people supply of plants and animal foods. They are done in the form of dancing and ritual actions, singing and chanting.

The smoking ceremony formed part of the Australia Day celebrations held in many parts of the country. It was the last item during the official celebrations in Canberra with the Aboriginal representative carrying the smoke container among the gathering as a symbol invoking blessings.

Earlier, Prime Minister Malcolm Turnbull opened his Australia Day speech with a greeting spoken in an indigenous language at the ceremony on the shores of Lake Burley Griffin in Canberra and paid respects to the Ngunnawal people.

Media reported that the Prime Minister has been working on his Ngunnawal language skills since last year, which has not been easy because the language hasn't been widely spoken for about 100 years.

During his address, he urged people to recognise and celebrate the vital role of Aboriginal and Torres Strait Islanders in shaping the country.

"Our nation's story began 65,000 years ago, with our First Australians, the oldest continuous human civilisation, no pyramid in Egypt, no palace in France, no church in England or Rome precedes our First Australians," he said.

The Prime Minister said the nation's identity was strengthened by the stories and songs, dance and art, practices and ceremonies of First Australians. "We honour their resilience and survival, respect and cherish their continuing contribution to our nation. It's a heritage of which we are proud and which we celebrate, it's uniquely Australian."

"We haven't always recognised this truth as we should've done, but all of us, including our newest citizens, are heirs to this history, and it's our duty to learn, embrace, and help preserve it," he added.

Meanwhile, it has been debated whether Australia Day should be moved to a different date out of respect for the Aboriginal people. January 26 marks the arrival of the First Fleet in Sydney Cove in 1788.

The Prime Minister's address was ahead of the citizenship ceremony in which he welcomed hundreds of people as new citizens. He said the nation was united in its diversity.

"We do not define our national identity, as so many other nations do, by race, by religion, or by a particular culture, but by shared values," he said. "Our remarkable nation is the work of all of us and the generations that came before us. And by defending and sustaining our Australian values, we will forge an even brighter future for the generations that come after us."

Almost 13,000 people from 129 different nationalities became Australian citizens in ceremonies across the country.